Banxso Review: The Ultra-fast Platform to Trade Seamlessly
Overview Of Online Trading Platforms
An online trading platform is one of the biggest advantages available in the era of digital and convenience. Thousands of brokers can line up to get your business but they all lack that one thing that is crucial for a trader to succeed.
It is the specialty of all the online trading platforms to offer their traders a lot of features. These are complemented by the availability of real-time analysis and reports. You would be able to find the best online platform amid all the competition. Greatly, all of them will assist you in building and expanding your portfolio.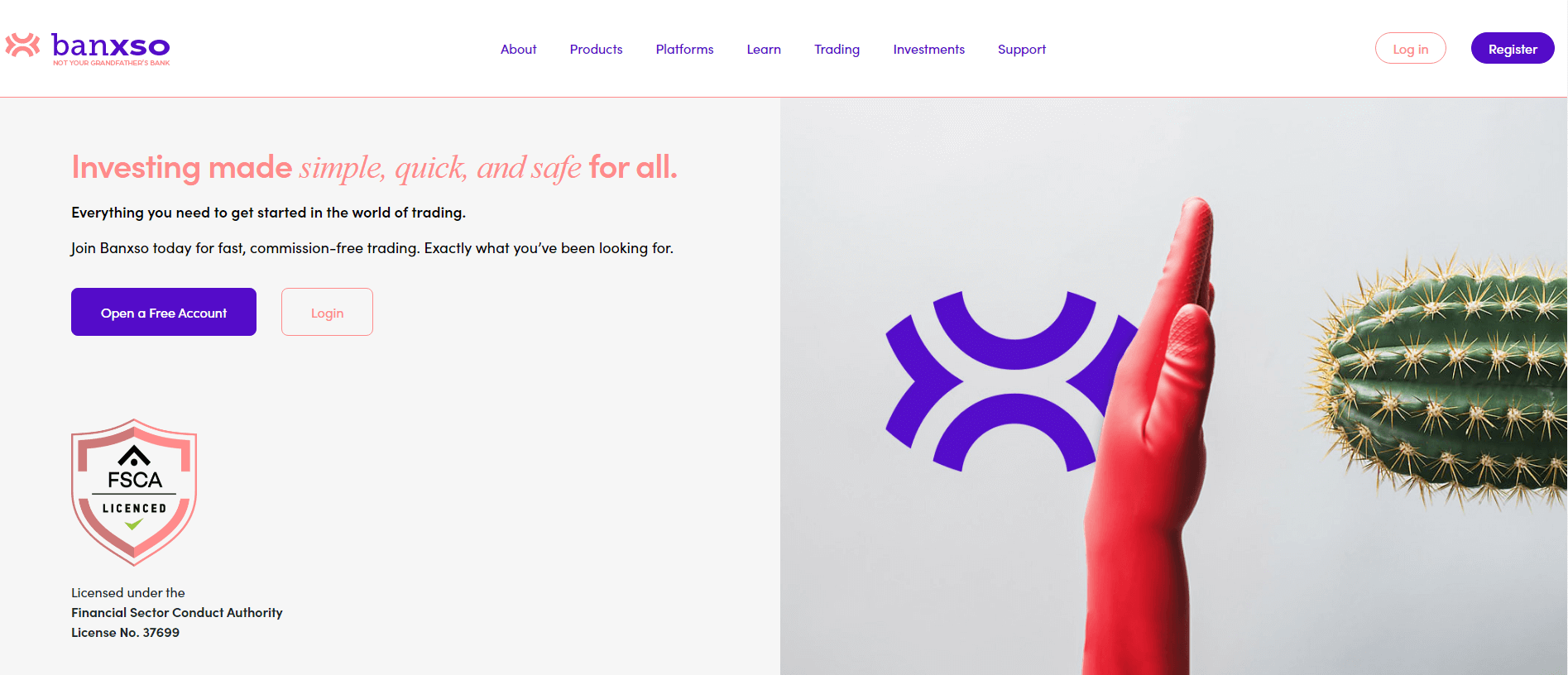 Traders rarely make mistakes, only if they are assisted by knowledgeable experts. Therefore, online trading platforms ensure that their traders have access to market experts and their opinion. Brokers of an online trading platform often let go of their brokerage fee as a goodwill gesture. Trading commission from your transactions remains the source of their income.
One area that attracts a lot of attention is their specialty in conducting market research. You make effective decisions after you compile their well-researched reports with real-time analysis. Needless to say, an online trading platform is far better than an offline trading platform.
What Is Banxso?
Banxso is a CFD-based online trading platform that offers umpteen benefits and opportunities to every type of trader. Experience is not a matter of concern. You can start from scratch or even from the peak of your career. There is no minimum or maximum requirement for capital with Banxso, which differentiates it from others. You can start with the lowest available capital and gradually invest more after you measure higher returns.
It is entirely regulated and authorized by the South African Financial Sector Conduct Authority, also known as FSCA. Banxso carries license number 37699. The trading platform is permitted to operate in various jurisdictions of the European Union. It also stretches to outside the European Union, subject to the countries that permit trading in CFD.
Traders can register on Banxso to trade based on their goals and experiences. The services and tools can be customized for every trader. In addition to this, you will gain access to numerous tradable products and trading platforms.
Features Of Banxso
Firstly, money and experience is not a determining factor at Banxso. Everybody can open a free account to get started with their trading journey or continue their trading journey with the preferred product. The list of features offered by Banxso starts with the trading platform being technology-oriented. It has developed an AI-based system that assists you to trade your favorite product on the preferred platform. You are served with safe recommendations to make profits out of your capital.

Moving on to the second point, where it offers a level-playing field to every trader on the platform. This refers to offering equal investment opportunities to all registered traders. Banxso does not differentiate between traders based on how much capital they are investing or the product they are trading. A registered trader on Banxso gets access to at least 20 financial markets and 100 tradable instruments, which is because Banxso offers global reach to its traders. Banxso also guides its traders through national and international insights, which enables a trader to make an informed decision.
Overview Of Tradable Instruments Of Banxso
As a CFD-based trading platform, Banxso prioritizes the safety of its traders over everything. Trading can get complicated with inventors losing their money. Every tradable instrument that Banxso provides is traded by keeping safety in the mind.
Forex
Forex, widely known as Foreign Exchange, is great for people who have just begun their journey in the world of trading. It is undoubtedly the most reliable tradable instrument of Banxso.
Experienced traders also prefer to get started with Forex. Traders can start investing in Forex with a minimum amount. Once they see their investment get sufficient returns, they can either increase their investment or think about diversifying their portfolio on Banxso.

One can trade Forex 24 hours five days. It also offers Forex Options Trading where traders can predict the future price and then make a purchase at a lower amount. However, there is no obligation that a trader has to buy in the future.
Stocks
Stocks are the traditional tradable units. They have existed in the market for a very long time. Stocks remain everyone's favorite despite so many ups and downs in the market. Trading in stocks was earlier considered gambling, which is no longer the situation but people still hesitate to invest their money in stocks. With every minute a person hesitates, he or she loses the opportunity of generating profit for the capital.
One can make it a regular source of income with the right knowledge and correct directions. Banxso provides both through its market experts. It also offers relevant updates, tools, and strategies.
Indices
Banxso enables its traders to go beyond the individual tradable instrument. One can explore their options in the global and regional markets alike.
Having vast information about global events is important to trade Indices with Banxso. They are generally preferred by traders who are looking to keep their investment under hold for the long term. Seasonal investors have reaped benefits as well but such cases have been rare.

Indices can be a tricky instrument to trade. You require extensive knowledge and support to ensure that you don't lose your capital in the market. They are weighted averages of the collection of assets and require a wider perspective of the trader.
Commodities
Commodities were the first-ever trading assets to exist. You can rely on commodities for proven result-oriented trading. One basic requirement that you must fulfill is that you must have access to global headlines.
Banxso provides you access to daily headlines to keep you ahead in the game. You are also provided with all the highlights on your account. Education services provided by the trading platform enable you to trade in Commodities with confidence. It takes a lot of information to decide which type of Commodity is best for you.
A total of three types of Commodities exist. These are Energy Commodities, Soft Commodities, and Precious Metal Commodities. Energy Commodities include renewable and non-renewable goods, like wind power, natural gas, and oil. Soft Commodities include all the agricultural products like corn, sugar, and wheat. Precious Metal Commodities include metals like gold, silver, and copper.

Cryptocurrency
The digital currency has evolved with time. It is now being looked at as the best alternative to traditional currency. Countries and authorities that initially hesitated to legalize cryptocurrency are now starting to recognize it.
The hype is real and Banxso offers full support to its traders who wish to deal in cryptocurrency. The list includes all the major cryptocurrencies you can think about. Truth be told, it is riskier to trade in cryptocurrency. But with the right tools and information, you can make better decisions.
Cryptocurrency has offered umpteen opportunities to the traders to generate heavy profits. The infancy nature of Cryptocurrency makes it unpredictable and yet a highly beneficial tradable instrument. It is recommended to take all the necessary precautions as the market often goes through turbulence. You can trade through CFD instead of directly owning Cryptocurrency.
Overview Of Trading Platforms Of Banxso
You get access to two trading platforms of Banxso after you register yourself on the website. It does not restrict its traders to only a single tradable instrument, Banxso allows its users to go on to more platforms.
It mainly offers two trading platforms, with one being the major highlight in the market.
Mobile
Convenience matters to everyone and traders are no different. In fact, they seek convenience more than others as they constantly have to stay in touch with the market. One miss can take away the opportunity of making a lot of money.
The Mobile platform of Banxso enables the traders to navigate, trade, and review their activities on the go. You can be riding a cab or sitting in a coffee shop and you would still have access to all the important trading events.
It supports all the trading functions. You can take a call and act on your decision without thinking a lot about it. The Mobile platform enables the traders to read a comprehensive analytical report. Banxso makes it easier to monitor the status of a transaction. Traders can also view their trading history, which comes in handy at the time when you are trying to figure out which trading option was the most beneficial for you.
You do not require a laptop or a computer as everything is made available to you on your small screen. The platform can be accessed from every part of the world. This means that you do not miss a moment of trading during your international trips with friends and family members.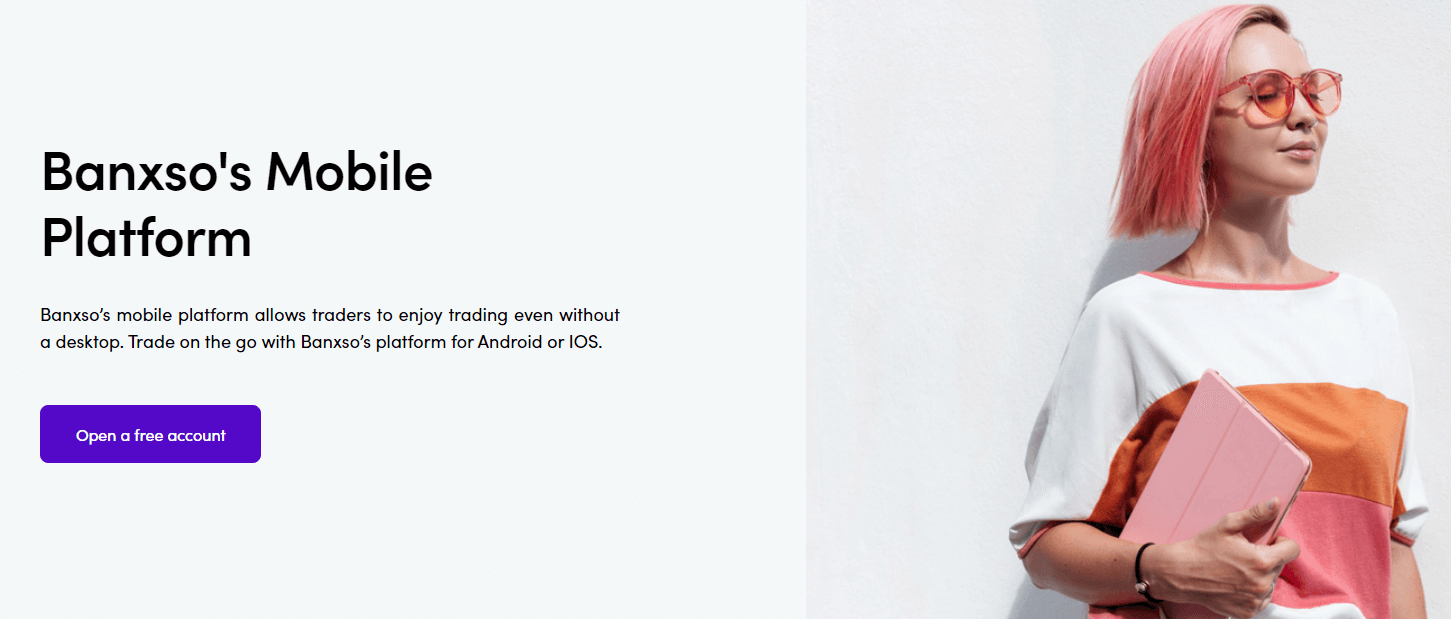 Meta Trader 5
Meta Trader 5 has mostly been outdated by Banxso. However, it still holds a strong command over the traders who have used it in the past.
It is a 64-bit trading platform that covers both types of financial markets, namely Centralized and Decentralized. Meta Trader 5 is described as a multi-asset platform that goes beyond Foreign Exchange.
The platform enables traders to access comprehensive and flexible trading options. Meta Trader 5 surpasses the reputation that was set by its predecessor. The functions offered are faster. Traders are able to access algorithm-based trading.
Overview Of Trading On Banxso
Banxso is for every trader irrespective of their qualification and experience. You can literally register on the platform and get started. The online trading platform offers every possible support, resource, and tool to ensure that your capital only generates profits.
The core principles center around CFD, short for Contract for Differences. It enables you to trade any instrument you want and on any platform you prefer. You remain the key deciding factor on whether to go long or short with the trading option.
You can build your trading portfolio from the beginning or expand the one that already exists. However, you must remember that the profits which you generate while trading on Banxso are subject to tax laws that are applicable in your place of origin. The overall trading experience depends on the type of outlook you hold towards the market.
Educational Services And Investment Strategies By Banxso
You are a good trader only if you have knowledge about the tradable instrument and platform. A hunch will only work in your favor for a short time. You need to be aware of what you are dealing with if you are looking to generate regular revenue from trading.
Every educational service that is provided by Banxso is available at no cost to its registered traders. The educational services of Banxso make you capable of navigating your way from one instrument to another or switching from one platform to another. You can better juggle different products in your portfolio through their educational services.
Personal Coaching offered by Banxso gives an opportunity to the trader to connect with a market expert in person. You do not have to visit their place; instead, you connect via video call at a scheduled time. A personal coach teaches you how to trade. He or she also recommends changes that you must consider to get decent profits.
Trading Ideas is all about placing your opinion out in the open. Other traders, including the market experts, throw light on where you are right and where you can improve. Every member of the community participates with an intention to learn. Market forecasts and technical analysis are also a part of the Trading Ideas. Webinars are organized frequently at Banxso. They are kept interactive by the speakers. They use live videos, presentations, and voice notes, to mention a few, to keep the Webinar session interesting.
Is Banxso A Legit Platform?
A straightforward answer to this question is yes, Banxso is a legit online trading platform. Having a doubt about an online trading platform's legitimacy is normal. It must be in mind that you would not want to invest your money at a place that offers no guarantee of keeping it safe.
Banxso is regulated and authorized by FSCA, which stands for the South African Financial Sector Conduct Authority. Banxso is also licensed with the number 37699. It operates within the jurisdictions of the European Union. Banxso also goes beyond the European Union. It has a presence in every major country that has authorized the trading of CFD.
One must, however, understand that trading is highly speculative in nature. It carries the risk of traders losing their money without any prior notice. You must play with the capital only in the amount that you can afford even if it goes in the drain.
Banxso Customer Support
Traders at Banxso get access to the best Customer Support. The team of customer support remains at your service 24 hours a day. Your query is resolved within the prescribed amount of time.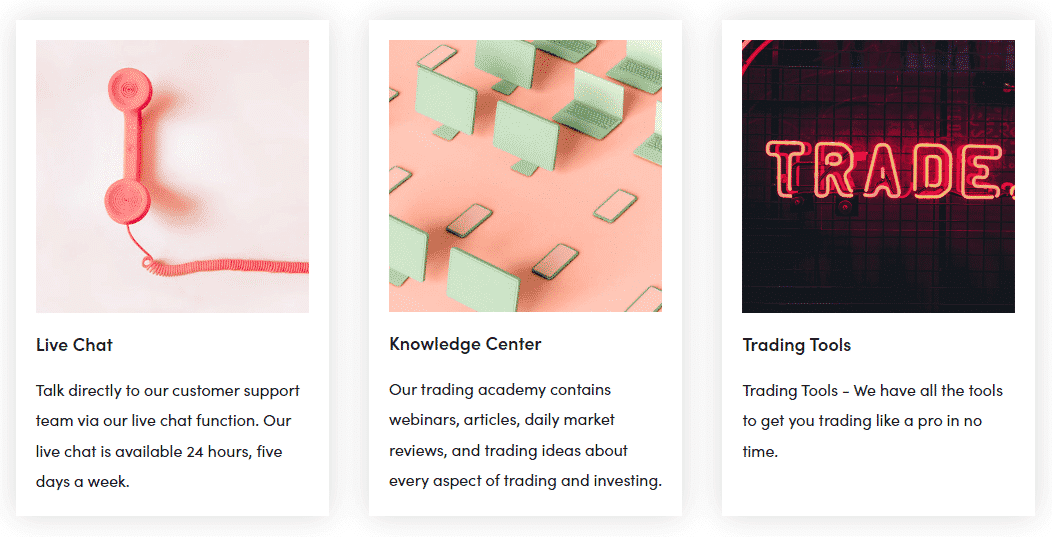 You can choose to connect with the support team through Email. You will have to send an email to [email protected], with your full name and contact number. You receive a response shortly. The best thing is that you can send an email whenever you want irrespective of what the actual working hours are.
A trader who is registered with Banxso can also connect with the support staff via call at +27-080-099-7915. Alternatively, it is possible to meet an expert or the representative in person by visiting the office of Banxso with a scheduled appointment. The option to chat with customer support is available 24 hours and 5 days a week.
Conclusion
Read all the disclosures before getting started. Don't take high risks from the beginning. Focus on understanding the game first. Remain aware of the local laws that apply to trading CFD on an online platform.
FAQs
Does Banxso guarantee profits?
Banxso does its best to educate the traders and generate decent profits. However, profits are never guaranteed as the market constantly fluctuates.
Can I contact customer support at any time?
You can but only through email. All other options are available either during the working hours or for 24 hours 5 days a week.
How can I monitor my trading activity without a laptop?
You can access the Mobile platform of Banxso to monitor your trading activities anytime and anywhere.
Which instrument is better for trading?
It depends on your preference. Every instrument has its benefits and drawbacks.
When can I get started?
You can start trading on Banxso at any time. You do not require any experience or heavy capital.