Forex News
A Step-By-Step Guide to Start Forex Trading in Malaysia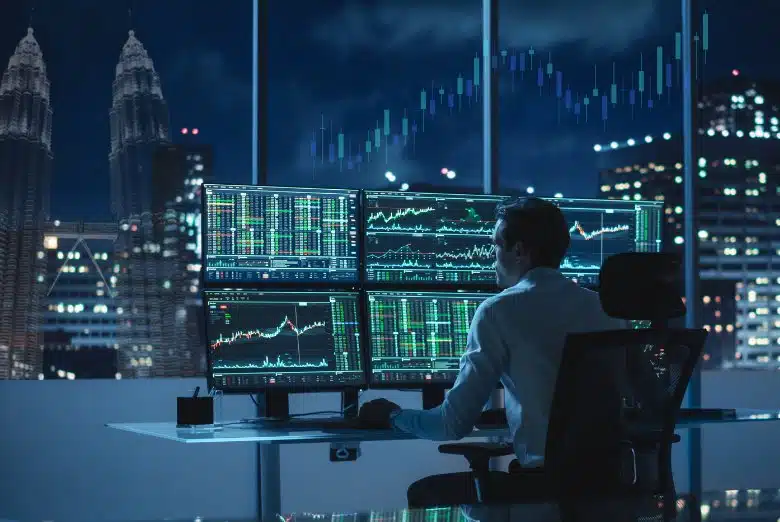 Forex or foreign exchange trading involves the conversion of currencies for the purpose of business activities, traveling, and more. It is a global market where foreign currencies are usually exchanged as pairs. Forex trading in Malaysia has become a popular market where Malaysian traders invest and earn extra income from the activity. Money changers have a large list of currencies showing the value of the Malaysian Ringgit against other foreign currencies. However, forex trading is comparatively less popular in the country than other important asset classes like bonds, commodities, futures, other financial derivatives, or stocks. This is because many traders believe forex trading may not always be profitable for everyone, especially if they lack the right knowledge or skills. Forex trading is a complicated activity where traders trade in currencies to make a profit. Let us find out more about forex trading in Malaysia in the step-by-step guide mentioned below – 
Choose a Reputable and Safe Forex Broker
Arguably the essential component before a forex trader starts trading is to choose a safe and reputable forex broker Malaysia. Forex trading is considered legal only if Malaysian forex brokers are registered under a known financial institution. Take note of the trading fees, services, and technology provided by the brokerage companies and compare them to choose the best Malaysia forex broker. Reputable brokers are mostly regulated by the Securities Commission Malaysia (SC). It is also recommended to choose a forex broker with a demo account that allows new traders to practice trading in foreign currencies before investing real money into any platform.
Opening a Forex Trading Account
After choosing a reputable and legal brokerage company, it is time to create a forex trading account. Choose a forex broker Malaysia that offers a demo account where new traders can buy and sell currencies and get familiarized with different features and functionality of the platform without making a deposit. Creating a forex account will require filling out online application forms to provide certain personal and financial documentation. Most high-quality forex trading platforms require the name, email address, phone number, city, country of residence, and other financial information of the traders before they are allowed to trade currencies within the platform.
Fund Your Forex Trading Account
Every forex trading account will require a minimum amount of deposits in order to start trading currencies. Typically, forex trading platforms accept deposits via several payment methods like bank transfers, credit card or debit card payments, E-wallets, and cryptocurrencies like Bitcoin, Ethereum, Litecoin, Dogecoin, and more. Choose a reputable broker that offers multiple globally-known, secure payment methods on their platform.
Choose Your Forex Trading Platform with Ease
A good trading platform to buy and sell foreign currencies not only offers an attractive user interface but also provides a range of technology and services that can cater to various functions and strategies of the traders. Most brokerage companies offer different trading platforms, including desktop and mobile applications and web-based applications. A suitable trading platform will also provide enough educational content to help new traders in their forex trading journey in Malaysia. The platform's flexibility is equally important so traders can monitor their trades on any device if needed. Choose a platform that best suits the needs and preferences required for trading foreign currencies.
Learn and Explore Forex Trading
Before stepping into the forex trading world, it is important to note that every trader must be familiarized with the terms and jargon commonly used in this industry. Learning and exploring the world of forex trade will help understand the markets, charts, technical and fundamental analysis, leverages, bid spreads or ask spreads, currency pairs, and many others. Search for important educational resources that are most commonly available in forex trading platforms and seek out other resources online, including trading courses, trading forums, webinars, YouTube videos, and more.
Practice with a Demo Account
A demo account allows traders to buy and sell foreign currencies to test the trades under real live market situations without making a deposit and hence, avoiding risks of losing money. Most Malaysian forex brokers provide a demo account where traders can practice forex trading in Malaysia with digital money before starting with real funds. Practicing with a demo account is an excellent way of getting the feel of the forex market and testing out trading strategies in a real-life environment.
Start Trading Now
Once traders reach a level of comfort with the experience and knowledge of the forex trading market and have a better understanding of the trading strategies, they can start trading foreign currencies with real money. However, it is important to ensure that every trader manages risk carefully and follows a disciplined approach in this activity. Note that forex trading comes with a high level of risks and uncertainty; hence, it may not be suitable for beginners. It should also be noted that to understand the risks thoroughly, one must seek independent financial advice if needed.
Conclusion
Forex trading in Malaysia may appear to be a simple activity to make extra money, but in the real world, forex trading requires tremendous effort, hard work, risk management, analysis, timing, and other important skills to thrive and succeed in the industry. Every trader must be aware of the fact that with forex trading, they immediately get access to a margin account that allows them to leverage. This is a riskier method of acquiring larger capital. Hence, every trader must be aware of the risks and uncertainties involved in forex trading to profitably and happily continue their trading journeys!