Betting News
BC.Game announces $3,000 sports parlay challenge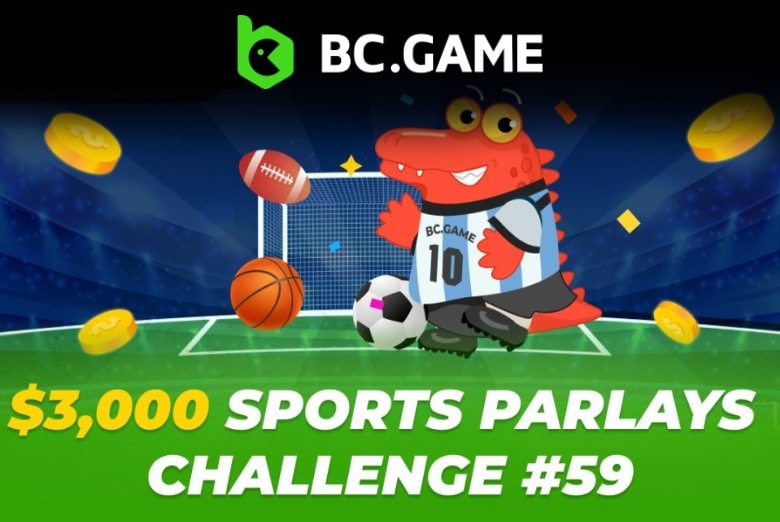 BC.Game has announced it will host Sports Challenge #59 with a prize pool of $3,000 to be distributed among eligible winners. The $3,000 sports parlay BC.Game challenge starts on June 15, 2023, and ends on June 22, 2023, at 12 p.m. UTC. Participants must meet the minimum requirements stated by BC.Game in the terms and conditions before entering the contest.
The task is to win a minimum of 3x on multi-bet by betting on three different matches. The same odds cannot be used again. All the submissions that must have a bet ID and screenshot will be added after the submission. This addition will roll out the final score. Only valid bets will be counted. Cashed-out or lost bets will not be considered valid entries.
Also, closed bets or bets placed outside the said time window will not qualify for the $3,000 BC.Game Sports Parlay challenge.
A sample of the final submission can be viewed on the official website at the time of confirming one's participation in the competition. Only users from the VIP 04 VIP tier or above are qualified to participate. Additionally, they must have verified their contact number before entering the sports challenge.
The bet size starts at $1, with no cap on the upper limit. However, it is still recommended to stick to the budget and risk management techniques to avoid losing sight to the extent that the bank account goes blank by the end of the event. Accounts at BC.Game can be funded with all the major cryptocurrencies except JB and BCL.
Making things interesting is the introduction of the bounty, wherein players have to hit a parlay of 50x to claim a share of the $300 prize pool. This will be over and above the actual prize that they win. Notably, only registered users can participate in the sports challenge. Read our review of BC.Game to go through the registration process for the platform. Here's how BC.Game has announced to distribute the prize to eligible winners of $3,000 BC.Game Sports Parlay Challenge:
| | | | |
| --- | --- | --- | --- |
| Participants | 1-50 | 50-150 | 150+ |
| 1st | $200 | $400 | $800 |
| 2nd | $100 | $200 | $400 |
| 3rd | $50 | $100 | $200 |
| 4th–10th | $140 | $280 | $560 |
| 11th–20th | $110 | $220 | $440 |
| All Others | $75 | $150 | $300 |
| Bounty | $75 | $150 | $300 |
Withdrawn bets or multiple entries from a single family will not be valid. Distribution of rewards by BC.Game is subject to participants following all rules and regulations. Meaning, the platform can declare the results of participants void if they are found abusive to the platform, guidelines, or rules and regulations.
Founded in 2017, BC.Game is now the master of offering blackjack, video poker, and roulette, among other similar titles.
The $3,000 BC.Game Sports Parlay Challenge #59 is now live and set to conclude on June 22, 2023, at 12 p.m. UTC.