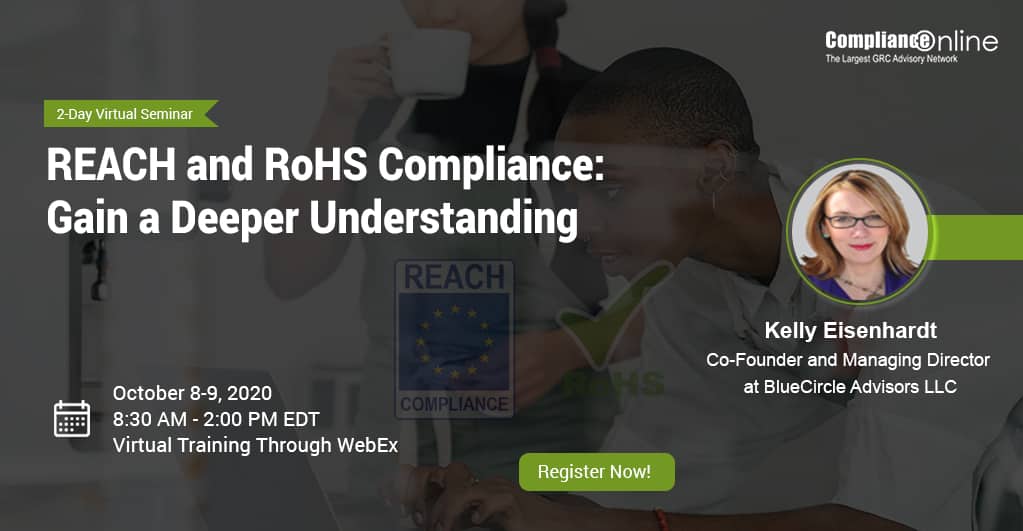 ComplianceOnline.com is hosting a 2-day virtual seminar, "REACH and RoHS Compliance: Gain a Deeper Understanding" to highlight the latest on both directives and will draw out key developments with particular emphasis on requirements for US firms. The Seminar takes place from 8:30 AM – 2:00 PM EDT on October 8-9, 2020.
The seminar gets into the specifics of the REACH and RoHS regulations, provides case studies and shares lessons learned so organizations can benefit from the mistakes of others.
Kelly Eisenhardt, the Co-Founder and Managing Director at BlueCircle Advisors LLC is the speaker. Ms. Eisenhardt has 20 years' experience in IT and Compliance Software Development and has formerly held roles that include Executive Director of Environmental Programs, at Fair Factories Clearinghouse; Environmental Compliance Manager and Design for Environment programs at EMC Corporation; and Director of Product Management at PTC Corporation for Windchill Product Analytics – an environmental compliance software. At the Seminar, she will cover areas that include:
REACH Registration of Substances
Introduction to REACH
Articles and REACH
Substances of Very High Concerns (SVHC)
Supply chain communication
Compliance enforcement
Basics of RoHS
Background and content of RoHS
Responsibility for RoHS
International requirements of RoHS
WEEE – background, and content of WEEE and how to work to meet requirements
Material testing methods.
Overview of three of the most important materials regulations, the processes, and the programs needed
RoHS 1 and 2 Compliance
REACH Compliance
US Dodd-Frank Conflict Minerals Reporting
Improving data collection by using Jig 101, IEC 62474, IPC 1752
Managing suppliers with procurement contracts
Effectively using technology for tracking and managing compliance
Companies shipping parts or products into Europe must comply with EU REACH and RoHS regulations. EU REACH creates an increased risk of product recalls or bans that must be proactively addressed to ensure continued market access. Products containing harnesses, hydraulic components, rubber, or PVC are at a higher risk of containing restricted materials.
For more information about this seminar visit https://www.complianceonline.com/rohs-reach-regulations-conflict-mineral-reporting-seminar-training-80428SEM-prdsm?channel=capitalbay
About ComplianceOnline.com
ComplianceOnline.com is a leading provider of regulatory/compliance training for companies and professionals in regulated industries. ComplianceOnline has successfully trained over 60,000 professionals from 10,000+ companies to comply with the requirements of regulatory agencies. ComplianceOnline is headquartered in Palo Alto, California and can be reached at https://www.complianceonline.com.