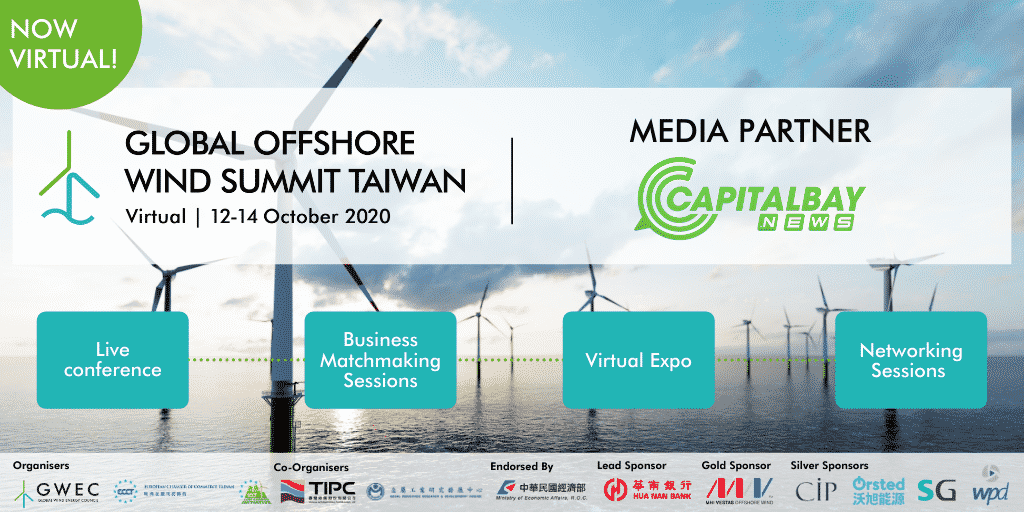 About the Event
Despite the postponement of the Global Offshore Wind Summit – Taiwan Conference & Exhibition to April 2021, we are thrilled to announce that we will hold the Global Offshore Wind Summit – Taiwan Virtual on the original dates of 12–14 October, 2020.
Organized by the European Chamber of Commerce Taiwan (ECCT) Low Carbon Initiative (LCI) and Global Wind Energy Council (GWEC) the Global Offshore Wind Summit – Taiwan (GOWST) is the official industry event that brings together offshore wind leaders, investors, policymakers, and other stakeholders to power the growth of Taiwan's emerging offshore wind market.
While the date has changed, the global prominence and significance of the Global Offshore Wind Summit – Taiwan 2020 has not. Through the virtual event, we will continue to drive discussions on the most urgent opportunities and issues facing the offshore wind industry in Taiwan and provide an exclusive platform to network with leading industry stakeholders to create new business and growth opportunities.
Here is what you can expect at Global Offshore Wind Summit – Taiwan Virtual:
Participation by senior Taiwan government leaders including the Vice Premier, the Minister of Economic Affairs (MOEA), Director Generals from the Bureau of Energy (BOE), Industrial Development Bureau (IDB), and Bureau of Standards, Metrology and Inspection (BSMI), who will share the most updated policy insights on Taiwan's offshore wind development.
Live keynote speeches and panel discussions with industry thought leaders driving the growth of offshore wind in Taiwan and beyond
Breakout sessions focusing on key topics and issues for growing Taiwan's offshore wind industry
Virtual side events including country pavilions and an exclusive session focusing on the corporate procurement of renewable energy in Taiwan
Networking opportunities throughout the event including a virtual expo, one-to-one matchmaking, and live networking area
If you are interested in being a pioneer in Taiwan's offshore wind market, this event is not-to-be-missed! For further information about the Global Offshore Wind Summit – Taiwan, please visit the event website here.
Or, please get in touch:
Liming Qiao, GWEC
[email protected] Sammy Su, ECCT