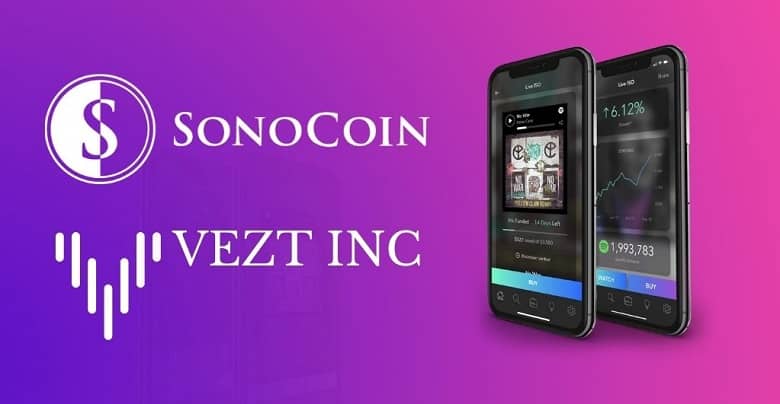 SonoCoin has announced a partnership with the digital rights music marketplace, Vezt Inc. Vezt Inc. is a marketplace that allows fans to participate and fund producers, songwriters, and artists in exchange for royalties that the songs earn.
Initial Song Offering (ISO) by Vezt Inc.
ISO is considered to be a revolutionary financial product that is invented as well as trademarked by the company. This helps the music industry in raising capital for their new projects by approaching the public. It is similar to organizations getting funding using IPO (Initial Public Offering).
Vezt mobile application, which is powered by blockchain, offers a library consisting of certified ownership, song investment opportunities, and also the statistics for track songs like the total count of on-demand streams that someone gets overtime.
More About the Partnership
SonoCoin aims to bring in further innovations into the Vezt platform. There are plans to integrate digital fingerprinting software through the use of inaudible sound signatures.
Also, the partnership will help in building technology for digital rights management so that better efficiency and transparency can be attained in the music industry.
An Insight into Joint Objectives of the Partnership
Vezt will be working towards implementing SonoCoin's technology into content and songs available on its platform.
Vezt will be encouraging its writers, artists, and rights holders to use SonoCoin for developing tracking, loyalty programs, and advertising for their content.
SonoCoin will be developing a solution that helps in easily embedding inaudible codes in songs.
SonoCoin will also develop an analytics dashboard for tracking songs that are being played or streamed. This dashboard will be tracking location, date/time stamp, coins, and similar other incentives that are allotted during loyalty programs.
Brian J. Esposito, SonoCoin's Head of Strategy, said that due to this partnership, they would be able to offer a solution that is truly unique in the market and will benefit producers, songwriters, and singers.
Steve Stewart, Co-founder and CEO of Vezt Inc., said that they are proud to be implementing this technology publicly. Steve added that this technology would offer increased accuracy with respect to payments and usage in the music industry.