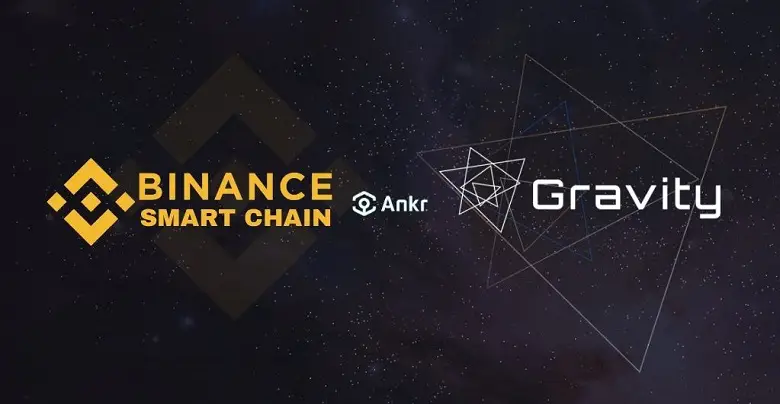 Cross-chain communication and decentralized data oracle network Gravity Protocol announced on Sunday that its test framework has added Binance Smart Chain, the decentralized underlying blockchain for Binance DEX and other DeFi offerings of the Binance Network. BSC will now be available on Gravity, while users can now launch Gravity on the BSC testnet using BSC full nodes provided by Ankr.
The Gravity test framework is adding #BinanceSmartChain, a public blockchain that powers @Binance_DEX, via @ankr! This innovative @binance's chain will now be available in Gravity, besides Ethereum and #Waves🔷. More details👇 https://t.co/hHQL6ZAOj2 @cz_binance @AlekseiPupyshev

— Gravity Protocol (@ProtocolGravity) October 19, 2020
The integration is aimed at capitalizing on the rising opportunities in the DeFi segment. In their official statement, Gravity said that Binance Smart Chain is a deserving candidate to be integrated into its network, as it is working towards leveraging the opportunities in decentralized finance. The protocol also said that it utilized Ankr's user-friendly single-click node deployment solutions for BSC.
Gravity Protocol is one of the foremost names among the decentralized data oracles providers, providing services to some of the biggest crypto networks, including Ethereum, Ankr, Waves, etc. It allows blockchain networks to establish cross-chain communication, pushing interoperability, and building a unified ecosystem.
Binance Smart Chain, on the other hand, is Binance's answer to the stupendously growing competition in the DeFi space. Launched recently, BSC has already proven successful, enabling DeFi services like crypto staking and lending for the Binance ecosystem. Before allowing integration with Gravity, Ankr added support for BNB staking for the BSC testnet.
The integration between Gravity Protocol and Binance Smart Chain is expected to push the DeFi segment even further. Given the data oracle prowess of Gravity and Binance's gigantic user base, this could well be the breakthrough the industry was looking for. While this helps Gravity expand its current user base and test its framework, it will allow BSC to increase its services and provide staking services to newer networks.