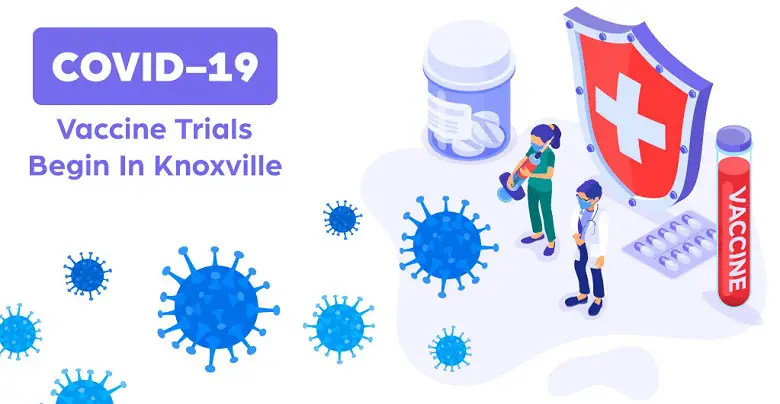 As part of the U.S. efforts to developing a vaccine to curb the COVID-19 pandemic, Volunteer Research Group, a clinical research company based in Knoxville, Tennessee, is set to launch human trials for five different potential COVID-19 vaccines in East Tennessee in the last week of July 2020.
The trials are the result of the partnership of The Alliance for Multispecialty Research (AMR Knoxville) with several vaccine manufacturers. With this phase of human trials, which is expected to last a year or two, East Tennesseans will join the front line of people in the U.S. to receive the COVID-19 vaccine.
AMR Knoxville informed that Dr. William Smith, president of Volunteer Research Group, will be overseeing the trails in Knoxville. According to Smith, the company requires 4,000 to 5,000 volunteers until the end of the year to participate in the trials.
On July 27, 2020, Volunteers will receive injections from the Johnson and Johnson trial that was held in Belgium. Guidelines have been issued for the volunteers taking part in the trials. The company has announced that the volunteers will either be injected with a vaccine or a placebo. Volunteers will also be required to make follow up visits for which they will be compensated with $100 per visit.
Several potential COVID-19 vaccine candidates are being tried and tested in the U.S., including one by Moderna Inc. Enthused with early results of its trials held at Emory University, Moderna has announced to start a trial in Knoxville in the first week of August 2020 to test the effectiveness and safety of the COVID-19 vaccine on 30,000 volunteers across the U.S.
With so many trials running and planned, researchers believe that there is enough possibility of finding several potential COVID-19 vaccines. Smith also thinks that finding a single vaccine would not be sufficient to control the COVID-19 pandemic, and it would take more than one vaccine to vaccinate the world population.
Smith suggests that finding the vaccine and developing the population immunity is the only way to fight against the pandemic. He is quite hopeful of people from East Tennessee to show up and make the trials successful.
Volunteer Research Group is looking for people of all backgrounds and anyone 18 and older. The volunteers can sign up for the trials by calling AMR Knoxville at 865-305-3784.