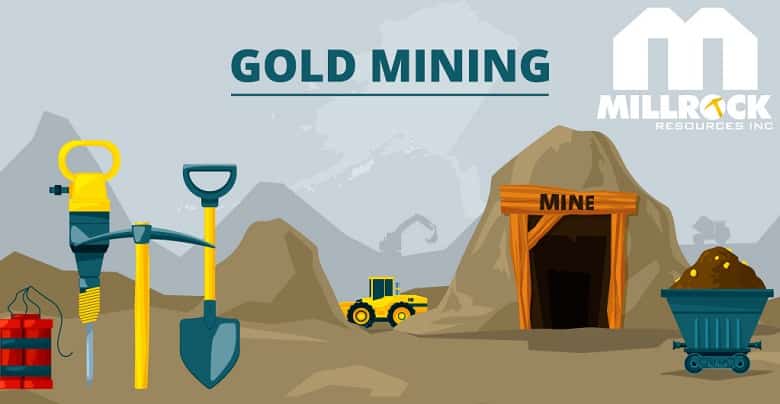 In the Fairbanks gold mining district, Millrock Inc. has won two gold exploration projects. It has come into light that these recently added projects will add up to their existing portfolio in Tintina Gold Province.
Millrock Resources Inc. is a prominent leader in the mining industry when it comes to exploration project generation. The company manages large-scale projects for joint ventures, thereby opening up ways for its shareholders to benefit from the mineral industry, without certain financial risk taken by other exploration organizations.
The president, CEO, and director of Millrock Resources Gregory A. Beischer released a statement regarding this project under the Royalty Agreement.
As per the statement, the team is happy to win these mineral lands in Fairbanks. This opportunity is quite similar to the one active nearby Fort Knox and managed by Kinross. The abundance of placer gold mined supports their potential of discovering a huge intrusion-related gold deposit to Fort Knox. There is also a possibility of high-grade vein deposits. The interest in this gold mining camp is further strengthened by a recent drill intersection done at the nearby Golden Summit project by Freegold Ventures Limited. Right now, the company is looking forward to carrying out some surface exploration to advance these two projects with the hope of bringing in a partner in the coming future to meet the drill targets.
These two recently added gold mining projects fall under an Exclusive Right Agreement (ERA). According to this agreement, Millrock has obtained the rights to Treasure Creek property. Thereby, the company can enter an Option to Purchase Agreement at any time up to September 2021, with predetermined terms. Also, Millrock needs to pay the claim rentals and perform other assessment work by the end of 2020.
Back in 2016, a similar project executed by Millrock named "The Ester Dome" had been the subject of the same ERA. Well, this time, Millrock Resources Inc. will issue 500,000 company shares to Capstone Mining Corp. in contemplation of royalty abdication, applicable to a few claim blocks consisting parts of 64North Gold Project. It will help the company to reduce the royalty burden on the property.