REN News
REN: Is It a Profitable Investment in 2021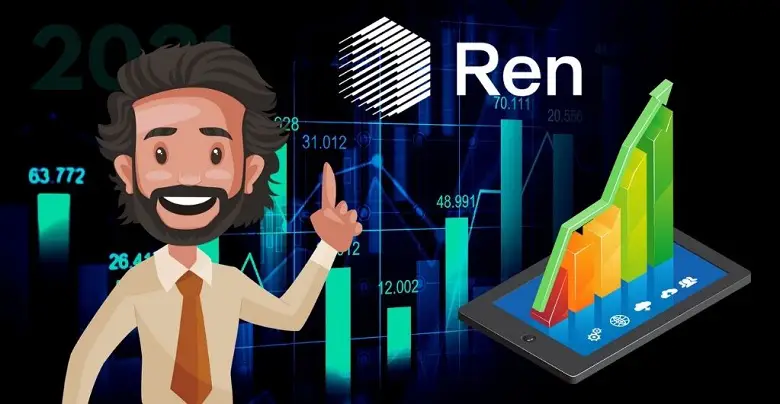 Introduction
To expand the DeFi sector beyond limits, it was important to create a platform that would allow funds locked in other blockchains to be allocated on the Ethereum blockchain. This is because almost the entire DeFi sector is built on the Ethereum blockchain that does not allow crypto capital locked in other blockchain networks to be allocated on its (Ethereum) network. To combat this issue, a software called Ren was created in 2017 to incentivize users across the world to freely transfer both existing and new crypto assets across multiple blockchains.
What Is Ren (REN)?
Ren, formerly known as the Republic Protocol, is an interoperable liquidity layer for DeFi, which is powered by Darknodes (decentralized network of machines). It is a decentralized network that allows users to freely move between various blockchains while maintaining complete privacy of their data. The platform uses advanced cryptography and algorithms to enable this movement of crypto assets, like BCH, ZEC, and DOGE, between different blockchains. In the future, Ren will be supporting more crypto coins and blockchains to connect the entire crypto space seamlessly.
Ren was created by two software developers Taiyang Zhang and Loong Wang, in 2017 as Republic Protocol. The platform was rebranded to REN in 2019. Ren has its headquarter in Singapore. The platform allows users to transfer cryptocurrencies across multiple blockchains. Users can lock any cryptocurrencies, like BTC (Bitcoin), BCH (Bitcoin Cash), or ZEC (Zcash) into the Ren protocol and then mint the ERC-20 equivalent tokens, like RenBTC, RenBCH, or RenZEC in a 1:1 ratio on the Ethereum network. Using these Ethereum tokens, users can also participate in the DeFi ecosystem on the Ethereum platform when the users' bitcoins would remain locked in the Ren protocol. In case any user seeks to unlock their funds, they would be required to use the REN cryptocurrency for paying nodes for maintaining or operating on the network. REN is the utility token of the Ren platform, which connects blockchain technology with the traditional distribution system.
Is It Worth to Buy REN?
Though Ren is not a good option for users looking for long-term investment, according to recent REN news it is a good choice for beginners. Leading cryptocurrency exchanges, like Binance, OKEx, FTX, CoinTiger support Ren. As of 2020, REN was trading at around $0.3, which is now increased to $1.1, marking a rapid increase of 366%, which is quite good in such a short period. The best thing about Ren is that it can tackle the much serious and fundamental problems of liquidity and interoperability.
Price History of REN
Ren was launched at $0.06 in 2018, which remained slow in terms of its growth. The price kept on fluctuating between $0.06 and $0.12 the whole year until a market crash happened at the end of the year. Following the cryptocurrency market crash, the Ren price dropped to its lowest at $0.01548 in February 2019. Then, the value of Ren started gaining momentum after February 25, 2019, but the price kept on rising and falling irregularly and remained below $0.13 till June 2020. An unprecedented growth was observed from this point onwards, and the Ren price crossed the $1 mark in February 2021. The figure reached its all-time high of $1.80. Then, the coin remained over $1 till April 18, 2021, after which the price fell below $1 and, till date, could not make it to hit the milestone again.
Current Scenario of REN Price
The current REN price is USD 0.888938 with a 24-hour trade volume of USD 89,142,256. The price of REN has increased by 4.44% in the last 24 hours. The current circulating supply of Ren coins is 997,163,051, with a maximum supply of 1,000,000,000 coins.
Future of REN Coin- Ren Price Prediction
REN price has increased in leaps and bounds in the last year, thereby totally transforming the price trend from the beginning of the year towards its end. REN had a historic journey throughout, which had led to new partnerships for REN, and it became a socially esteemed crypto coin. However, the price fluctuated due to the pandemic, and negative trends crept in for quite some time.
The beginning of 2021 marked the start of a new era of hopes and optimism. With the COVID vaccine coming into the forefront, investors are planning for a long-term investment in Ren. By the end of 2021, the REN price might reach $0.51. By the end of 2022, Ren might break all the records and stand at $0.66. By the end of 2023, Ren's price might cross $0.71. The expected high for 2023 is $0.80, and the expected low is $0.68. The average REN price prediction by the end of 2023 is $0.75.
Conclusion
In a nutshell, the Ren protocol allows any users to transfer any token between multiple blockchains. Once a match is found through algorithmic computation, an atomic swap is launched between the two traders, or peer-to-peer, without involving any intermediaries, thus providing liquidity and interoperability across multiple blockchain platforms. Thus, the Ren protocol aims to make decentralized finance accessible to all by removing the hurdles of liquidity and interoperability involved in various blockchain networks.