San Antonio News
San Antonio Teachers Stage Car Caravan Protesting Reopening of Schools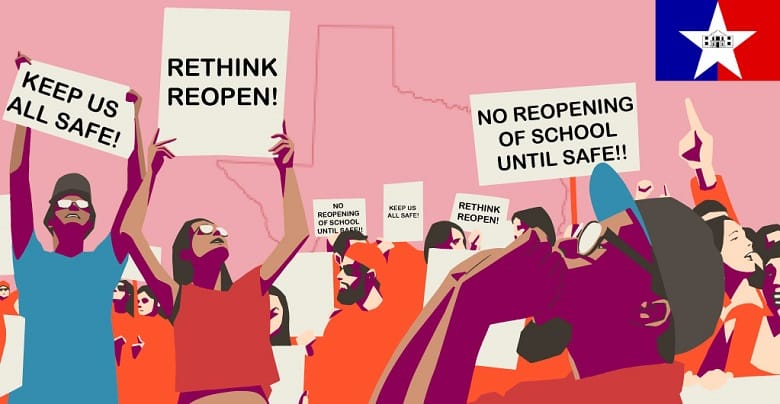 On Monday, Aug 03, educators in San Antonio protested a lack of proper protection for students and teachers in schools by staging a car caravan while local schools are preparing to open during this present COVID-19 situation.
The Rally and The Protest
The protest rally organized by SAATSP or San Antonio Alliance of Teachers and Support Personnel started from King William and consisted of about fifty cars. The car caravan headed towards ISD's central office located at Burnet Learning Center in San Antonio.
Here, a die-in was staged by protestors, which was symbolic of around six hundred deaths that have occurred in Bexar County due to COVID-19.
According to Adrian Reyna, who is among the organizers and an eighth-grade teacher for social studies, the conditions that would result in safer re-opening of local schools in the coming fall are still not met by Bexar County.
As per ISD's rules in San Antonio, the kids are allowed online learning, but teachers need to be present in the classroom. This rule is to be followed even when classrooms are held 100 percent remotely. This is what Reyna has raised objections against and says that the rule that makes it necessary for teachers to be in the classroom completely counter-productive in our goal of reducing the spread of coronavirus.
In addition to health issues, parents and teachers voiced concerns regarding access students have to different remote learning tools such as laptops, computers, and the internet. San Antonio ISD mentions on the official web site that for report learning devices issued by the district, parents can get in touch with the assigned campus for their child. But nothing has been mentioned about parents who lack internet access at their home.
Efforts by Authorities to Start Schools Safely
ISD's Office has provided an email response in which Leslie Price, a district spokeswoman, said that they are trying to bring back teachers in a very phased manner. Also, from August 17th, volunteers will visit schools to check whether necessary safety protocols have been implemented in schools.
However, Wanda Longoria, who is president of NAFT (Northside American Federation of Teachers), is not happy with the schedule for the opening of schools. She says that NAFT is happy that Northside board, as well as superintendent, have agreed to open schools after Labor Day. But the federation is not happy that San Antonio ISD wants teachers to be in schools earlier.