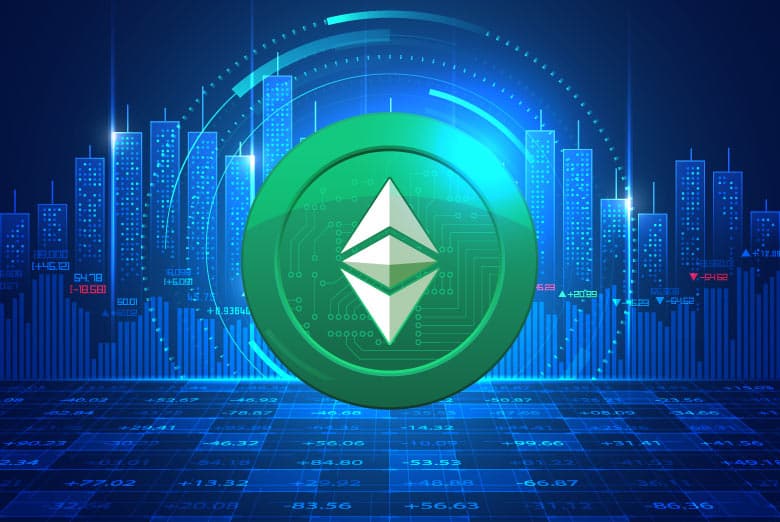 Introduction to an Ethereum Classic
Ethereum Classic is an open-source global blockchain platform for decentralized applications (DApps) that leverages smart contracts and is embedded in the native digital currency Ethereum Classic (ETC). Code can be written to Ethereum Classic to control the transmission of digital values ​​based on programmable conditions without the possibility of interference from central authorities. 
This cryptocurrency emerged in 2016 when the Ethereum community was split in two. At the time of the split, Ethereum Classic and Ethereum were almost the same in terms of technical design, but they have evolved in their way since then. Ultimately, Ethereum Classic aims to be a valuable digital store resilient to globally scalable payment networks, innovative contract platforms, and centralized governance. 
The cryptocurrency Ethereum (ETH) was issued in 2015 and is the second largest after Bitcoin. Ethereum Classic is a native version of the Ethereum blockchain that seeks to maintain the core principles of decentralization and immutability through an immutable transaction history.
List of Factors That Determines Ethereum Classic Price
Supply and Demand
Supply and demand are the most critical determinants for any crypto's price rise and fall. The price of crypto directly depends on their supply and demand. If the demand for ETC increases, its price will increase accordingly. However, with a fall in demand, the price will come down. 
High Transaction Volume
This directly affects the price of Ethereum. The level of transaction fees on the ETC blockchain increases as the volume of transactions increases. Ethereum Classic miners are paid these fees to sell tokens on the crypto market. This will increase the supply of Ethereum. 
The higher the transaction price, the higher the demand for more ETH tokens, and this is because you need Ethereum to be able to pay transaction fees. 
Competition 
Thousands of new cryptocurrencies are born each month, most of which have no long history. As a result, there is fierce competition in the crypto market, and avoiding it is not for everyone. However, if cryptocurrencies share some potency with Ethereum, those who succeed in maintaining power can significantly impact prices. 
Media coverage 
This is another critical factor influencing the price of the Ethereum Classic. Most mainstream media are busy covering Bitcoin and DOGE. Prices will go up if the media pay attention to ETC and bring it to the masses.
See What's Current Status of Ethereum Classic (ETC) Price
However, while the forecasts for the future supply of both coins were initially similar, as each currency evolved, differences emerged over time. Ethereum does not have a strict limit on the number of native tokens created, but Ethereum Classic has undergone several upgrades to deflate monetary policy. That is, the number of tokens created will decrease over time. Due to the lack of tokens, ETC is considered a better and more valuable store than Ethereum. With the 
upgrade, Ethereum Classic's supply will be limited to 210.7 million, and its block reward will be reduced by 20% every 5 million blocks, or approximately every two and a half years. Today's price for the 
Live Ethereum Classic is $ 29.75, and the 24-hour trading volume is $370,759,987. Update ETC to US dollar price in real-time. Ethereum Classic has increased by 1.32% in the last 24 hours. The current ranking is #38, and the live market capitalization is $3,949,726,806. The circulation stock is 132,770,470 ETC coins, and the maximum supply is 210,700,000 ETC coins.
Ethereum Classic Price Prediction for Upcoming Years
Ethereum Classic Price Prediction 2022 
According to the Ethereum Classic price prediction 2022, there are daily price forecasts that ETC will rise in the coming weeks, despite the recent price declines of almost all crypto coins. However, Ethereum Classic prices will continue to trade bearish so that the Ethereum Classic price forecast for the first half of 2022 can be retained according to the current price trend pattern against the US dollar, especially how to trade within a specific price range. Is. It is still premature to predict whether ETC price behavior will improve, but there will be light at the end of the tunnel in the short term by the end of 2022. It is expected to be the highest at $ 42.
Ethereum Classic Price Prediction 2023
Ethereum Classic is expected to be bullish, but it will temporarily depreciate or lose, trade around $45, and then bounce back to $ 50. However, it remains a pessimistic scenario. More accurately, use complex tools to significantly increase your profits and sound investments. If this trend continues, this future forecast for the current price in 2023 will be conducive.
Ethereum Classic Price Prediction 2024 
With no excellent prospects and the fact that bulls get into the crypto market, ETC price forecasts are expected to once again dominate the crypto industry empire, with performance tied to an average price of $ 51. This shows that the Ethereum Classic (ETC) Price Prediction retains itself and has the full potential to grow steadily under adverse conditions. 
Ethereum Classic Price Prediction 2025
This year can be called the base year, as the price of ETC is expected to exceed $ 65 in every respect. The main reason is that significant pandemics and recessions will not undermine the roots of this year's global economy. Most of the damage is expected to be on the road to repair work for all global economies. Furthermore, due to mass adoption and Ethereum Classic pricing forecasts, Ethereum Classic pricing forecasts are expected to reach the lowest price of $ 48 by 2025.
What Is the Right Time to Buy an Ethereum Classic?
Looking at Ethereum Classic vs. Ethereum, it's not hard to see that Ethereum has a better outlook for the future. Confidence in the ETH network has increased, support has increased, and market capitalization is much higher than the price of Ethereum Classic. In addition, there are more Ethereum-based Defi platforms and other DApps than any other innovative contract platform. 
The Ethereum Classic network has been hit by multiple 51% to make matters worse. This can happen if the attacker gains sufficient hashing power to control most of the network. It could then change the blockchain, creating potential issues such as double-spending transactions that allow users to send the same coin multiple times.
Conclusion
The bottom line of Ethereum Classic (and like any other cryptocurrency) is that you should always do thorough research before buying. With a focus on growth and a clear plan for the future, ETC certainly has potential. However, significant hurdles must be overcome before realizing this potential. Therefore, various ETC pricing factors should be carefully considered before buying tokens.