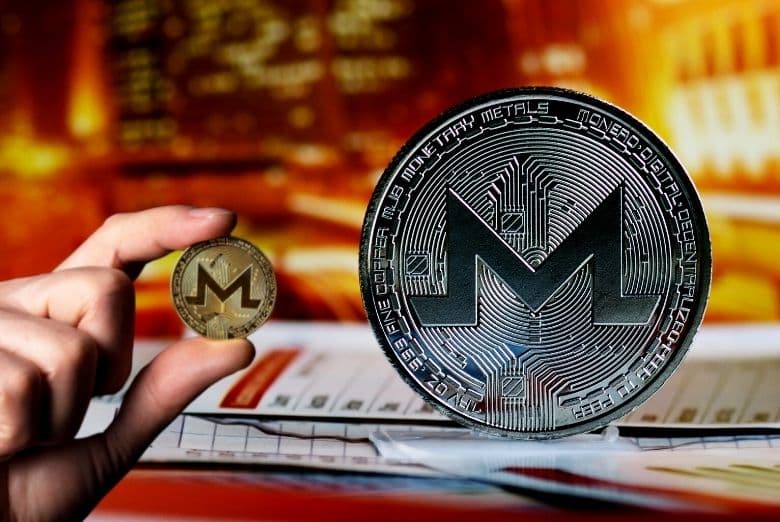 Monero (XMR) is a privacy-focused open-source cryptocurrency that uses a ring signature and stealth address to make transactions unanimous. It was launched in 2014; it got immediate community support in the market.
The main concern of XMR is privacy in transactions. It uses cryptography technology to protect transaction amounts and sender-receiver addresses, making the process secure, private, and non-traceable.
Monero works uniquely. You have to create a Monero wallet that offers you a private spend key, private view key, and public key to use the features. The public key is used to receive transactions, the private view key checks incoming transactions, and the private spend key is for sending transactions. Moreover, it allows you to show all the transactions to any authority or people to maintain transparency.
Ring Signature and Stealth Address also play a vital role in the Monero network. Ring signature hides the sender transactions, whereas stealth address hides the receiver's address. It makes a one-time address, so it is impossible to link with the recipient's address after the transaction. All these features make XMR one of the largest privacy-oriented cryptos in the market.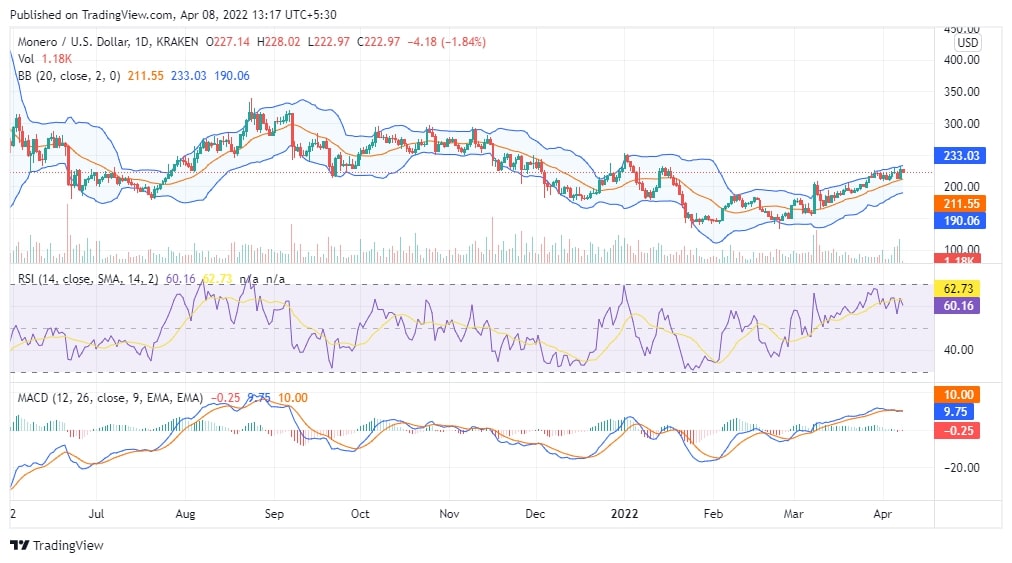 At the time of writing, XMR was trading around $223.13. After breaking the initial resistance level on March 08, it has started a bullish trend, but we think it will face the next resistance around $250. The price may retrace from that level, which can be an excellent opportunity to buy for the long term.
On the daily chart, technical indicators are bullish. The RSI is 60, and the MACD line is also trading above the Signal Line. Both the indicators show bullish momentum. For a more detailed technical analysis and projections, check out this Monero price prediction.
However, a red histogram is forming on the MACD chart, but it is negligible. The candlesticks are forming well above the baseline of the Bollinger Bands, showing a positive outlook. The best part is it has been consolidating in the upper range since March 29, and it has formed support around $212.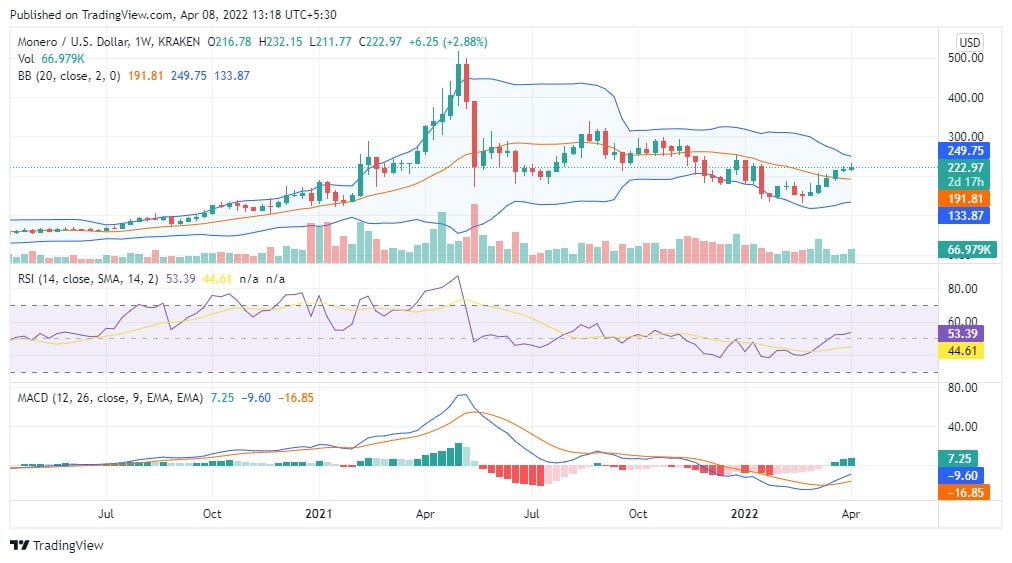 However, for the long-term view, we also have to analyze the weekly chart. After breaking the support level in the second week of May, it consolidated in a lower range last year. Now we can find six consecutive green candles on the weekly chart, which suggests a trend reversal.
The $280 level will be a strong resistance of this coin, but it is a good time for short-term investment. Besides that, it is also a good chart for long-term investment, but you have to hold it at least for a few years to get good profits.