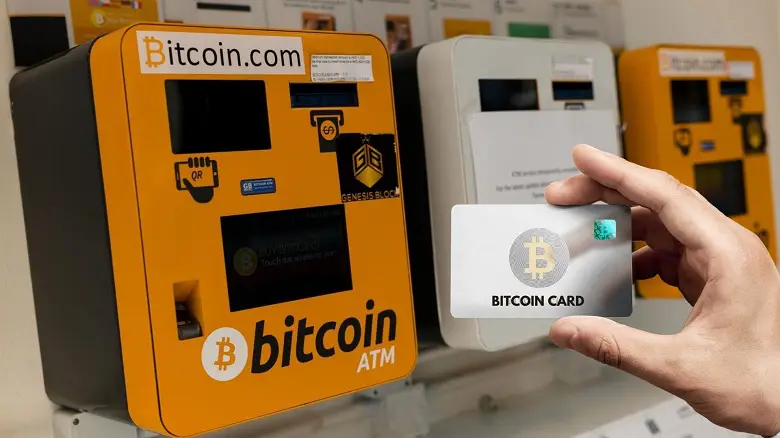 Bitcoin ATM is an internet-connected kiosk that permits customers to purchase Cryptocurrencies and Bitcoins using deposited cash. A Bitcoin ATM cannot be compared with an Automated Teller Machine (ATM) that the customers use to physically withdraw, deposit, or transfer funds through a bank account. Bitcoin ATMs use blockchain-based transactions that can send cryptocurrencies to other user's digital wallets through QR code. In this article, we will discuss all you need to know about Bitcoin ATM.
Bitcoin ATM Fees
Few Bitcoin ATMs provide bi-directional functionality that enables the users to purchase as well as the sale of Bitcoin for cash. For this service, the customers are charged a small amount as a service fee for using Bitcoin ATM. This fee is charged as a percentage of the transaction done instead of fixed dollar value. Bitcoin ATM operator CoinFlip (the largest network of Bitcoin ATMs in the United States) remarks that the average fees for Bitcoin purchase are about 7% higher than the Bitcoin spot price.
Types of Bitcoin ATM
Some ATMs accept Bitcoin debit cards, allowing the users to withdraw cash. It will be useful when you are traveling to a foreign country.

Bitcoin ATMs can be classified into 3 types – 

ATMs where you can buy BTC

ATMs that convert BTC to fiat currencies

Special ATMs that allow the users to do both.

Based on where you live and how many Bitcoins ATMs are present in the area, these ATMs help users to buy and sell Bitcoins easily by removing a few steps in the process. Even though the number of businesses accepting Bitcoin as a form of payment increases, it can be difficult for users to spend their Bitcoins easily daily. Moreover, Bitcoin ATMs act as physical Bitcoin exchanges to help the users.
How to use a Bitcoin ATM?
The price of Bitcoin is dependent on the present exchange rate. Bitcoin ATMs charge a small number of fees for their services offered. Bitcoin ATMs, on average, charge 8 to 10%, which is a bit high for many people. Even though 8 to 10% is an average, the costs vary per machine – whether it can go higher or lower; as a user, you should make sure to read the ATM instructions before you proceed to use it. When a user withdraws from a Bitcoin ATM, Bitcoins are dispensed to the user's Bitcoin wallet through a QR code or dispensed to a paper wallet generated by a few ATMs. Currently, in most cases, ATMs would require the users to provide KYC for identification purposes, so you need to keep your identification ready.
Buying Bitcoin using a Bitcoin ATM
Even though the process varies with every ATM, the general flow to use these ATMs to purchase Bitcoins is the same.
First, you should choose the option to buy Bitcoins (applicable to Bitcoin ATM that provide buying and selling services)

Secondly, you need to scan the QR code of your wallet address using a Bitcoin ATM scanner.

The next step would be to enter the amount you would like to buy then insert the cash.

The Bitcoin ATM takes a few minutes to process the transaction. Once it is done, you need to check your Bitcoin wallet to confirm the sale, and it is concluded.
Can I Withdraw Cash from A Bitcoin ATM?
If you want to withdraw cash from a Bitcoin ATM, you should have a wallet with Bitcoins in it. Several Bitcoin ATM service providers offer the lowest rates to use Bitcoin converted to cash through Bitcoin ATM.
Here are a few steps about how you can withdraw cash from a Bitcoin ATM –
Create an Account
To use a Bitcoin ATM, you need to have an account. Further, it is free, easy, and it is a quick process to enroll through a mobile.
Locate a Bitcoin ATM to Withdraw Cash
The second step would be to create an account through a service provider, and you need to find a two-way buy and sell Bitcoin ATM near your area.
Keep your Wallet Address Ready to Convert Bitcoin to Cash
If you are withdrawing cash, you need to own a Bitcoin wallet; these transactions should be stored in a wallet. You need to have a wallet address where your Bitcoins are available. You should remember this is your private key; if you have multiple keys or multiple wallets, you need to select one to use for this transaction.
Providers of Bitcoin ATM
Bitcoin ATMs are gaining popularity, as several manufacturers helped to make these

Bitcoin ATMs

machines accessible. Currently, there is over 4,400 cryptocurrency dispensing ATMs globally that are located in 77 countries. Several producers had developed these ATMs helping everyone to purchase one or a few machines to sell cryptocurrencies locally.

Genesis Coin is the company that ranks 1st globally that manufactures crypto ATMs. This company has 4000 cryptos ATMs spread worldwide, followed by general bytes offering 3442 ATMs globally.

There is significant growth in the number of ATMs in 2020. This shows a growing interest from financial institutions and retail buyers that also includes the financial giant Paypal.
Final Thoughts
As people are moving towards adopting cryptocurrencies and Bitcoin, businesses are trying to figure out ways to accommodate Bitcoin and the various cryptocurrencies as a form of payment. Businesses have started accepting Bitcoin as a currency for their products and services, while others have developed their coins for raising funds through ICOs. Bitcoin ATMs are a convenient way to buy and sell Bitcoins faster and even anonymously. Even though Bitcoin ATMs operate in the same way, we recommend you that first check the Bitcoin ATM fees before using them. Apart from that, Check out Bitcoin Future platform to make good money from trading. It is an automated trading platform that helps you to make huge profit.