Gambling News
Drake Collborates with Stake.com for 'Drake on Stake' Live Event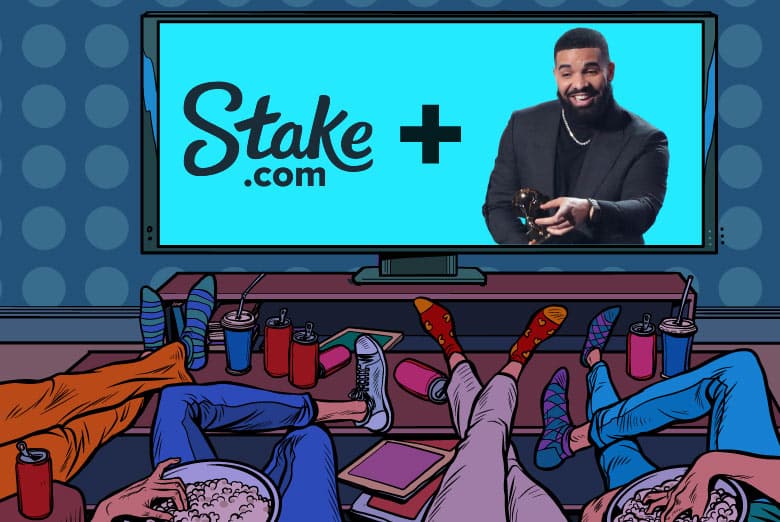 Four times Grammy awards winner and Hip Hop superstar Drake announced that he would be teaming up with the popular Curacao-based sports betting and iGaming firm, Stake.com for a betting event with an exciting twist. The news made the headlines soon after the announcement to collaborate with Stake, the Canadian betting firm, and instead of retaining winnings for himself, the rap artist will dish out all the proceeds to his fans. 
'Drake on Stake'
Prominent rapper and musician Drake, real name Aubrey Drake Graham, has still not announced a date for the live betting event, requesting followers to keep calm and "stay tuned" for further details. 
Drake had already developed a great reputation for placing massive bets on different kinds of sports events before he announced the betting event on his Instagram profile, partnering with Stake.com. 
Drake also mentioned how inevitable it was to make this event a reality. 
In Drake's accompanying statement, he told his followers that the rapper would play and win real money to give it to his followers. 
In addition to this, the Drake on Stake betting event will also encompass an array of unique video streams all throughout the year where the star will be collaborating with different marketing teams and bringing new and exciting experiences to the Stake platform users and giving them an opportunity to win along with him. 
Stake.com's co-founder, Ed Craven, commented on this partnership with Drake and outlined the significant role that he has been playing in building a global community for the platform for a few months now, and the natural evolution and next step for the two parties were to collaborate and come together on a live stream. 
Both parties share an equal love for gambling, crypto, and the community of like-minded enthusiasts of the culture and technology of this cutting-edge movement. 
Making Gambling Headlines
Drake made the headlines a month ago with another gambling-related event soon after the bets he made on Super Bowl LVI and reportedly won about a million and a half in Bitcoin. 
Fortunately, gamers who are curious if Stake.com accepts cryptocurrency can find a variety of deposit and withdrawal alternatives. Stake.com is not just a bitcoin casino, but it also accepts dogecoin and other cryptocurrencies.
Players can select their chosen options and currencies at their leisure. Everything is easily managed through your Stake.com wallet, which also gives you access to your casino money. 
Various crypto casinos also accept lesser-known cryptocurrencies or altcoins like XLM. XLM is without a doubt one of the most useful cryptocurrencies for making payments. Transactions are completed in a matter of seconds, and the costs are so minimal that they may be termed free. XLM has established itself as a trustworthy cryptocurrency, frequently appearing in the top 20 in terms of market capitalization. The Stellar Development Foundation also has continuing collaborations with major businesses, including IBM, Deloitte, and Barclays. This greatly increases the project's validity and worth.
XLM gambling is the ideal means to take advantage of the top crypto sportsbooks' perks, such as anonymity, no geographical limits, and crypto bonuses.
The star placed bets worth $1.25 million in BTC on the Rams in order to win against Odell Becham Jr and the Bengals, another bet to get a minimum of 62.5 receiving yards while another bet for scoring a touchdown. Drake managed to win two bets out of these three wagers and landed massive winning amounts. 
Being super enthusiastic about placing wagers with pals, Drake, in 2018 Quavo, had to give up a substantial amount after he lost a wager on Georgia Bulldogs, his hometown, in a College Football Playoff National Championship. 
Drake's album, last year called Certified Lover Boy, a new US record, saw more than 600 million plays and 595,000 downloads on streaming sites. 
Drake has become the high-profile currency character for collaborating with Stake.com, a Canadian gambling and betting platform, pursuing the footsteps of the retired professional footballer Sergio Aguero, who also partnered with Strake in a multi-year collaboration last month.