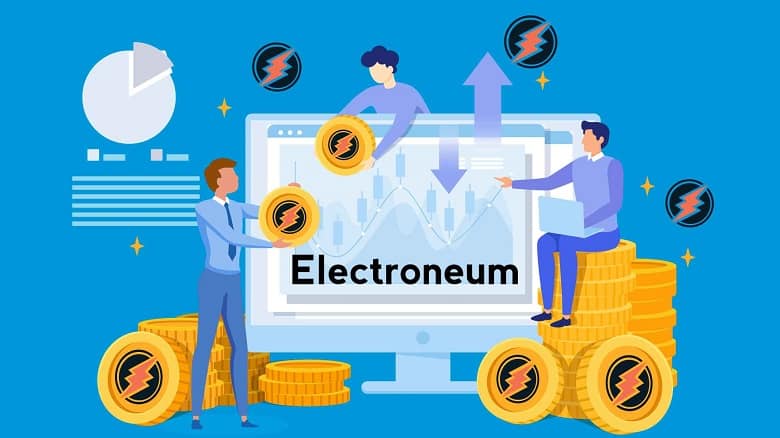 Electroneum, one of the top 200 coins of the global crypto market, is seen trading with a near-term pullback over the past three weeks and has, therefore, corrected from $0.00627 to currently trading at $0.00447. Although ETN is ranked below 100 and 150 in the global crypto market, it was one of the top 10 trending searches on LunarCRUSH in the past 24 hours.
Top 10 trending searches on @LunarCRUSH$rsr #reserverights$btc #bitcoin$om #mantradao$gnt #golemproject$cvc #civickey$vet #vechainthor$link #chainlink$zil #zilliqa$yfi #yearnfinance$etn #electroneum
5:18PM UTC Wed, Nov 11 pic.twitter.com/maaaKe1SK9

— The Crypto Alpha 📈 (@thecryptoalpha1) November 11, 2020
Electroneum may appear as non-profitmaking crypto this year after maintaining a flattish trend right after hitting a YTD high above $0.0100 at $0.0113. However, the ETN price has gained massively this year after an extended downtrend over the past year. The steep rise in price reflects the power of Electroneum and is back to drawing a downtrend yet again.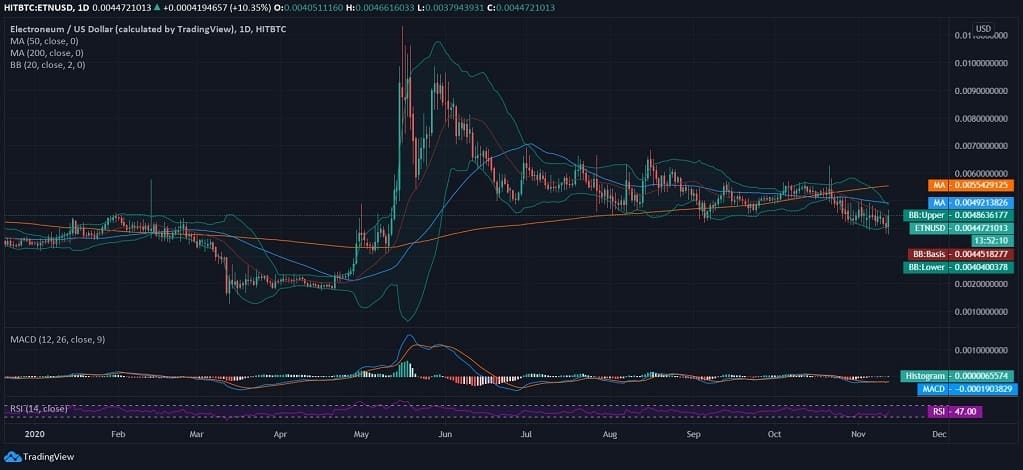 When penning down the Electroneum price analysis, the price was spotted at $0.00447 after having risen from the 6-month support hit yesterday at $0.0037. ETN strengthened by approximately 20% in the past 24 hours, and with an intraday positive sentiment, ETN/USD is fetching gains with regard to daily trade. The downtrend extended over the previous month remains intact and the 20-day Bollinger Bands appear slightly squeezing; and therefore, a near-term breakout is likely to happen.
Although the currency might be drawing a bullish intraday crossover, it fails to hold support from 50-day and 200-day MA on the daily chart at $0.0049 and2 and $0.00554, respectively. Moreover, Electroneum price after having hit a YTD high at $0.0113 has lost a significant amount in 6 months, leading to losing approximately 10% in each month.
The MACD indicator reflects a flattish trend and a bearish crossover due to a constant pullback from the YTD high. The RSI is seen lying at 47 and is rising from the bottom after an intraday hike in price.