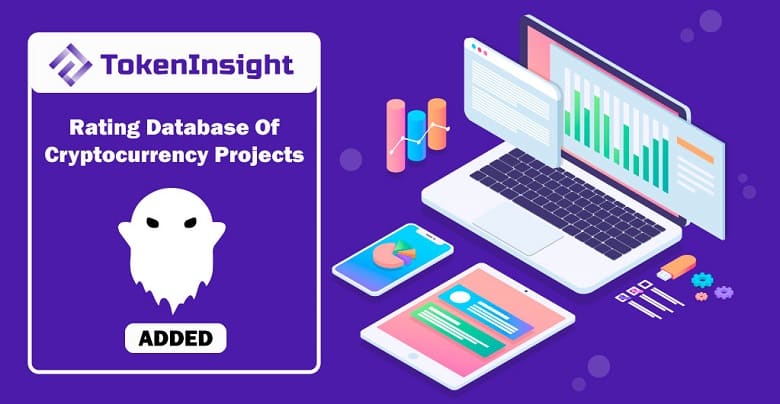 Blockchain-based fintech platform TokenInsight announced that it has added four new tokens to its cryptocurrency ranking database, including privacy-focused GHOST token. The other three tokens added are Monolith, Solana, and Haven Protocol. While GHOST received a "B" ranking, the Web3 DeFi project Monolith (TKN) received "CCC," scaling-focused Solana (SOL) received "BB," and the DeFi ecosystem Haven Protocol (XHV) got "CCC." According to the database, TKN has a "Positive" outlook, while GHOST, SOL, and XHV were considered "Stable."
TokenInsight added 4 projects to our #rating database #cryptocurrency

Monolith: @monolith_web3 #TKN = CCC
Ghost: @ghostbymcafee #GHOST = B
Solana:@solana #SOL = BB
Haven Protocol: @HavenXHV #XHV = CCChttps://t.co/xuDiVBVyZ6

— TokenInsight (@TokenInsight) August 6, 2020
Founded by computer scientist and anti-virus pioneer John McAfee, GHOST is a proof-of-stake privacy coin, focused on building an independent global financial system. The token can be used by anyone and anywhere, without any KYC requirements. The token is a part of McAfee's agenda of making the world as much decentralized as possible, especially in the economic sense. McAfee DEX, the decentralized crypto exchange, and GHOST token are two of the first crypto products developed by the computer scientist.
Monolith is a London-based DeFi platform that aims to establish itself as a potent blockchain alternative to traditional banks. However, the protocol is only available in the United Kingdom and the European Union. Solana is a high-performance blockchain protocol, boasting an insane transaction speed of 50,000 tps. Based out of San Francisco, California has a solid team with experience from giant tech corporations like Apple, Qualcomm, Intel, Google, Microsoft, Dropbox, and Twitter.
Haven Protocol is a DeFi ecosystem for private assets and has built the world's first private stablecoin XUSD. Based on the Monero protocol, Haven offers world-class privacy, security, and anonymity to all the private asset holders on its ecosystem. It also allows users from across the globe to exchange assets without the interference of any custodians or third parties.