PR
Gladio: Revolutionizing Affiliate Marketing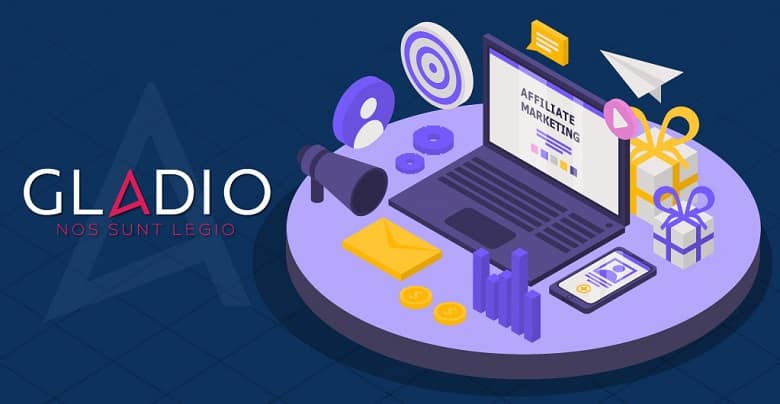 The 21st century saw a revolution in almost every aspect of the business, and marketing is no exception. With the exponential boom of the internet, digital modes of marketing seem to replace traditional ones. And among the emerging names, affiliate marketing has become one of the essential parts of digital marketing.
Affiliate marketing, as we know it today, has been around for quite some time, and with time, comes new challenges. Gladio is dedicated to providing solutions to these new-age challenges faced by both advertisers and publishers. To understand what Gladio does better, first, let's have a look at what affiliate marketing is.
What is Affiliate Marketing?
According to Oxford Languages, affiliate marketing is "a marketing arrangement by which an online retailer pays a commission to an external website for traffic or sales generated from its referrals."
In simple words, affiliate marketing helps a company to strike more sales with the help and efforts of its affiliates, who can either be individuals or an organization officially connected to it. These individuals or organizations conducted marketing and/or brand promotion of the company in return for a fixed commission or fee for every successful lead.
In today's times, affiliate marketing is an essential tool for sales and the income of social media influencers. Companies and brands tie-up with content creators on YouTube and other social media platforms for promoting their brand or products.
Gladio Offers a Unique Affiliate Marketing Program
With innovation and customer experience at its top priorities, Gladio offers a unique and modern affiliate marketing program, catering to both advertisers and affiliates. Here's what it offers to both the groups:
Strategy for Advertisers
One of the key benefits of working with Gladio is that the advertisers get access to the company's massive user base, which is estimated to be well over a billion people worldwide. Apart from this, Gladio offers a host of innovative advertiser solutions as part of its strategic affiliate program, each built on extensive market research on aspects like interests, demographics, market trends, etc. The following are a few advantages Gladio has for the advertisers:
Reaching Target Audience at the Right Time
Gladio interacts with consumers with intent-based ads, which allows the advertisers to reach the right target audience at the right time. With its unique algorithms, the platform identifies the interest of the users, the time they are most active, and the level of their responsiveness. This helps Gladio achieve a 90%+ conversion rate with higher traffic.
The billion-users strong network of Gladio is spread across the globe, which lets advertisers worldwide utilize their services. Moreover, it allows advertisers and brands to reach out to an international audience and give broader exposure to their products.
Gladio has served some of the biggest names in the advertising industry, putting out immensely successful results. Working with Gladio offers detailed info and strategic details from highly reliable sources. This, coupled with meticulous selection and screening of affiliate publishers, results in successful ad campaigns.
Strategy for Affiliates
Affiliates are probably an essential part of affiliate marketing; however, they remain underserved to a great extent. Gladio understands the importance of affiliates and provides services that make life much easier for them while also providing better economic opportunities. Some of the key benefits for affiliates in working with Gladio are mentioned below:
Dedicated Account Managers
Gladio allots all its member affiliates, a dedicated account manager, which helps them navigate through the wide range of products and services it offers. This helps the publishers to access all the tools and techniques needed to maximize their return on investment. Also, having a dedicated account manager allows the publishers to focus much more on content creation.
Best-in-Class and Flexible Payments
The most crucial aspect for an affiliate is a timely and appropriate payment, and Gladio prioritizes this for them. The company works only with the best advertisers, who have a proven track record in this regard, ensuring the highest monetization for the publishers. The robust financial infrastructure and the efficient team ensures that the payments are disbursed on the agreed time, also giving the affiliate accurate info on the amount of money they are supposed to get.
Exposure to Global Advertisers
The global presence and wide user base benefit the affiliate publishers as much as it does the advertisers. Affiliates get exposure to global advertisers and audiences, bringing new opportunities. Moreover, the worldwide reach and Gladio's in-house creative team helps them target a niche audience of a specific region or language. The illustrious list of Gladio's advertising partners gives the affiliates access to a wide range of geographic and product verticals.