TRON News
TRON (TRX) Appears Slightly Bullish but Lacks Momentum
TRON, one amongst the top 20 cryptos of the market, is seen with a flattish trend against the US Dollar and is currently trading at $0.0267 after a steep candlewick YTD high marked in the previous month around $0.0495. TRON foundation and the team behind TRX coin's success have led to a positive ranking in the global crypto market.
In this regard, it was just in the previous week when the TRON foundation and CEO, Justin Sun, announced the "Decision of TRON Foundation and Justin Sun on Unlimited 1:1 Withdrawal of TRX on OKEx."
(1/3) 📢Following the release of this announcement, @Tronfoundation and Justin Sun will stop the 1:1 $TRX withdrawal service for @OKEx users. The team will follow up on funds that have been transferred but not processed yet.https://t.co/YhZA3iwoFX

— Justin Sun🌞 (@justinsuntron) October 22, 2020
TRON is amongst the list of 10 coins listed on Huobi and has the highest market value and the BTT token with a larger scale and massive circulation to reflect the overall performance of Huobi Global's market.
$TRX & $BTT is on the list of HB10 Index of @HuobiGlobal. https://t.co/P1qZDr2gOw

— TRON Foundation (@Tronfoundation) October 26, 2020
The weekly report of TRON clearly reflects the coin's capability to fetch profit for the networkers and its potential investors. The weekly report highlights the three major points viz. TRON blockchain height has exceeded 24.34 million. The total number of transactions on TRON have reached a total of 1.297 billion. It also includes deposit and withdrawal of TRON based BTC on major crypto exchanges and wallets.
#TRON Weekly Report

1. #TRON blockchain height has exceeded 24.34 million.
2. The total number of transactions on TRON has reached 1.297 B.
3. Major crypto exchanges & wallets have enabled deposit & withdrawal of TRON based #BTC(TRC20-BTC).https://t.co/o7uhJzElY3

— TRON Foundation (@Tronfoundation) October 26, 2020
TRON Price Analysis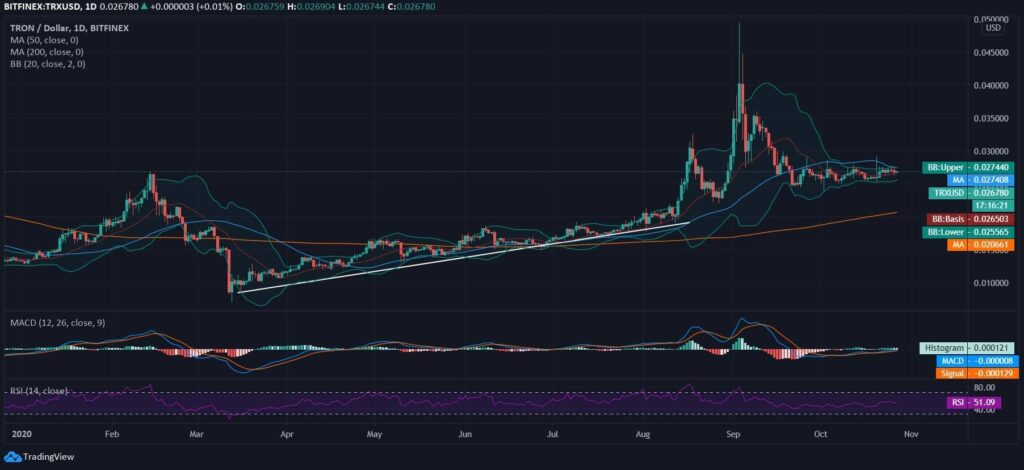 TRON price was spotted around $0.0267 at the time of penning down this analysis after a 5-month extended uptrend. In the previous week, TRX price rose as high as $0.0495 with a steep candlewick, and with a stringent resistance at $0.050, the currency failed to spur above and restored to trading below $0.030. Irrespective of Bitcoin's bullish momentum, some altcoins, including TRON, lack steady momentum against the greenback in the intraday.
Alongside the Bollinger bands are seen squeezing, which shows that the coin is likely to experience a breakout soon, and with not so strong price movement, TRX lacks support from MA50 while continues to restore MA200 support at $0.020 as the coin trades above $0.020 & $0.025. The MACD of TRON shows a slight bullish crossover with intraday positive price change but lacks steady momentum, which is clearly reflected by the RSI lying at 51.09.