Tezos News
Tezos—One Amongst the Top 20 Cryptos Lacks Strict Momentum
Tezos (XTZ), at the time of penning down this article, was seen trading amongst the top 20 cryptos of the global market, ranked right after Stellar, and has notably left behind NEO, Cosmos, VeChain, etc. Not just the coin, but the platform has reached major companies of the world to get the benefit in their day to day running through cutting 1000's of hours of unnecessary Lawyer fees through XTZ coin.
#XTZ #TEZOS #TEZ🚀
1/5#TEZOS already has some of the largest companies throughout the World using it's platform. !!!
When other companies find out just how Tezos can benefit them in their day to day running through cutting 1000's of hours of needless Lawyer fees through Tezos

— Rossa77 (@Rossa774) October 23, 2020
Tezos, as a smart contract and Liquid Proof of Stake platform, has become a well-known brand in the whole wide world. Although the price dynamics of XTZ coin may not appear favorable but the platform has gained enough impetus. Alongside, the platform has its additional benefit of educating their networkers through their regional clusters.
Just when the major coins amongst the top 20 are trading fairly well, and in green, Tezos is trading in red with sheer positive market sentiment.
Tezos Price Analysis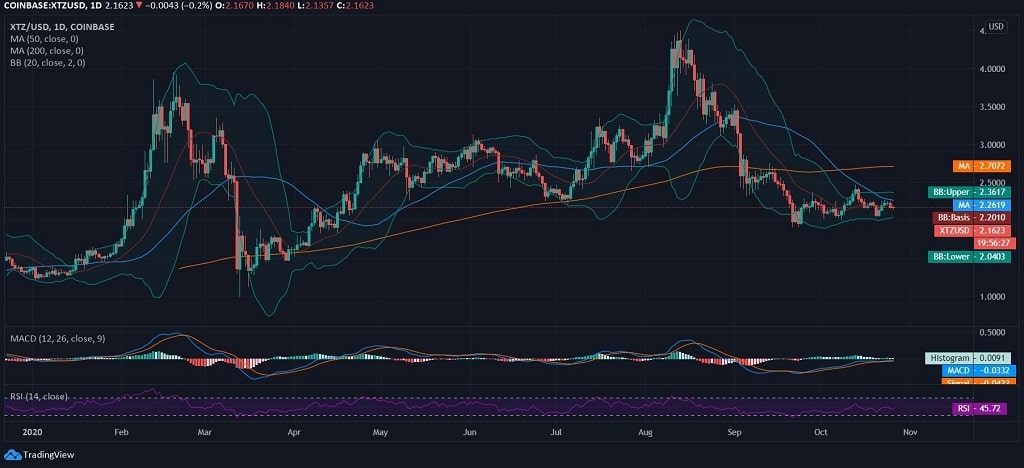 Today, Tezos was seen trading at $2.16 with no significant change in price dynamics of the coin against the US Dollar. Alongside, XTZ/USD was seen nosediving from the YTD high marked at $4.48, and with a gradual pullback, it tested supports below $2 at $1.91. Although, the coin was seen gaining after the YTD low hit during the major market crash in March, which led to a clear YTD high but faced a stringent resistance at $4.5.
With a gradual downward correction, the XTZ price has retained no support from MA50 & MA200 after sliding below $2.2 & $2.7, respectively. The bands are seen squeezing on the daily chart, and therefore, we expect a breakout sooner than ever.
Although the MACD sentiment remains bullish after having risen from the 5-month support marked below $2 at $1.91, the intraday is not drawing a notable positive price change. The bullish divergence lacks traction as the Tezos price trades below $2.3 & $2.5 on the daily chart. The RSI is seen inclining towards the support region, although it is away from hitting the extremities and lies at 45.72.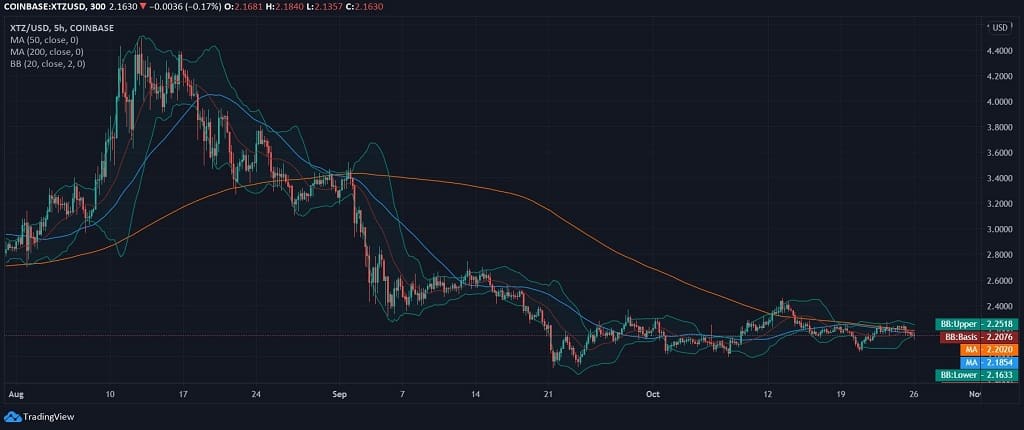 Alongside, the 5-hourly movement of Tezos is completely bearish and is giving no glimpse of positive sentiment on the above chart with no support retained from 50-day and 200-day daily MA on the above chart as well.