Forex News
How to Start Your Career as a Forex Trader in Singapore?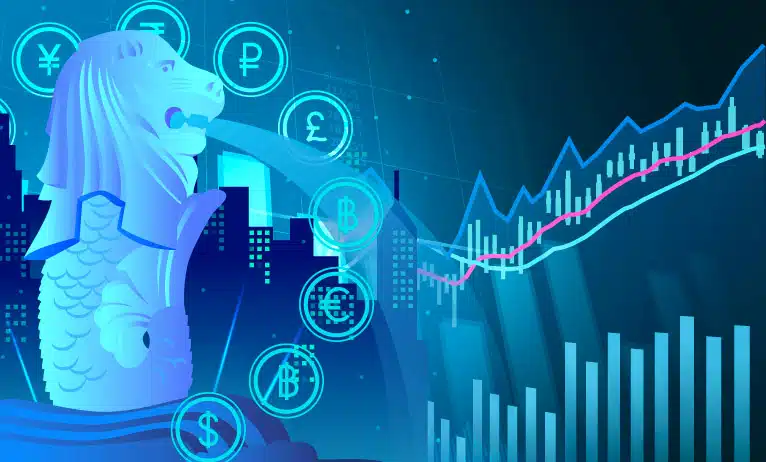 Introduction
Buying and selling currencies to make profits may sound interesting, but making a career as a forex trader in Singapore may be quite challenging. Forex trading is risky, fast-paced, and volatile, but traders have greatly succeeded due to its rewarding endeavor. Forex trading in Singapore has become a fast-growing strategy where Singaporeans are increasingly looking forward to learning more about making a career as a forex trader. It has emerged as an extremely popular career because of its easy accessibility, 24×7 schedule, and high liquidity, especially for those with a financial background. Traders can be their own bosses with the comforts of making profits using just a mobile or laptop.
Although people have read about foreign exchange trading as a way to make additional money, the issue lies in certain false assumptions where second-hand education or knowledge about forex trading may lead to massive losses. Beginners at forex trading Singapore can learn about how to start a career as a forex trader by reading this guide. We have covered basic definitions and provided a Forex Trading Guide to help new traders choose the best forex broker in Singapore.
What is Forex Trading, and its Working?
Forex trading involves buying and selling one currency for another. Similar to other trading activities, the main objective of trading in foreign exchange is to earn profit. This is possible because the value of currencies is fixed – they can increase or decrease depending on different factors like monetary policies, demand and supply, geopolitical factors, and other macroeconomic conditions. 
Now, how does forex trading work exactly? Essentially, in forex trading, traders need to make a bet about the strength or weakness of a particular currency against another. If the bet is done correctly, the traders make a profit. Since FX trading always involves selling a currency for another, the trades occur with a pair of currencies only – a base currency (say, USD) and a quote currency (say, EUR). For instance, if the value of the forex pair USD/EUR is 1.34, then 1 USD Costs 1.34 EUR.
Forex Trading Guide to Start your Career
To master forex trading in Singapore and make it a successful career, follow the simple steps mentioned below and make forex trading a profitable venture –
Learn About the Forex Market:

First things first, it is crucial to have a crystal clear understanding of how a forex market works since traders put a lot of their hard-earned money into investments. The forex market is a virtual network developed by multiple forex brokers, traders, and institutions. It is important to understand the nature of the market, forex market opening hours,

forex abbreviation and trading terms

, different currency pairs available, market trends, risk, management techniques, and many more. The forex market is extremely liquid in nature. Hence, beginners must look for resources that are available online such as video tutorials, educational articles, trading, courses, and webinars, that help them learn about the forex market.
Develop a Solid Trading Plan:

All profitable businesses worldwide have a consistent and goal-oriented set of actions. Every trader needs to have a solid trading plan for trading to be consistently profitable. Beginners must clearly know the different trading goals– what markets to trade in? What is the entry trigger? How many units or shares to buy? How much risk per trade can be taken? A well-designed plan must be developed to achieve the trading goals, including a risk management strategy to maximize profits and minimize losses.

Choose a Brokerage:

After having a better understanding of how the forex market works and laying down a solid trading plan, traders need to start finding a trustworthy, licensed, and

reputable forex trading platform in Singapore

. Several online brokerages offer forex trading services through cutting-edge trading platforms. Seek a brokerage company that is licensed, trustworthy, and has a transparent fee structure. Beginners can choose a broker that offers demo accounts since these can help new traders test their trading skills and strategies without investing real money. After choosing a brokerage company, traders can create a schedule to be aware of the hours during which the major forex markets operate.

Practice with a Demo Account:

Demo accounts are extremely helpful as they allow new traders to explore a trading platform without risk. Traders can simulate real trading strategies and learn the ropes, familiarize themselves with the platform, and start learning how forex trading works in reality. The best thing about practicing with demo accounts is that traders can make mistakes without losing any money. This trial-and-error feature allows traders to openly explore the steps of trading foreign currencies and gain confidence and experience.

Start Trading with a Small Account:

Traders starting their career in the forex market can start their journey with a small account and gradually increase the trade size as they gain confidence. Trading with a small account requires strict money management and risk control since there is no protection against unexpected losses or mistakes. Trading with a small account also ensures that beginners can manage their trades effectively.

Keep Learning and Improving:

The only way one can get better at forex trading is by learning and improving. Follow the top forex traders, read their blogs, learn about new trading strategies, watch videos and tutorials, and join popular trading forums to gain knowledge and develop better trading skills. Although forex trading is beginner-friendly, the markets are massive, with millions of experienced traders operating effectively daily. While it is common to lose money while trading forex, every beginner can become an expert through proper risk management and forecasting.
Conclusion
Forex trading may appear simple on the surface, but to make the right decisions, every trader needs to spend a significant amount of time and effort examining the underlying conditions and factors that impact currency prices. This includes keeping up with the economic affairs, understanding market trends, and having thorough Knowledge of economics and history. In addition, note that forex traders do not have any definite income as the profits solely depend on their trading strategies, the capital and time invested, and their experience level. The best way to receive guaranteed profits and minimize losses is through responsible trading, which is the only way to secure long-term profitability.
FAQ
Can You Get a Job as a Forex Trader?
Yes, there are popular entry-level forex trading jobs, including currency researchers and forex market analysts. Forex traders can either work for brokerage companies, hedge funds, institutional investors like multinational banks, investment banks, investment management firms, corporations, and central banks or be self-employed.
Is Learning Forex Hard?
Learning forex trading can be difficult, but it is often considered a highly engaging and easy money-making career. The forex market is the most liquid and largest in the world. However, when it comes to trading currencies, people may find it slightly different from trading commodities or stocks.
How Much Can a Beginner Forex Trader Make a Day?
Trading forex is a percentage game that can bring enormous profits even for beginners. However, there is no definite income baseline since forex trading depends on various factors and the experience level of the traders.
How Can a Beginner Start Forex Trading?
Anyone can start their trading journey in currencies efficiently and smoothly by learning about the forex market, choosing a reputable brokerage company, practicing virtual trading, establishing financial goals and targets, and going easy on the trades with a small account.