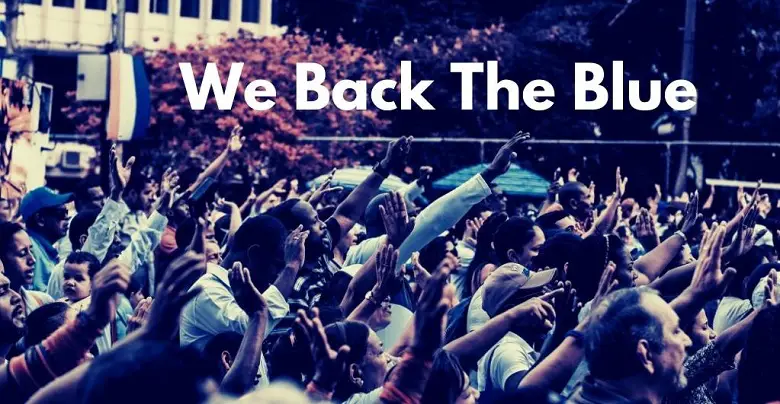 As a major turn of events, several people came out and rallied in support of the law enforcement department in the city of Annapolis, Maryland. According to the reports, a rally called "Back the Blue" started at the Maryland State House complex, and primarily joined by the families and friends of law enforcement officers. This rally was led by some of the veterans and reputed law enforcement officers in the Maryland state.
While several other cities in Maryland and across other US states witnessed the protests against police brutality over the past month, Annapolis' Back the Blue rally stands out with its different sentiment. The rally-goers expressed their intentions for Back the Blue and how they demand respect for the law enforcement department of the state and the country.
The pro-police rally organizers stated how things are "messed up right now" and how "criminals are the victims," and the police are portrayed in a bad light. Reflecting on such narratives of minorities, which was clearly implied towards the African American community, the Back the Blue ralliers did not shy away to showcase their dismay.
Timothy Altomare, the Police Chief of Anne Arundel County, clarified how some bad cops have disrupted the repertoire for the other cops who do their jobs sincerely in a good and ethical manner. He believes that several policemen like him have taken bullets to save the lives of others. These heroic men and women of the US Police Enforcement System should not be subjected to the same hatred that those bad cops deserve.
The County Chief confessed his feelings of getting sick or feeling really bad when someone called them racists. The Back the Blue rally was arranged in support of police personnel suffering from mental and physical disorders caused by the harassment of police brutality protests across different parts of the country.
James DeWees, the Sheriff of Carol County, concurred to the objective of the Back the Blue rallies. He wants the safety of good police officers, having great integrity and character. The sheriff, along with other rally organizers, had gathered to support the sacrifice and dedication of several good policemen and women of Annapolis' local law enforcement agency.