Poker News
Professional Poker Player Salary or How Much They Earn!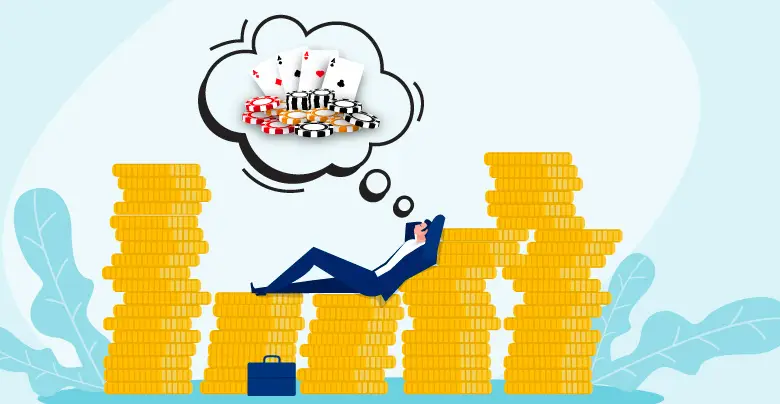 Over the past decade, poker has been the fastest-growing card game in the gaming industry. Be it online or offline; the popularity of poker has increased tremendously. By improving their skills and mastering the game, poker players worldwide participate in a series of poker games. These events help them rake in thousands of dollars. However, not all poker players make that kind of money. It is a professional poker player who bags these huge amounts every year.
Unlike other players, professional poker players do not play the game for recreation or fun. They consider playing poker as a profession. This card game is their career, and they earn their living solely by playing poker. When it comes to a professional poker player's salary, it is hard to believe the type of figures these players pull in. Their income comes from being proficient in several skills. Their mathematical skills, problem-solving thinking, and logical reasoning keep them ahead in the game. The interpersonal and strategic skills of professional poker players also drive their income.
A pro poker player is nothing less than a sportsperson or an athlete. By following extreme mental discipline and focus, these professionals achieve their goals in the game. Let's find out exactly how much money professional poker players make.
Is it Easy to Be a Poker Player?
Anyone can become a poker player by understanding how the game works. There are no educational qualifications or experience criteria required for playing poker. However, it takes more than a year to be good at playing poker. And the reason for that is the growing competition from experienced players. Unlike a recreational poker player, professional poker players are much more invested in the game. They make the role of being a poker player easy by winning effortlessly and surviving the most challenging hands in the game. There are four reasons why playing poker is relatively easier for these professionals than almost every other career option.
Money

: The foremost factor that makes poker easy is that it becomes a viable source of income. People get into this game to lead a wonderful life that is supported by unlimited earning potential. In the poker world, there are no losers as every player is rewarded in some or the other way.

Freedom

: The liberty to pursue this game as a career is what makes things easy. There are no hard & fast rules to follow in the career option. There is no one bossing around, and the players can be flexible when playing the games.

Traveling

: Almost every country has its poker tournaments. This series of events increases the chances of players to travel places. This improves their experience and exposes them to new competition. Without spending their own money, the players get to travel the world.

Competition

: While the game is challenging, it is also hugely exciting. By competing with others, a player can keep improving and stay consistent in this interesting career.
These perks make it easy for people to get into poker as a career option. And the income accrued by these players is something that makes all the efforts worth it. Concerning the income of a professional player, poker offers several modes of supplementing high-value brands also support their endorsers by providing an additional variance-free income. By being a brand or product ambassador, there is a good chance of increasing the net earnings from a tournament or a game. These deals have historically added more value to the player than what they may make from the game. The deals also bring more value to the gambling events and poker rooms. Some of the top performers in these events can command sponsorship dollars, which could potentially exceed the amount awarded to the tournament winner.
1. Coaching or Training
Besides sponsorship, another variance free income gets added to the pros for providing services to train to others. A poker coach can make a lot of money by training others every day. On average, a coach can earn$20 per hour. These earnings increase when associated with official training sites and by charging a set fee. Coaching is a great way to make money as it creates a schedule and keeps the pros busy in their career. A pro who is good at winning $1,000 no-limit (NL) games can comfortably make $500 by teaching others how to win these NL games.
2. Staking or Backing:
To make extra money, staking or backing other players is also a viable option. One can get into a staking deal for another pro and invest in a heated game. A single backer can buy a piece of the player and earn handsomely from the win. Cliff Josephy is a popular backer in pro poker. He has made a living by staking other pros and does not fear the odds of putting up his own money and taking a chance on someone else's game. A majority of times, the staking rewards are massive. Poker stakers can rake in multi-million dollar payouts if they back the pro winning the first place prize in a tournament.
3. Becoming a Part of the Gambling Media:
With appropriate skill sets, pros can transition into the poker media. They need a journalism background and game experience in the game to become media reps for tournaments and players. There are several paths through which a pro can transition into the poker media. From writing for small sites and building a portfolio to being the live tournament reporters for Heartland Poker Tour or the World Series of Poker, transitioning to the gambling media can bring in a lot of money.
These revenue streams allow players to make significant additions to their game earnings. Several pros leverage all the four streams to generate a wholesome income in their professional gambling career.
How much do Professional Poker Players Make?
In this card game, the pros' income varies from person to person, depending on the stakes being played, the level of skills, and their luck. On average, professional poker players make somewhere between $10,000 a year to $1,000,000 a year. Some pros even make $10 million a year. A top-tier pro in live poker, who is playing a $5 or $10 NLHE, makes around$250,000 a year. Pros who play at $2 or $5 NLHE games make more than $100 per hour. Similarly, the players at under $2 NLHE can average $70/hour.
Top professional poker players make sure that they make over $5,000,000 every year. By playing big blinds and high buy-ins, these pros become a part of a small, exclusive club of top grossers. These players are also capable of pulling off these results consistently. With a piece of superior knowledge in math and a fearless attitude at the tables, they can read every situation coming their way. Their reading capabilities are exceptionally well. But every pro poker player also faces tremendous swings during their career. Hence, it is hard to calculate exactly how much a pro poker player makes. Factors such as buy-ins, swaps, stakes, and bets change their income throughout the year.
Dan Bilzerian, considered the top poker pro globally, claimed to have won $54 million of a single game. Another pro, Bryn Kenney, is popular for being the highest earner in the game's history. In 2019, Kenney earned multiple seven-figure payouts, winning more than $30.3 million in a single year. To date, the highest annual income made by a pro in live tournaments is $56.4 million.
Who is the Richest Professional Poker Player?
As mentioned above, Dan Bilzerian is the wealthiest poker pro in the world. It has been reported that Bilzerian has a net worth of $200 million as of 2021. A majority of his net worth came from years of pro career in the game. Bilzerian is also invested in other business ventures and is recognized globally for his huge influence on the social media platform, Instagram. His fortunes have primarily come from poker winnings. He has been an active player in ultra-high-stakes games. After building a highly-lavish social media presence, Bilzerian has taken a temporary break from his poker career. His playing abilities are still unmatched by some of the best in the game. While Bilzerian has never won a major tournament, he is still considered the world's richest poker player.
3 Tips to Earn More as a Poker Player
To be a successful pro in this game, one needs more than just luck and practice. There are a few ways in which one can register high earnings from this profession. Here are the three most effective tips that can help you earn big on every poker game.
#1 Pick a Format and Stick to it
One can begin a career in pro poker by playing different games simultaneously. Sooner or later, it can be observed that playing different cash games impacts the playing capabilities simultaneously. It is challenging to be good at all formats of this game. Hence, it is advised to stick to one format and play consistently in it. Playing live cash games consistently can be a good option. One of the biggest roadblocks in the path of improvement is when a pro jumps from one game to another. It is difficult to be good at either of them, so the primary job is selecting a type of play and sticking with it – the decision. This does not mean that pros can't switch their games. After being good at a particular format of poker, pros can switch to MTTs or other types. Sticking with one format makes it easy to understand the main game and dedicate all the concentration to it.
The trick is choosing the right format. This selection is not done based on income potential. Instead, one should pick a format that suits the situation, and that is enjoyable. Those who are not interested in playing for prolonged sessions should not take part in tournaments or MTT. Some need the luxury of playing online on their computers. Some love the changing environment and try out different events to experience the dynamics of the tournaments. One may also consider the flexibility to manage time while selecting the correct format.
#2 Learn how to Know Your Odds
After selecting the format, one can concentrate on mastering it. This is done by learning the rules thoroughly and cracking the code by applying math to it. Regardless of the format, poker is played with math. It is essential to know the numbers; otherwise, it becomes too hard to achieve success. Sometimes, poor math skills can make winning impossible. The five essentials of knowing the odds as a professional poker player in a chosen format are –
Figuring out the odds to hit a winning hand when lagging.

Comparing these odds against pot odds and making an educated decision on whether or not to continue.

Applying these decisions to work by understanding the extra value they can add to the hand.

Counting frequencies and combinations for putting an opponent in a range.

Thinking only in terms of these ranges and not according to the hands.
The biggest mistake happens when the opponent is assigned a specific hand instead of a range of cards. This is a rookie mistake, and it can be avoided by understanding the frequencies and learning how likely an opponent is holding the other card. To assign a realistic range of cards, it is possible to avoid this mistake by observing all the action keenly. From analyzing the preflop to assigning the opponent a specific range based on their position, their bet size, and their actions, knowing the odds accurately in these games is possible. Some may struggle at the beginning, but practice improves this figuring-out part. Some pros are so good that they always know where they stand at the end of the hand. Then, all they have to do is either raise their bet or call if the hand is ahead of the opponent's range. If they are behind the range, then they do not hesitate to fold in poker.
#3 Invest in Education
After knowing the odds and the format inside-out, winning becomes easy. There is a high chance of winning low-stake games. These games are good for practice and do not cost a lot of bankrolls. However, professional players can aim for higher goals with proper research. To be ambitious and reach the goals of long-term success, pros need to invest in their education. There is no level of playing that is considered as the maximum limit. Pros can learn new things and train themselves to meet the changing environments of these games. They can study their win rate from how they played years ago to how they currently play. They can use online poker resources for free education. They can also invest in seeking expertise from the top-tier pros.
By investing in quality education, players can learn how to improve their skills in terms of reading cards and calculating odds. Top professional players in this game can be high performers through constant coaching and training. They can analyze the gameplay they followed years ago and compare it to the current dynamics. For exceptional results, they invest in getting coached by good players. A good coaching experience can help players save a lot of errors and money. In the poker community, gathering information is a highly-recommended activity. A majority of pro players invest in paid programs throughout their careers.
Fact: Most Poker Players Never Reach the Top
Despite these tricks, several players cannot reach the top and fail to succeed in their pro poker career consistently. A major factor that impeded their professional growth is health. This job induces insane stress on the individuals. It leads to a sedentary life, and people face the cons of sitting at a table for hours. There have been several instances where players hold their pee to stay in the game. This causes bladder disorders and kidney stones. Some even face difficulties in getting up for water or food. An uncommon yet grave problem that challenges these players is becoming prone to short-term memory loss. The heavy multi-tabling ends up breaking down a person's nervous activity in receiving stimulus every hour. Some are unable to focus on stagnant things such as watching movies or reading books. The short attention span caused by this game lowers a person's ability to become better than the rest.
At the gaming end, poker is much more challenging than other live gambling games. The win rate of online poker plays is considerably higher than that of traditional offline games. Some poker sites provide HUDs that disclose the betting tendencies and gaming statistics of players. This kills the spirit of the player and makes the games even tougher.
How Many Professional Poker Players are there?
There is no reliable database that tracks the participation of every person playing poker. Even so, the popularity of these games attract millions of people around the world. According to the statistics provided by the World Poker Tour organization, there are over 60 million users in online poker alone. And, this number is only from the United States. Globally, the number of online poker pros exceeds 100 million. This count is practically an infinity in the gambling landscape. The conventional, offline format of poker registers millions of regular players from the US, the UK, and the Middle East region. With such high participation, the real world of pro poker always stays glamorous. Players are active for hard hours and develop the patience to strive for more time. Every year, new players have climbed the ladder, making fortunes on online and offline tournaments.
Professional Poker – Hard Way for an Easy Living
Like other gambling games, poker is also equally challenging for the players. People who play poker to meet their living expenses end up choosing a hard way of earning. The following three factors explain why professional poker is so hard to make a career in.
Challenges in Math:

Almost every poker pro is expected to be a mathematical genius. Dozens of calculations run inside their heads while playing every hand. High stake bluffing and variable buy-ins involve serious math calculations. These players hunt for the win rates and plan their moves based on their mathematical calculations. They can attack the weak players by waiting for their descent and striking at the right hand. However, this mathematical skill set and the patience and attrition entails are too hard to inculcate. More than 80 percent of the pros fail to drive these skills in their favor.

Endless Amount of Study:

Math is not the only thing consuming the minds of these players. In high-stake games, multi-millionaire poker pros are exhausted from studying each hand. They think at a level that is impossible to experience. Their dedication and practice take a toll on their minds. Most poker players even end up forgetting basic things when they get dragged into studying the hand.

Unpredictable Bad Luck: In professional poker, it is important to be always prepared for the worse. Several unforeseen downsides happen in these games. Poker pros are expected to be immune to the ups and downs of the game. But, in some cases, the situation does not favor them despite the favorable odds. Due to technical difficulties or analytical miscalculations, they lose. Some pros even experience a losing streak for months, which eventually hampers their confidence. Their career and personal life get mingled. Most pros believe, "when something unlucky happens in your personal life, you're going to face it upfront in the game.

"
These hardships, however, also result in some amazing success stories. Players can survive through all this and register an exceptional win rate at every hand. They can react to their thoughts in a balanced manner. These downsides also pave the way for making tons of money at the end of the road. Players who invest too much time in these games are the ones living a luxurious lifestyle. They know how to identify a situation going south and toss it in their favor.
Why Play Poker Professionally
In the poker world, not all pros go on to become champions in tournaments and world series. And, that's the reality. So, it is not possible to win at every hand. Instead, it is important to be wise in reducing the overall losses in the career. Millions of people who play poker professionally consider quitting through boredom, lack of funds, or career challenges. Some pros have gone broke in a matter of months. There are professional poker players who have quit after being overly successful. Either way, there is no way of winning consistently in poker. Online poker sites place this disclaimer and have the rights reserved to accept or decline a specific level of stakes in their games. This way, online poker players do not lose much under these stake limitations.
Even after grinding for 16-hour days in pro tournaments, some players go home with bare minimum wages. But, even under these conditions, the good players do not quit. They know the beauty of poker, and they like always to be there to experience it. They have experienced the joys of becoming richer overnight. They have tasted the success of being a champion in one way or another. They are also aware that millions of players under their ranks look to them as a coach and an inspiration. At the end of the day, the profession of playing poker does provide a good salary to the players, and it is upon them to either continue for a chance at higher earnings or walk out with a lot of money.