Corona News
Singapore Unveils Blockchain App For Covid-19 Medical Data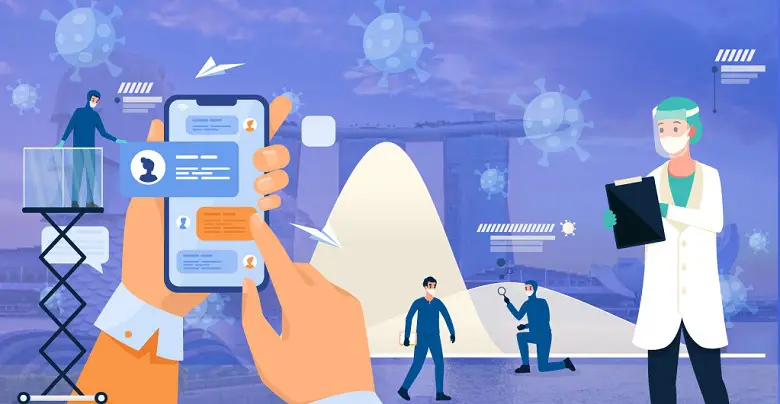 Having been an ardent supporter of blockchain technology, Singapore is gearing up to launch a blockchain-powered application, a digital health passport, to manage the Covid-19 medical data for healthcare users. The app has been designed by SGInnovate and Accredify. SGInnovate is a native investment firm supported by Singapore's Ministry of Finance, whereas Accredify works with GovTech Singapore to promote Open Attestation or blockchain-based system for notarizing contracts. The official Twitter post of Genica blockchain read:
Singapore launches blockchain-based digital health passport that manages & verify digitized #Covid_19 healthcare data documents. https://t.co/8vmtjNaPmH#healthtech #technology #tech #medicine #healthcare #healthtechnology #wellness #singapore

— Genica (@Genica_life) October 8, 2020
The ongoing coronavirus crisis has put an unforeseen challenge before the global healthcare system. The pandemic spread its tentacles throughout the world within a few months and posed a major threat to millions of lives. With death tolls rising to a whopping volume and lack of supporting health services, the management and recording of medical data, facts, and results became difficult for the authorities.
To tackle this issue, Singapore has developed a new tool powered with blockchain technology to collect and store data with limited human exposure to eliminate the risk of virus transfer. The newly designed health passport will help healthcare users manage and verify the digitally collected and stored blockchain data. The information stored will include a record of vaccination, discharge memos, swab results, and other crucial facts. As the information will be available on the blockchain, there will not be issues of modification, forgery, or deletion.
The application works on blockchain expertise to create immutable crypto keys for every medical document stored or collected. The customers can use a mobile app to verify their digitalized records and show this verification result in the form of a QR code to the health officials further. The use of modern technology will reduce the dependence on paper documents, enhance the security standards, increase the privacy of the data, streamline data sharing, and offer a well-developed transparent interface that controls access and usage of medical data.
Before the launch, a pilot project of the app was released in July 2020 as a service on the Singapore Ministry of Manpower's FWMOMCare app. The app was launched in May to keep track of foreign workers' health amid Singapore's Circuit Breaker. Apart from Singapore, there have been several countries using blockchain apps to manage healthcare during Covid-19 times.
In San Francisco, USA, tech firm Civic Technologies joined hands with UCSF Health hospital affiliated Circle Medical to release Health Key by Civic app. This app allowed the employers to see their employees' test results, assess the employees who have not been tested for the disease, and if any employee has gotten treatment after vaccines are ready for use. Other projects included the Cyprus-based E-NewHealthLife tracking portal designed by VeChain and I-Dante firm and EOS Costa Rica-based Lifebank app to reward people for donating blood to others.