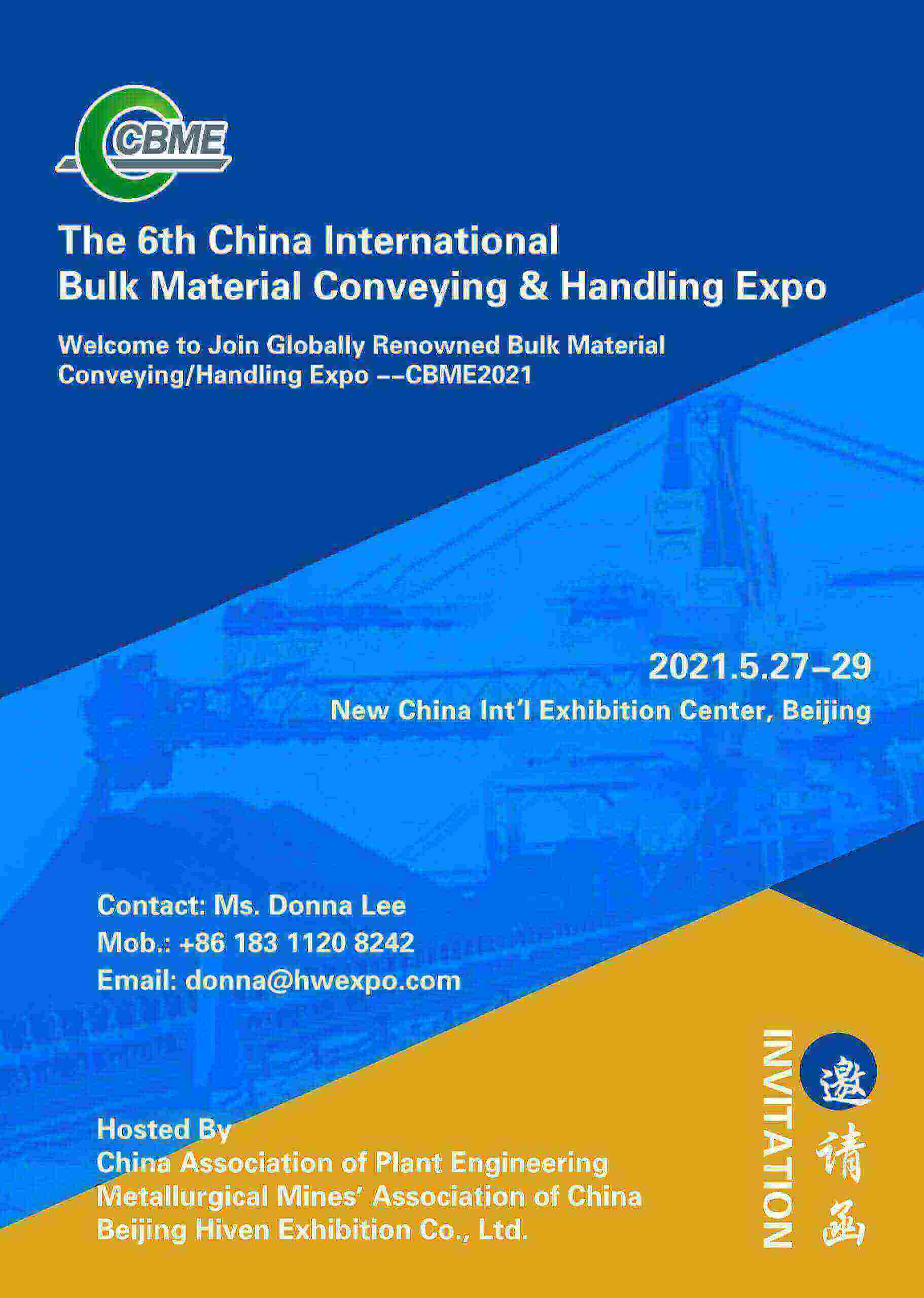 China (Beijing) International Bulk Material Conveying & Handling Expo (CBME) is the only professional exhibition of bulk material handling equipment in China, which has been held for five consecutive years. Since its inception, the exhibition has been committed to accelerating the sustainable development of the industry, promoting economic and trade cooperation and technical exchanges, and is committed to building a sharing platform that helps exhibitors and buyers in trade negotiations, information exchange, brand publicity, and products marketing. CBME has been well received by domestic and foreign professionals and has won extensive participation and support from exhibitors and visitors. In the past few years, it has attracted more than 2,000 exhibitors from more than 30 countries and regions including China, Germany, United States, Russia, Australia, South Africa, Brazil, Chile, Sweden, and Finland, etc. The number of professional visitors has reached more than 100,000. It has grown into an influential professional exhibition.
In recent years, China's equipment manufacturing industry has maintained a good momentum of development. Under the promotion of the country's active macroeconomic policies and reform measures, with the rapid development of the national economy, key bulk material handling equipment for mines, coal, steel, ports, power plants, and cement industries is welcoming a new period of development opportunities. The market demand for bulk material handling equipment will continue to grow in the next few years, and the market demand for high-end intelligent superior bulk material conveying equipment will be larger and last longer. Bulk material handling equipment enterprises should seize this historical development opportunity, give full play to their own advantages, continuously improve their technological innovation capabilities, seamlessly connect enterprise products with the market, develop high-end intelligent superior products, and effectively carry out market promotion. CBME will keep up with the market development needs, track the latest development trends of the industry, and be committed to become a pioneer for Chinese and foreign exhibitors to expand the market.
CBME2021 will be held on May 27, 2021, at New China International Exhibition Center, Beijing. The organizers will give full play to the advantages of all parties, rely on a good domestic and international market environment, integrate resources, continuously innovate services, and make this exhibition become a successful activity. CBME has prepared to make a brilliant appearance in 2021 in Beijing, and we sincerely invite you to join us to create a new prosperous future for the global bulk material handling equipment industry!