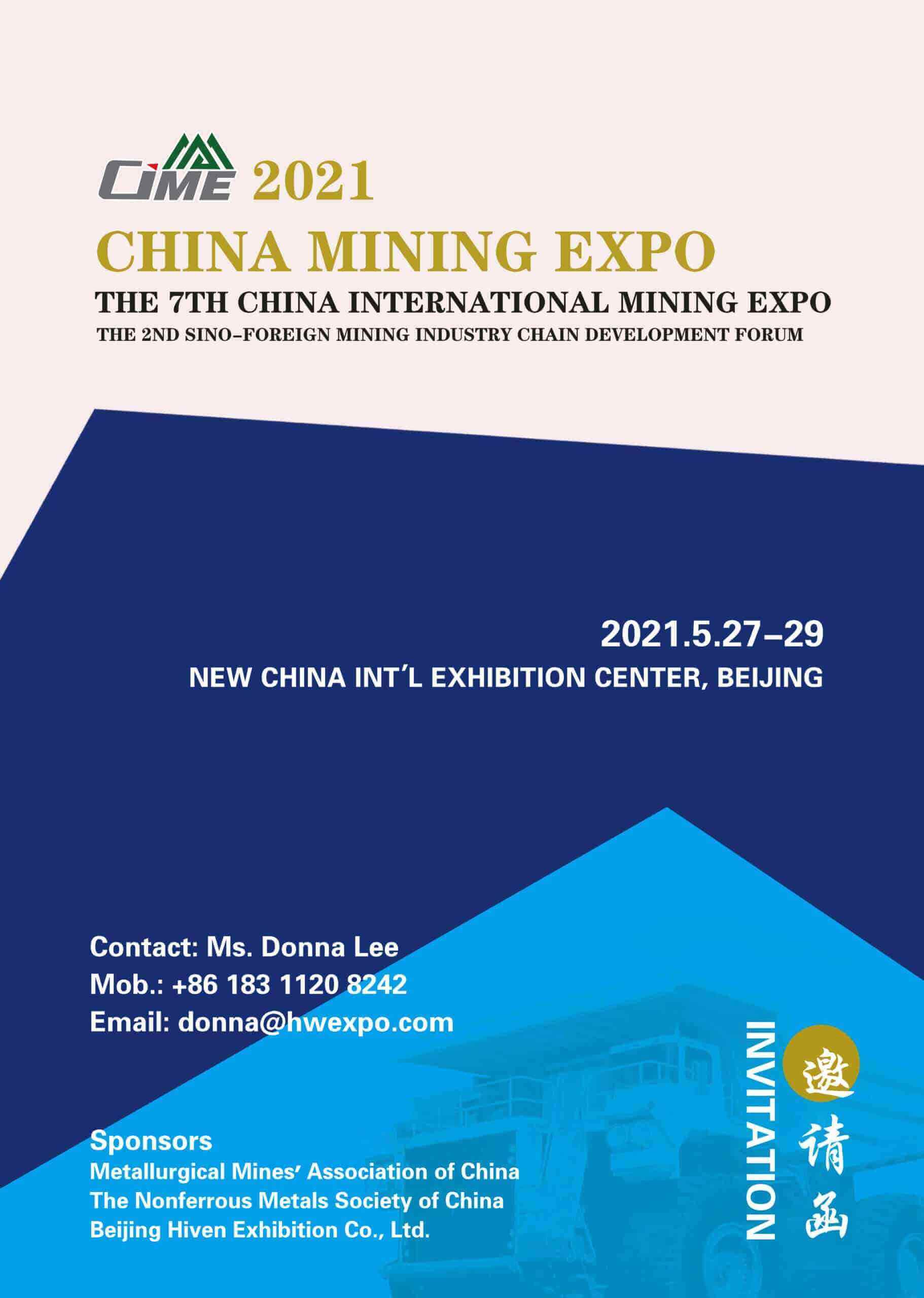 China International Mining Expo (CIME), known as China's No.1 Mining Expo, is the most professional mining expo in China and enjoys great influence and wide popularity in the world. In order to contribute to the healthy and sustainable development of the mining industry in the new period and accelerating the promotion of the wide application of new products, new technology, and new equipment, CIME 2021 will be held on May 27 at New China International Exhibition Center, Beijing.
CIME has gathered over 3,000 exhibitors and 160,000 professional visitors from more than 40 countries and regions including China, Germany, USA, Russia, Australia, South Africa, Brazil, Chile, Sweden, Finland and etc. since its foundation in 2012. CIME attracts domestic and international famous exhibitors such as BHP Billiton, Rio Tinto, Vale, Codelco, China Minmetals, Ansteel Mining Group, Western Mining Group, Zhaojin Mining Group, Yuxi Dahongshan Mining Group, Silvercorp Metals Inc., Caterpillar, FLSmidth, Liebherr, Takraf, Normet, Epiroc, Siemens, Metso, XCMG, Liugong Group, Sinomach, Yutong Heavy Industry, Weir, GE, Mitsubishi Electric Corporation, LONGI, Liming Heavy Industry and etc. CIME is jointly organized by the Metallurgical Mines' Association of China, The Nonferrous Metals Society of China, and Beijing Hiven Exhibition Co., Ltd., and aims to promote the healthy and continuous development of the mining industry and to build the platform for economic trade cooperation and technical exchange. After years' development, CIME has become the wind indicator of the global mining industry and an indispensable platform for trade negotiation and cooperative communication.
Following "Created in China", contributing to the high-quality development of the mining industry, building a globally mining community with a shared future, and creating new opportunities for the development of domestic and foreign enterprises, CIME 2021 will adhere to innovative development philosophy, enhance cooperation, improve exhibition quality and service, and present a fantastic, rich and high-level exhibition for exhibitors and visitors. During the exhibition, the 2nd Sino-Foreign Mining Industry Chain Development Forum will be held at the same time. Government officials, industrial associations, experts, scholars, mining elites, and senior managers of mining companies will be invited in the forum to analyze the industrial status, dig new power, explore development ideas and build a global mining cooperative platform of jointly negotiating, building, sharing and winning. CIME 2021 will make a new presentation in Beijing. Welcome to join us for the new era of global mining development!