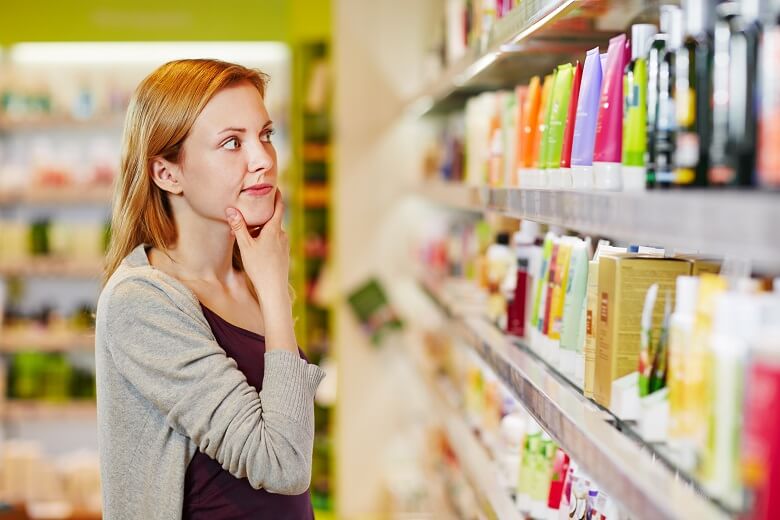 The skin is constantly battered by the sun, pollution, external aggressions, and seasonal changes. All these factors damage the vitality and structure of the skin. As a result, it becomes dull and damaged. A good skincare routine can help cleanse, tone, hydrate, and shape the skin of your face. To keep the skin's hydrolipidic film in good balance while protecting it from external aggressions you need the right skincare products.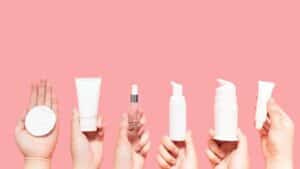 Basics differ from person to person because each skin is unique and has different needs depending on several factors. It's up to you to design the beauty routine that will suit your skin in the best way.
Whether you have an exorbitant budget or want to have the bare essentials, we have selected for you 10 essential skincare products that we could not do without. 
Face Wash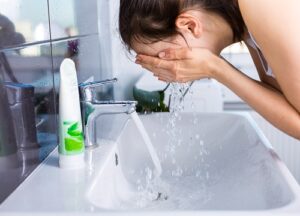 A good routine cannot begin without getting rid of dirt and dust from your skin. Done once or twice a day, a good face wash not only helps the epidermis get rid of all its impurities and possible residues of makeup but also helps optimize the skincare products applied thereafter. 
Depending on the type of cleanser chosen, it can also help to fight against imperfections, to diminish the spots, and to refine the skin texture. In short, it assists in displaying radiant skin. Gel and foaming cleansers are generally ideal for oily skin. Sensitive or dry skin types tend to like creamy products. 
Scrub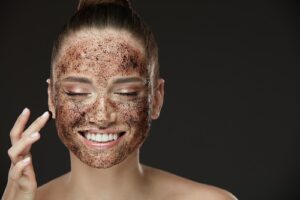 For a perfect complexion and healthy skin, the facial scrub is care that should not be neglected. The scrub is essential because it will unclog the impurities contained in the pores. For an optimal result, scrub your face and body after your shower because the water vapor will open your pores and give better effects. Micro beads are no more in trend. Choose a gentle scrub depending on your skin type to avoid any abrasion to the skin layers.
Sunscreen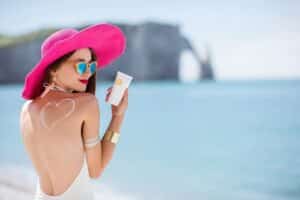 Daily exposure to the sun for even 7 minutes can damage your skin. Not using sunscreen is, thus not a good option. Use an SPF between 30 and 60, UVA, UVB, and water repellent on the skin without forgetting the lips. Prefer creams to gels and sprays. Gels do not adhere well to the skin and are less resistant to water and sweat. Apply the cream liberally 30 minutes before exposure and, regardless of the SPF used, repeat the application every 2-3 hours.
Moisturizer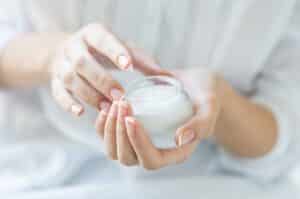 If there is one product that you need to have even if you are stranded on an island, it's a moisturizer. As more than 60% of the skin is water, it is important to hydrate it regularly. Your skincare routine cannot be complete without it. Moisturizers protect the skin from external aggression like dirt and pollution that can deplete the natural oils and moisture and hence hydration is a must if you want to prevent signs of early aging. 
Choose a moisturizing day cream that is tailored to your skin type. It is advisable to choose one that not only moisturizes but nourishes and protects the skin from UV filters. For those who do not want to settle for a day cream, there are moisturizing treatments that allow hydration for 24+ hours. As for gel-cream formulas, they are lighter and more easily absorbed.
Lip Balm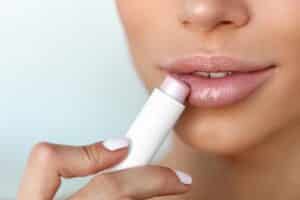 Our lips also need hydration. So, if there is a must-have with you during summer, winter, or any other season, it is the lip balm. For a lip balm to be effective, it must first be verified that it contains moisturizing and healing ingredients. It must also be enriched with a fatty acid, such as jojoba oil or shea butter. That's what will moisturize your lips and soften them. Choose a tinted one for giving a luscious and plump look to your lips. You can even select from the range of lip balms that offer UV protection.
Primer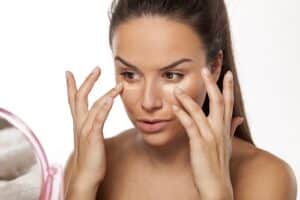 Primer is a base under your makeup, which must be applied before any other means. But if you have this one product daily, you don't need makeup. It helps soften and smooth the skin before applying the foundation and reduce the appearance of pores and fine lines. The radiance and even tone it offers is worth noticing. Opt for a matte primer preferably cream-based for best effect. Primers can act as correctors in some cases too. The final result is a pearly, bright complexion.
Makeup Remover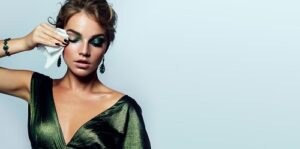 The fatty substances, the chemicals of some makeup products, and pollution contribute to skin aging. It cannot be repeated enough: make-up removal is the essential step of your beauty routine! Among the many make-up removers available on the market, choose one that effectively cleanses the skin without harming it. 
A micellar lotion, for example, contains micelles that instantly capture makeup, sebum, and dust deposits without drying the skin. Because the eye area is particularly fragile, it is advisable to choose a make-up remover designed for the eyes. Select a gentle makeup remover, which respects the delicate area around the eyes. Choose an oil and water blend for hydration and cleansing. Even if you do not wear makeup, a small cleansing of the skin is strongly recommended in the evening.
Face Mask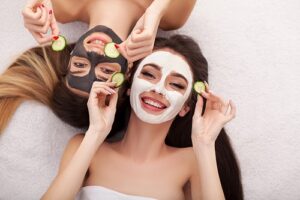 Moisturizing, purifying, soothing, or toning beauty masks have become essential. After all the cleansing and exfoliating, you need a good face mask to address the blackheads, whiteheads, and nourish the pores. The biggest benefit is that its active ingredients act in no time to respond more effectively to your beauty concern. 
Choose a mask based on your skin type. Purifying masks are recommended for combination and oily skin when daily care is not enough to absorb the excess of sebum. Moisturizing masks act on the hydration and are suitable for all skin types!
Under Eye Cream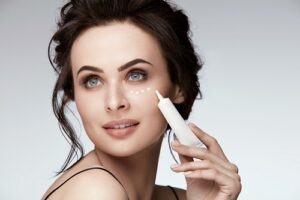 Excess screen time can often give you puffy eyes or dark circles at an early age. A good under-eye cream is your best friend. Apply it daily as a night care routine to keep signs of aging at bay. You can use natural remedies but creams are convenient and effective too. Vitamins A and C reduce the retention phenomenon, refresh the look, and tone the epidermis. Watch out for these ingredients.
Body Lotion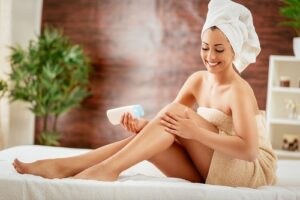 While you give all the attention to your face, you cannot afford to have dull, lifeless looking hands and feet. A good moisturizing body lotion is a must in your skincare regime and needs to be applied regularly after a shower. 
Choose a hydrating but non-greasy formula and apply it twice a day if you have dry skin. For combination or oily skin, you need a lotion that regulates the brightness of the skin and makes it appear less oily.
Bottom Line
Apart from the aforementioned skincare products, including regular facials and daily steams into your basic skincare routine can make a difference. Putting in more care and effort into your daily skin regime, having plenty of water, and adding lots of fruits and vegetables into your diet can actually work wonders.