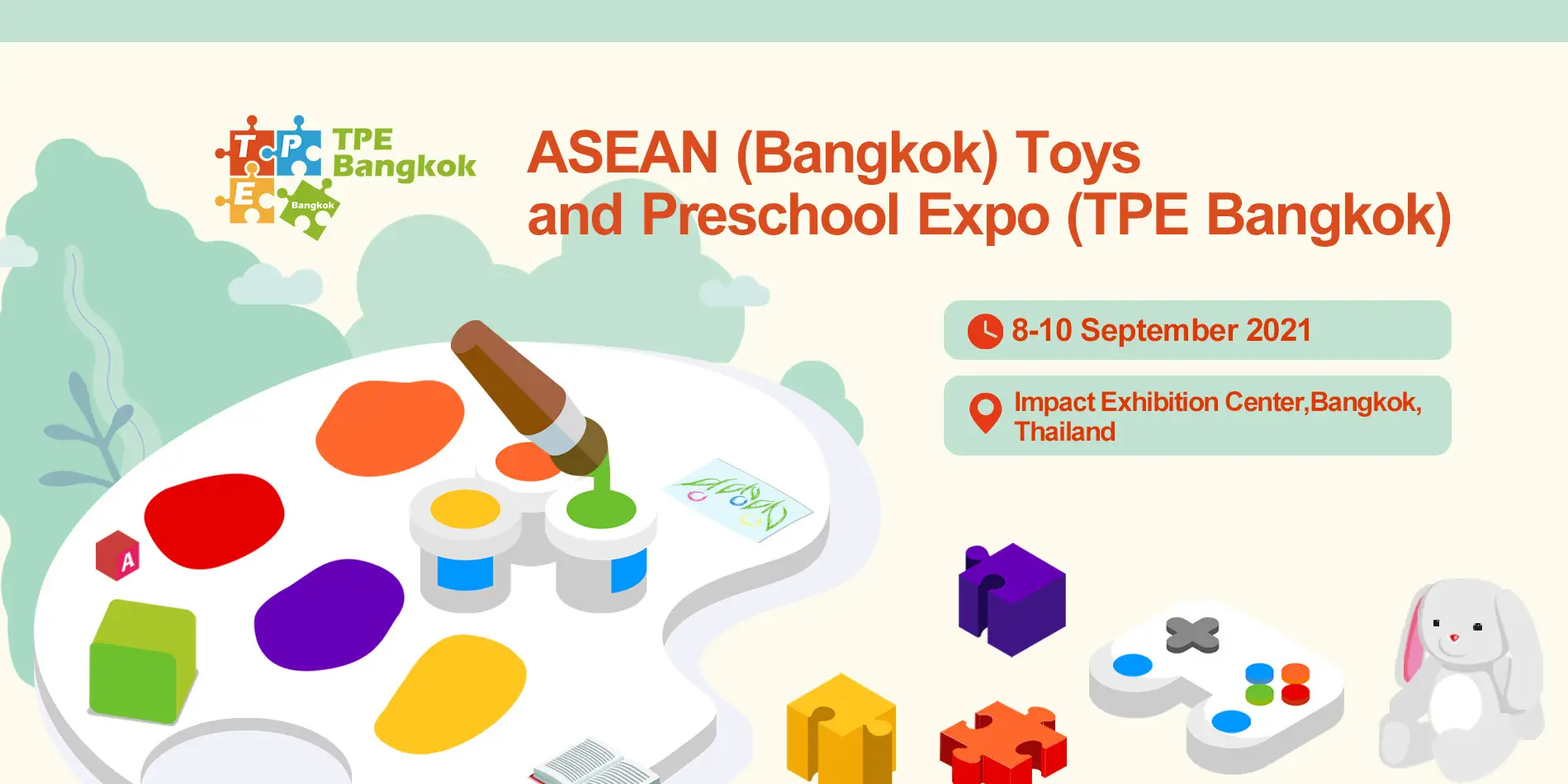 About the show
As the first and only industry trade show for toys and preschool in Thailand, TPE Bangkok is a good platform for preschool toy manufacturer entering Southeast Asia. This expo will cover the entire ASEAN and Southeast Asia region and provide the most effective trade channels for exhibitor's products to enter the local market. The coming show will be moved to bigger exhibition halls and reached 13,500 sqm.
Show 2019 Review
Thanks to the strong support from the industry, 7319 visitors and 162 exhibitors from home and abroad participated in TPE Bangkok 2019 and the exhibition area reached 10,000 sqm.
According to the statistics, about 38% of exhibitors are from USA,UK, Italy, Spain, Netherlands, Russia, Turkey, Australia, Dubai, Korea, Japan, India, Singapore, Malaysia, Indonesia, Philippines, Cambodia, China mainland, Hong Kong, and Taiwan.
ASEAN (Bangkok) Toys and Preschool Industry conference was co-located with TPE Bangkok. The speakers included: Ms. Uraiwan Bunnag, President, Thai Toy, and Children Product Association, Mr. Amornchai Naksupamit, Former President, Thai Toy, and Children Product Association, Mr. Ajay Aggarwal, President, The Toys Association of India, Mr. Tae Bong Cho, President, Korea Culture Contents Licensing Association, Mr. Johan Tandanu, Secretary-General, Indonesian Toy Traders and Manufacturers Association, Ms. Eileen Lin, GM, Thai-China Import & Export Trading, Ms. Shannon Moore, Creative Director, Guide craft. During the conference, they share the regional industry market and related import & Export policy, which is good for traders to know the different markets and foreign policy.
Media, from Local TV station: channel 3, Channel 5, Nation TV, Bright TV, NBT World, TNN24, newspaper: Daily News, Poo Jadkarn Daily, Siam Turakij, Thansettakij, Siam Rath, Siam Turakij, Naew Na, Thai Post, Bangkok Today, Kom Chad Luek, on-line media: Manager Online, Mthai, Nation, have a full report about the show.
Industry Overview
The children market in Southeast Asia is considerable. According to statistics, there are more than 175 million children under the age of 14 in Southeast Asia (Singapore, Malaysia, Indonesia, Thailand, the Philippines, and Vietnam), accounting for 27% of the total population. Thailand's demographics hint at a widening market for the toys & games industry. The natural birth rate in 2018 was about 666,109 – representing a population growth rate of about 0.29%.
According to Euromonitor, the value of Thailand's toys & games industry was estimated to be worth US$376 million in terms of sales volume in 2015. The same report forecasts sales to increase to US$541 million by 2020, or by an average of 9% a year.
About the organizer
Compass Exhibition is a joint venture company with the Guangdong Grandeur Exhibition Group that renowned as the professional organizer of exhibitions. Compass Exhibition represents Grandeur's business in Thailand which focuses on business opportunities for exhibitors and visitors. Founded in February 2019, it has successfully organized some exhibitions such as Vend ASEAN, TAAPE, and TPE Bangkok in 2019.
Contact Details
Email : [email protected], [email protected]
Tel: +66 2-048-9288
Moile: +66 98-535-6264
Website: www.tpebangkok.com