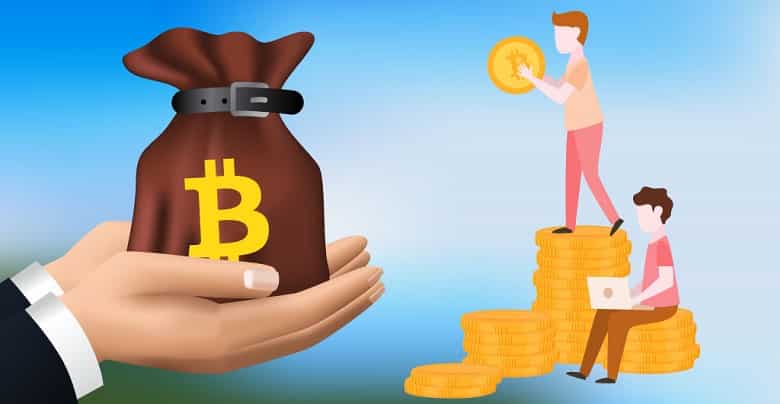 Bitcoin Cash continues to maintain its stance on the 5th position while the crypto market continues to experience intermittent dips and rises as near-term volatility unfolds. While the major cryptocurrency by market cap—Bitcoin now trades above $11k for the 5th day straight, many altcoins like XRP, BNB, and including its hard fork, Bitcoin Cash.
With the growing network of the 5th largest crypto, it is all set for the massive upgrade in the next month on November 15. BCH is not just a cryptocurrency but a platform to connect networkers and potential people.
Reminder for businesses: the #BitcoinCash network upgrade takes place on November 15 🗓️

Keep track with our countdown and find everything you need to get prepared here:
⏲️ https://t.co/U6ckh5db6q

For technical support, raise a ticket:
⚙️ https://t.co/CwKrhorkGU pic.twitter.com/BmRuCzpKIP

— BitcoinCash.org (@bitcoincashorg) October 13, 2020
Bitcoin Cash breaks the major resistance at $240 with a bullish candlewick rise, while the coin currently trades at $252 after hitting close to $260 at $259. BCH started strengthening over the past week, and from the lowest of the past two weeks, i.e., at $210, the crypto has gained 20%.
In the previous month, Bitcoin Cash price has dipped from trading around $297 to testing supports as $203, with a strong resistance & support market at $300 & $200, respectively. It was until the first week of the ongoing month when BCH price was seen consolidating in a price range of $203 to $240.
Bitcoin Cash holds a major market cap of over $4.6 billion as on the date and is now available at Sygnum Bank, which was founded on Swiss and Singapore heritage, which is now operating globally and is the world's first Digital Asset Bank. This will increase the use as it is already in use for custody, trading, and credit services.
#BitcoinCash, the sixth largest protocol by market cap at USD 4.1 billion, is now available at Sygnum Bank for custody, trading and credit services.

To learn more about Bitcoin Cash, read our article here – https://t.co/oMNzw4R0JQ#FutureFinance #DigitalAssets

— Sygnum Bank (@sygnumofficial) October 8, 2020
With a bullish movement against the US Dollar, Bitcoin Cash is ranked 3rd amongst the top 10 altcoins of the market over the past 24 hours as per the LunarCrush Social Listening for Cryptocurrencies.
Top 10 coins by AltRank™ as of 2:17AM UTC Wed, Oct 14 on https://t.co/bDd4iTwMho$DOT #polkdot$OM #mantradao$BCH #bitcoincash$COTI #cotinetwork$ANKR #ankr$TOMO #tomochain$XTZ #tezos$RSR #reserverights$QNT #quantnetwork$RMPL #rmpl #defi pic.twitter.com/HTQ5Z3wr1D

— LunarCRUSH Social Listening for Cryptocurrencies (@LunarCRUSH) October 14, 2020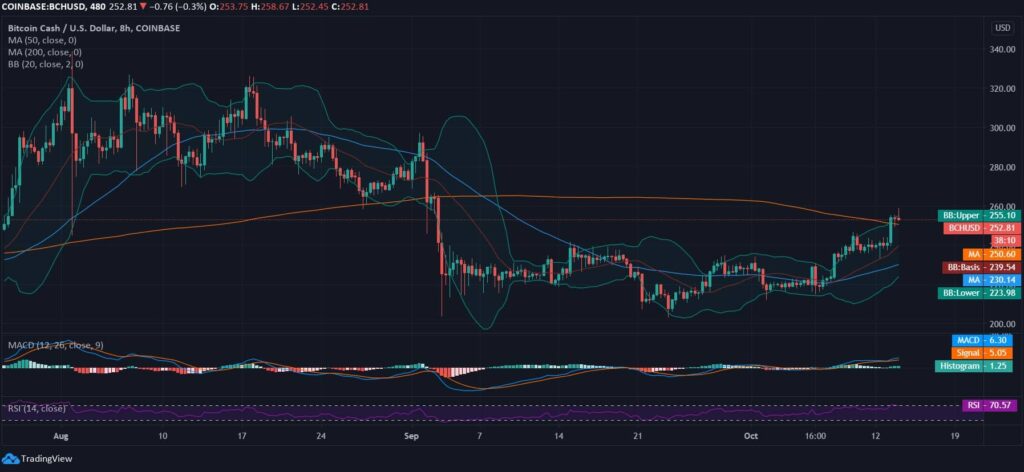 On the price front, Bitcoin Cash was trading at $252 today, after a bullish rise from trading around $240. After a 5-week consolidation, the BCH price strengthened, and the price trend is breaching the upper BB, holding the closest support from MA200 at $250 and MA50 at $230.14. Over the past ten weeks, BCH has shifted to trade in the lower trading range as compared to the 2-month high of $338.
The MACD indicator confirms the bullish crossover as Bitcoin Cash shows a positive price movement, and the RSI is inclined towards the overbought region and is lying at 70.57.