Blockchain News
Krypital Group Makes Strategic Investment in UniLend Finance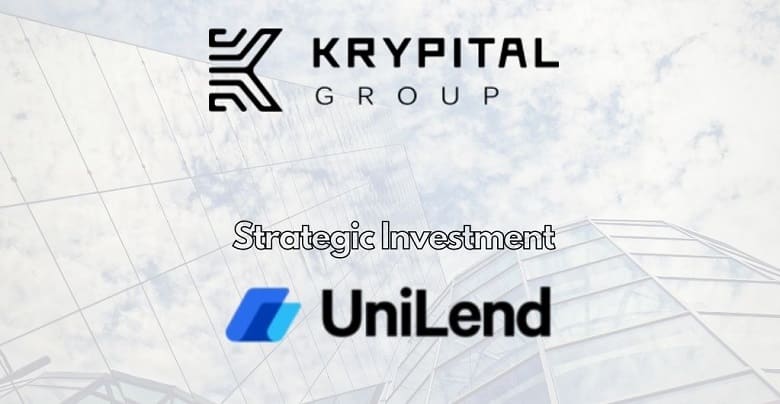 Global venture capital blockchain incubator Krypital Group announced on Tuesday that it has made a strategic investment in UniLend Finance, a decentralized spot trading and money market protocol. In the official announcement, Krypital Group stated that it will help UniLend Finance in its global expansion and cultivate an international community.
Krypital Group is delighted to announce we have made a strategic investment in @UniLend_Finance , a permission-less decentralized protocol that combines spot trading & money markets with lending & borrowing services.

📌Read: https://t.co/2u06m6ETnI#defi #bitcoin #crypto

— Krypital Group (@KrypitalGroup) October 13, 2020
Krypital Group is among the most revered names in blockchain investment circles, having a portfolio of projects with more than $1 billion in revenue. As of date, Krypital has managed to connect more than two million users to top blockchain projects worldwide, forming a solid network of crypto exchanges, communities, venture capitals, and more.
Leveraging its resources, Krypital will help UniLend with initial liquidity for listing the initial base of tokens, ensuring a smooth experience for the users. It will also provide global and regional marketing assistance to create awareness about the platforms and its mission across the globe.
Commenting on the investment from Krypital, UniLend Finance Co-Founder & CEO Chandresh Aharwar said that the next stage for DeFi is to allow users to utilize any asset they wish for DeFi, adding that they are making this into a reality.
UniLend is a decentralized protocol established on the Ethereum network, which offers a combination of DeFi services like spot trading, lending, and borrowing. It allows users to list any token built on the ERC-20 architecture on UniLend's platform, making trading and lending even more decentralized. Support for other networks is also expected to come in the coming weeks.
DeFi is one of the fastest-growing segments within the crypto-blockchain industry; however, Krypital states that only 30 cryptocurrencies, out of the 6,000+, are supported for decentralized finance. By backing UniLend, Krypital aims to bring as many projects on DeFi as possible to push the DeFi revolution.