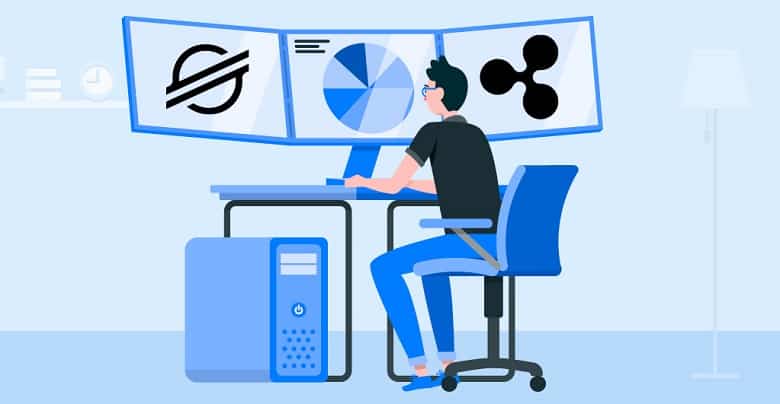 One of the leading figures in the crypto world, Jed McCaleb created Ripple in 2012 under the for-profit private company Ripple Labs Inc. Initially, it was a peer-to-peer digital payments system facilitating international fund transfers. Later, it introduced its native crypto token, XRP, to bridge the asset transfer and remittance settlements.
It is worth noting that Ripple does not use blockchain; instead, it has developed an open-source protocol RippleNet that expedites frictionless, low-cost global payments. The decentralized payment network relies on the Ripple protocol consensus algorithm to confirm the exchange of assets and the distributed XRP Ledger to record transactions. Although XRP is available for trading, people can use it to exchange fiat currencies and commodities.
Stellar is a pure blockchain-based open-source interoperable payments system also developed by Jed McCaleb in 2014. The platform supports the development of decentralized apps or tokens. In addition to this, people can store, transfer, and trade digital assets on the Stellar network. The network utilizes the Stellar Consensus Protocol to maintain anonymity and security. XLM is the official currency-backed token of Stellar. The built-in decentralized micropayment service from Stellar enables the exchange of XLM for fiat currencies (dollars and euros), cryptos (Bitcoin and Ethereum), forex, and securities. With its low price, extensive supply, reduced transaction cost, and instant payments, XLM has become more promising to people having no access to banking services.
Ripple and Stellar can be compared on various metrics. Likewise, XRP price prediction and Stellar Lumens prediction can also be analyzed simultaneously.
Target Group
Ripple partners with leading international financial institutions to transform the traditional global banking system. Its RippleNet ensures that international transactions occurring between the banks remain fast and efficient with minimal extra costs.
Stellar aims to give unbanked people complete control over their funds, facilitating the network to replace the outdated payments systems with blockchain. Besides, through Stellar, people can quickly and cheaply send Stellar-based versions of fiat currencies across the border.
Functional Design
Ripple allows the transfer of a variety of assets between the financial institutions via RippleNet and XRP. Eventually, people can send or receive international payments almost instantly with lower exchange fees. With that said, users need to convert their XRP for another asset through a third-party platform.
The built-in currency exchange from Stellar facilitates the conversion of XLM to fiat or digital assets. Furthermore, XLM leverages intelligent contracts, which enable people to execute initial coin offerings to fund a blockchain-based project.
Consensus Protocol
Ripple uses the proof-of-correctness consensus algorithm to confirm transactions. By allowing trusted banks and institutional payment providers to participate in consensus, Ripple is considered more centralized.
The Stellar Consensus Protocol permits everyone to participate in the consensus for validating transactions. Hence, Stellar becomes truly-decentralized.
Token Supply
XRP is a deflationary cryptocurrency for its finite supply (100 billion with over 50 billion in circulation). As the coin circulation will decrease over time due to burning transaction costs, Ripple may experience subsequent price gains.
Stellar commits to add 1% XLM annually (30 billion) to existing circulation (20 billion), making the coin inflationary. Because of the consistent coin supply, Stellar will experience downward pressure on the XLM value.
Future Prospects
Financial institutions are embracing Ripple in droves. Its partnership with corporates like Western Union, American Express, SBI Group, and others reflect a positive outlook for XRP. However, limited public approval and the centralized nature of XRP might hinder its growth. The XRP price prediction for the next five years is $6.
Stellar is more inclined toward reaching the poor and unbanked people. Meanwhile, it has found partners in Deloitte Digital Bank and IBM, boosting its credibility in the crypto community. Also, Stellar is decentralized and encourages people's participation in the project. The XLM price prediction for the upcoming five years is $5.
Conclusion
Both Ripple and Stellar strive to address the issues prevalent in cross-border transaction systems (slow, inefficient, and high cost) and different approaches. While Ripple provides the digital peer-to-peer digital payment network to banks and financial institutions, Stellar empowers the world's unbanked population. Consequently, Ripple and Stellar are far from any direct competition and expected to witness a surge in demand and prices in the following years.