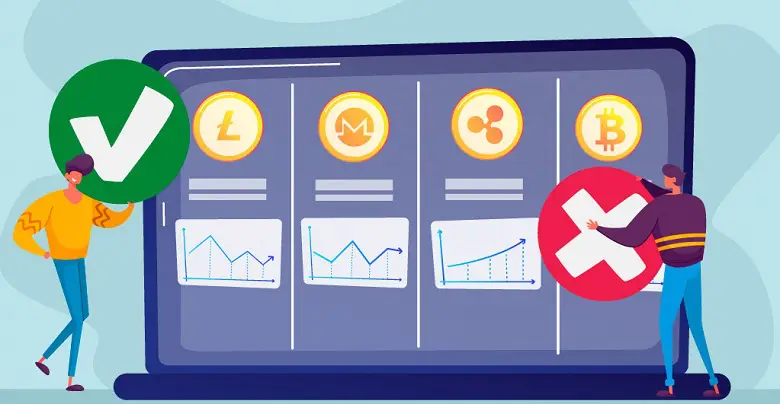 Introduction- Crypto Trading & How It Works?
Today, cryptocurrency has become a great topic to discuss with its features, pros, and cons. Though it is a famous type of investment, it comes attached with some cons as well. Consider both the advantages and disadvantages before you embark on a cryptocurrency trading adventure. But before we dive into the advantages and disadvantages of crypto trading, let us find out what crypto trading is and how it works.
Crypto trading refers to the act of buying and selling different coins in the cryptocurrency market; you can even exchange crypto for another. Cryptocurrency trading works through the use of blockchain technology. Since cryptocurrencies are decentralized, no bank or government body controls how they are generated, how the cryptos are exchanged, and their values.
Features of Crypto Trading
The main features of crypto trading include:
Low Entry Threshold: If you want to enter the Forex market, you should have a good amount of capital, which can be a problem for the newbies. Even more deposit amount is required for the securities market. For crypto trading, the minimum order is small, based on the different rules of a specific cryptocurrency exchange.
24*7 Trading: The crypto market operates without restrictions. It works 24 hours a day and seven days a week and does not have any entry barriers. You do not have to close a position at the day's or week's end because of these facts.
Growth Potential: The cryptocurrency market is nascent still and is incomparably smaller. It shows significant development prospects for cryptos in the upcoming years.
Volatility: In the trading world, many dinosaurs consider cryptocurrencies for their volatility. But, the price fluctuations draw the traders crowd to this market. Cryptocurrencies can be traded on the spot markets successfully without leverage and stop losses, commission for borrowed money, margin calls, and added risks.
What Are the Pros and Cons of Crypto Trading?
Cryptocurrency trading is like a gamble. Cryptocurrencies come with a great potential to produce huge returns on investments. However, risk and volatility also come attached to them. Even though the risk is associated with crypto trading, large financial institutions are looking to invest in this sector. Whether you have a little cash or a large amount of capital, cryptocurrency is worth investing in. Let us have a look at the major pros and cons of crypto trading:
Pros of Crypto Trading
Go Mobile
Trading on the go not only makes crypto trading convenient but also lets traders sell and buy from wherever they want. It gives them more control over their investments. Thus, they will never miss a good opportunity.
Low Fees
You can trade cryptos in a peer-to-peer way without the involvement of any central authority. As the transaction of cryptocurrencies occurs between users directly, most digital currencies have minimal to no fees. Crypto traders can directly transfer digital currencies to the wallet of other traders at just a small amount. You can also make international payments without high fees, like StormGain charges & fee structure ranges from 0.15 percent to 0.5 percent only.
Convenience
Trading cryptocurrency is pretty convenient as traders can buy and sell them all through the day. Cryptocurrencies are international products. Hence, you can easily trade them around all countries and different time zones. It is perfect for those looking to get themselves involved in the actions at an instant's notice, regardless of where or when they are. Since trading cryptocurrencies is a global venture, it is readily available to everybody, regardless of where they live in the world.
Fluctuating Prices
Cryptocurrencies are susceptible to fluctuating rates. They frequently include intraday swings in which savvy traders can make large profits when they have their eyes on the ball. Though some may see the fluctuating prices as a negative, they are an ideal opportunity to earn big money quickly for experienced traders.
Transfer with Security, Swiftness, and Ease
The fund transferring process is pretty simple. With cryptocurrency, now you can quickly make payments via big brands like Microsoft, Subway, and PayPal. Therefore, if traders have a great day and make good profits, they can purchase anything from Subway or buy games. The more recognition cryptocurrencies will get, the more brands would get involved.
Secure Transactions
In the cryptocurrency world, all your transactions are secured. Once you start a transaction, all your funds will remain in an indeterminate condition while you enter the blockchain by the miners.
Cons of Crypto Trading
Risks
Cryptocurrency naturally comes with some risks. While the commodities and stock prices move slowly, digital currencies don't. Volatility in the cryptocurrency market is common, mainly because the rates are driven by supply and demand. An instant demand can make the rates rise, while news like that of security breaches can decrease a specific currency's valuation.
Trading Cannot Be Done 24 Hours
Since the cryptocurrency markets move constantly, the rates do too. Traders cannot be awake for 24*7. Therefore, when they sleep, they can miss out on vital market moves. Ultimately, this can lead to trading losses or chances to make serious profits.
Tricky Concept
Cryptocurrency trading is pretty technical, and that makes it demanding to understand for people who are new to this field. You can gain knowledge on this if you invest your time and efforts to study it.
Conclusion
Investing money in cryptocurrencies has become simple due to the increase in this sector. You also get control over digital assets. They let you transfer funds to anybody, anytime, and anywhere due to their decentralized nature.
However, the market volatility can be considered a con with the demanding concept and the time that can be the main barrier.