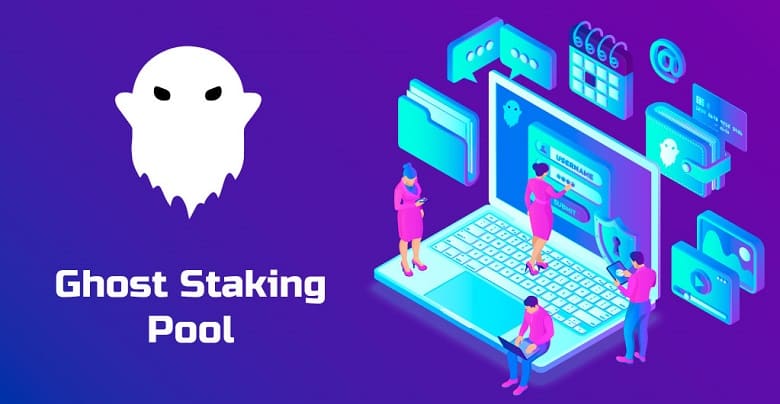 Ghost coin (GHOST) is created by John McAfee, which is based on a sustainable Proof of Stake (PoS) consensus algorithm where users can mine and validate block transactions. GHOST users earn a share of the transaction fees using the staking feature.
What Are Ghost Staking Pools
GHOST staking pools are where users put all the coins together. This gives them an increased chance of staking a block collectively. GHOST utilizes an inflationary reward structure, commonly seen in PoS networks. The staking pool owner distributes the reward among all the users who contributed their coins to the pools.
For Users
Anyone with less than 1000 GHOST coins can join a staking pool and earn rewards for staking their coins. Here is a step-by-step guide to join a GHOST staking pool:
Choosing a Ghost Staking Pool
GHOST is a decentralized payment network where the community can create staking pools. You need to search for such communities on the internet, analyze them, and then choose a staking pool to join.
Joining a Ghost Staking Pool
It is easy to join a GHOST staking pool. First, you need to find the pool address (public key) on their websites, or by referring to the GHOST pool list located at https://github.com/ghost-coin/ghost-coldstaking-pools/blob/master/list.json. Second, you must have an Official GHOST Desktop wallet, which can found at http://ghostwallet.io/.
Import "Mainnet Pool Address" into the Ghost Desktop Wallet, enable the cold staking button, restart the GHOST wallet, and you are good to go.
Leaving a Ghost Staking Pool
You can leave a staking pool by simply clicking the "Disable" button on the cold staking widget.
For Developers
GHOST staking pool developers/owners can submit their cold staking pool to the official list and submit a pull request at https://github.com/ghost-coin/ghost-coldstaking-pools.
Conclusion
GHOST staking pools are totally safe, and they charge a small fee to operate. The best thing about joining a staking pool is that the GHOST coins remain in your wallet, which means you can continue sending or receiving funds as normal.