Casino News
List of Casino Slot Terminologies with Definitions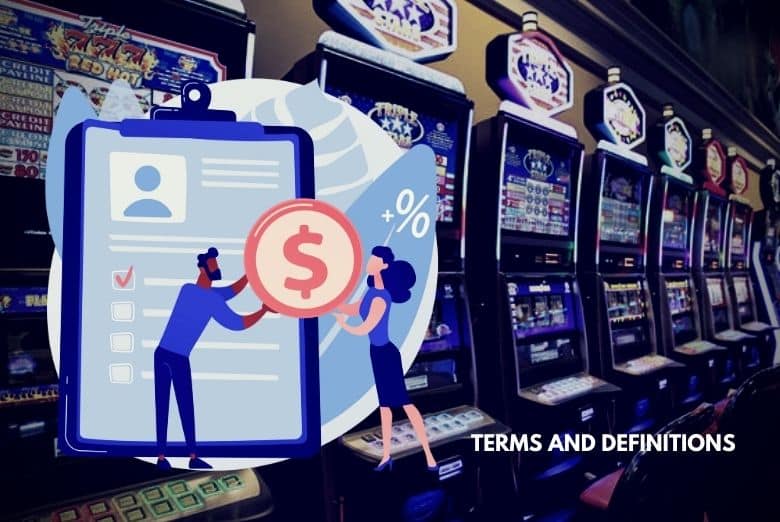 Slots are the most popular games in a casino, in both brick and mortar casinos and online casinos. Their invention in the late 19th century, slots have been forming the backbone of each casino, and it is clear to see why. There are thousands of different slots in almost every theme you can think of. They are also highly entertaining and very easy to play.
Although playing on slots is pretty straightforward, there are some terms that you may not have heard of before. It is wise to make sure you understand the most important terms before you start playing. After going through our list of the most common slot terms, the world of slots will have no secrets for you, and you'll be ready to play any slot game you wish to spin!
Bet Min – The smallest amount of money you want to stake on a spin.
Bet Max – The largest amount of money you want to stake on a spin.
Bonus buy slot – A slot that allows you to buy the bonus rounds in a slot. You pay a fixed amount that allows you to skip a slot's base gameplay and start the bonus rounds straight away. In the bonus rounds, your winning chances increase significantly. In addition to this, bonus rounds in a slot machine are usually more interesting than the basic gameplay as they have more action in them.
Bonus money – Free money gifted by the casino. Bonus money can either be given on top of your real money deposit to give your balance a boost or a free gift from the casino, without a deposit required. Keep in mind that bonus money always comes with wagering requirements.
Cash bonus – Cash money given to the player by the casino for free. Cash bonuses come without any wagering requirements, so winnings are yours to keep.
Free spin – A round on a slot machine given to you by the casino, free of charge. One click on the 'Spin' button will give one spin on a slot machine. Similar to bonus money, free spins are often given by casinos as an incentive to start playing on their site.
Hit Frequency – this indicates how often a prize drops. The higher the Hit Frequency, the higher the occurrence of prize drops in a game.
(Running) Hot/Cold – Running cold means someone is on a losing streak. The opposite is more alluring, which means you have been winning in the game for a long time.
Megaways slots – Megaways slots usually have six reels. Most other slot machines have 3 or 5 reels and a fixed number of symbols on each reel. In a Megaways slot, all symbols change during each spin, which means there are far more winning combinations.
No deposit bonus – A player gets a bonus to play slot games online without needing to deposit. Usually, players don't get the winnings as real money. Instead, they need to rebet them several times in order to fulfill the usual wagering requirements. However, more recently, an online casino no deposit bonus keep what you win has become popular. Wins are paid in real cash, so the player is able to withdraw slot winnings right away if desired.
Payline – A sequence of positions on a reel, lined up from left to right. You will only win on lines that you bet on. If you made a bet on 5 out of 30 paylines and the winning combination appears on a payline that you didn't bet on, you'll win nothing for that specific combination. Some modern slot machines have up to 100 different paylines. They can go horizontally, vertically, or diagonally, but also zigzagging over the reels.
Progressive casino slots – A Progressive jackpot slot has an amazing prize that develops with each spin until it is won. Each time a player from anywhere in the world places a bet on this slot, the prize gets higher and higher until someone wins it. Therefore, the jackpot prize amount isn't fixed but keeps increasing.
Reels – The reels of a slot are the vertical components set into motion when spinning. They contain paying symbols. Most modern slots contain five reels.
Rolling Reels – signifies a feature in a slot game, also known as Cascading Reels, Swooping Reels, Tumbling Reels, Collapsing Reels, or Avalanche.
Traditionally, each spin gives you only one opportunity to win. Rolling Reels operate a little differently, giving the player multiple chances to win in each round as payouts continue coming. This is how it works:
You spin the reels and get a payout from winning symbols

The winning symbols explode and leave empty positions, giving way to new symbols

Fresh symbols appear and fill out the empty positions, possibly leading to more wins

This action continues until no more winning combinations can form
RNG (Random Number Generator) – Slot machines always operate with an RNG. It is the command center that generates new sets of numbers continuously via a computer chip. For every reel, the RNG generates a different number. So if you play on Gonzo's Quest, a 5-reel slot, 5 numbers will be generated. Each number equals the outcome of one particular reel.
The software used by the RNG operates on external servers of the game providers, so it is entirely separated from the game itself. Therefore, the RNG can be influenced neither by the casino nor by the player. It doesn't have a memory so that you could play numerous game rounds without a single win, but it is also possible to make winnings with only one spin.
The RNG of a slot game gets inspected frequently by trustworthy authorities. For more information on how RNG slots are tested, visit eCOGRA – a highly reputable casino games auditor.
Rows – The horizontal lines of a slot containing paying symbols. Although the conventional 3-row slots are still the most common today, there is a clear trend of game suppliers creating more than 3 rows. As technology has advanced over the years, up to 7 rows can be implemented in a slot game nowadays.
RTP (Return to Player ratio) – The percentage of any staked money which is paid back to the player over time on the particular slot machine. The higher the percentage, the more beneficial for the player.
For example, a slot has a 95% RTP. Each dollar staked on the slot will pay $0,05 to the casino, and $0.95 goes to the prize pool.
Scatter – Scatters are symbols that don't necessarily appear on one win line or payline to pay out a prize. As soon as multiple scatters appear, anywhere on the reels, a prize is won. To see how many scatters should appear in order for you to win a prize, click on the information button of the slot you're playing on.
Seed value – The starter amount of a progressive jackpot. When someone is lucky enough to win a progressive jackpot, the jackpot amount is reset to its predetermined starter amount or seed amount. Because nobody would play a jackpot starting at $0, the game supplier seeds the jackpot with a certain amount of starter money. This can range from $250,000 in NetEnt's Mega Fortune to $1,000,000 in Microgaming's Mega Moolah.
Slot Volatility – High/Medium/low variance slots – an indicator of risk-taking when playing a particular slot game. If the slot has a low variance, you don't risk losing too much of your money. This means you won't go through your money fast, which gives you a longer playtime. But the other side of the coin is that the payouts are lower, so your chances of winning enormous amounts of money are lower too. A high variance slot means the exact opposite – you'll go through your money a lot faster, but your chances of winning significant amounts are much higher.
Wagering requirements – The number of times bonus money has to be wagered is called the wagering requirement. This is done to prevent players from withdrawing the given bonus money straight away. In most casinos, bonus money needs to be wagered 35 to 40 times within a certain amount of time.