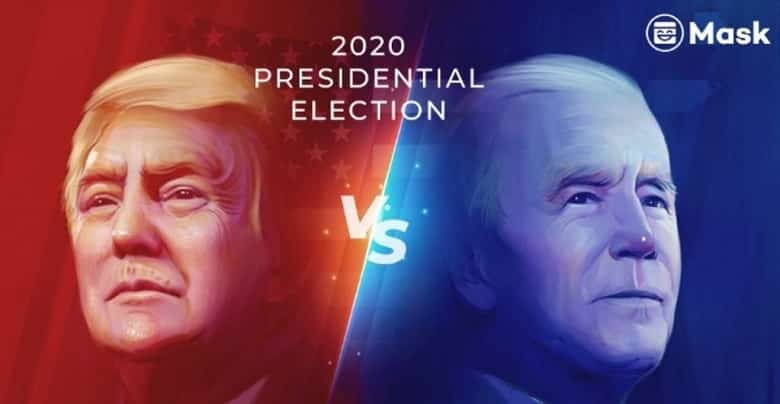 Open internet protocol Mask Network introduced the election special NFTs on Tuesday to record the historic American Presidential Elections. In a tweet, the network said that they want to record history faithfully through blockchain by launching a new experiment of NFT artwork lucky draw, to create a tokenized future.
The #election2020 will definitely make history. #MaskNetwork would like to record history faithfully through the blockchain and let the community be part of it with this experiment of NFT artwork lucky draw. See below medium post for details https://t.co/EeewxJ1mPS

— Mask Network(Maskbook) (@realmaskbook) November 3, 2020
In the official Medium post, Mask Network presented its vision for a tokenized future and defined its role in the future of NFTs. The network stated that they allow users a seamless experience by creating a decentralized applet ecosystem for sending encrypted messages, digital currencies, and DeFi, NFT, DAO dapps on top of social media platforms.
Mask Network also criticized other public blockchain networks, including Ethereum, stating that they are not the ideal versions for the desired ecosystems for decentralization and NFTs. They specifically intend to bank on the growing demand and recognition of the NFTs, by building infrastructure to make non-fungible tokens develop a new segment of on-chain e-commerce.
The network intends to showcase its NFT ecosystem prowess by experimenting with a new NFT artwork to record the on-going US Presidential Election 2020. It will release a total of 52 NFT packages with 1 NFT for each of the 538 electoral votes. Following the result of each state, one NFT package will be sent out. Every NFT will bare the portrait of the winning candidate.
The experiment with NFTs to record the US election may or may not prove to be useful. However, it does put forward the potential of blockchain as a technology that can change the election process and put the power back into the hands of the public. How feasible it is still a matter of contention, but in theory, it appears to be a potent solution for ensuring fair elections.