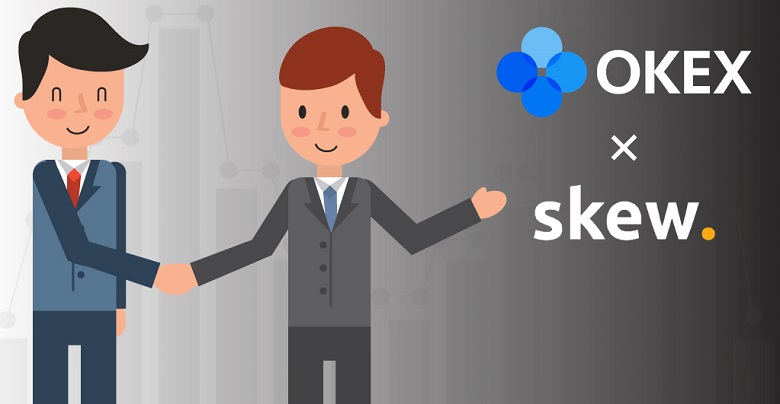 OKEx, a Malta-based cryptocurrency exchange, and skew, a leading real-time data analytics provider for Bitcoin and other cryptocurrencies have unveiled their plans for the next phase of their partnership. Two months ago, in May, OKEx introduced data sharing on its own skew dashboard and became the first crypto exchange for doing so. This dashboard can be found alongside the market data tab on the analytics page on the skew platform. In the coming version of its collaboration with skew, OKEx is expected to deliver at least ten new and more advanced charts and metrics designed for a more in-depth analysis.
The features available to the traders from this revised partnership include charts viz. BTC Options Volumes & Open Interest, BTC Options OI by Expiry, BTC Options OI by Strike, BTC Perpetual Swap Price vs. Spot, BTC Futures Aggregated Open Interest, among other data interpretation charts.
With the most extensive offering of cryptocurrency derivatives, OKEx has become overly popular among traders in the past few years. The company appeals to both professional and institutional traders because of its flexible pricing strategies and trade mirroring in traditional markets. With the aim to make its products more widely accessible in the retail domain and among other beginner traders, OKEx invests its resources continually in its Academy (which provides trading education) and cryptocurrency in general. With the extended partnership in place, the largest global crypto derivatives exchange has also offered a guide to explain and mark the highlights of the new charts that will now be available on the skew dashboard.
Lennix Lai, OKEx's Director, commented on the extended partnership with skew, explaining how OKEx aims to provide greater transparency to its users and how the new charts will mitigate the earlier complexity in determining metrics and facilitate seamless trade execution.