Blockchain News
VeChain Introduces Sustainability Solution for "Green Business"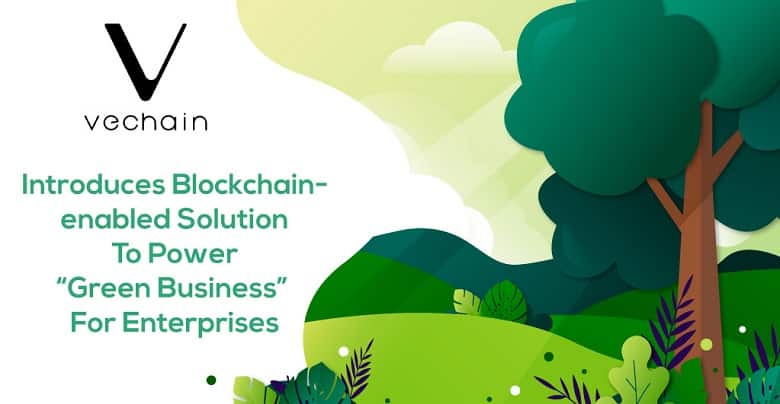 Enterprise blockchain solutions provider VeChain has introduced a new blockchain-powered sustainability solution for organizations focused on greener business practices. In the official tweet, VeChain stated that the new solution built on its BaaS platform ToolChain could help businesses tackle ecological problems like climate change and help them move towards sustainability.
To help businesses tackle climate change and enhance their #sustainability goals, we're officially launching our market-ready Sustainability Solution! Now businesses can seamlessly integrate #blockchain tech with minimal lead time using #VeChain ToolChain. https://t.co/EnlEOpXaRp

— VeChain Foundation (@vechainofficial) August 20, 2020
Sustainability is one of the biggest buzzwords in the global industrial sectors. The race for human development and expansion has taken a disastrous toll on the ecology, worsening the Earth's atmosphere year on year. However, awareness programs by environment conservation groups across the globe have promoted the importance of the subject matter.
As VeChain mentioned in its Medium post, there has been a shift in consumer behavior patterns, towards a greener and sustainable choices based on newfound awareness. Demand for transparency on sustainability efforts, stricter environmental policies, and staunch litigation against erring companies has compelled major businesses, including giants like Nike, Amazon, Adidas, H&M, etc., to put sustainability in the driver's seat for product development and global marketing.
To help these corporations in their sustainability endeavors, VeChain's new ToolChain based solution will allow them to streamline their practices in the supply chain and manufacturing sectors. The underlying blockchain will allow companies to accurately and reliably showcase their sustainability efforts to policymakers, regulators, and even consumers.
The new sustainability solution is "characterized by its high standardization, light cost, and flexible payment in the market, and is easily implemented by businesses in every sector." It includes provisions for immutable proof for greener and cleaner supply chain, consistent and transparent information as a means to bridging trust between consumers and corporations, etc.