Waves News
Waves Protocol Inks Partnership with Ankr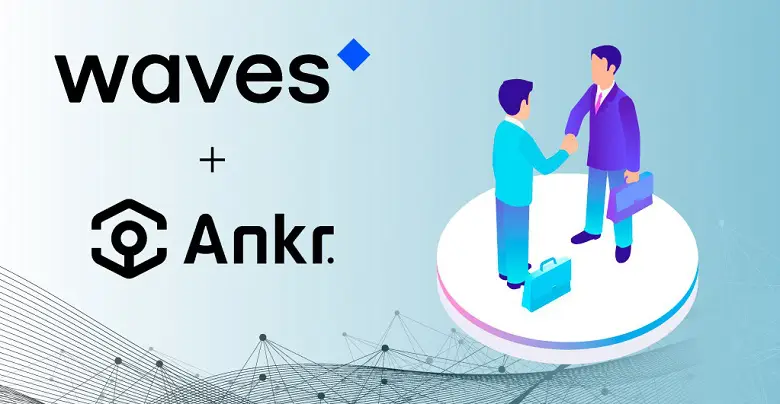 Waves Protocol announced its partnership with Ankr, a one-click node deployment solution provider. The agreement will allow the Waves users to deploy their own node securely, and also to lease out their coins with just a single click with the help of Ankr' secure node deployment solution.
The agreement will find the miners in the Waves network in an advantageous position due to the decrease in the complexities of deploying their own nodes; this will drastically increase the number of miners in the Waves network which currently has 300+ nodes.
Also, the Waves users can now add extra tokens to the node and collect leasing funds with confidence; thanks to the LPoS (Leased Proof-of-Stake) algorithm that the Waves protocol is currently based on. It enables the users to lease out their stakes to the miners, and the mining nodes in exchange will share a part of their earnings with the leasers. It eliminates the trust issues that exist between the leasers and the mining nodes.
Ankr's one-click node deployment solution provides the Waves users with multiple options to store their coin and collect revenues therefrom which will make the ecosystem more secure. Waves users only need to pay a nominal fee in Ankr's token to deploy a node which makes the token leasing process easier for the Waves users; this inadvertently increases the number of investors on the Waves network.
The collaboration will make the Waves users launch their nodes with the Ankr's simple, cheap and easy node deployment solutions which will bring immense benefits for both the platforms; Ankr will make profits from the nominal fees paid by the Waves users, and Waves users will get more investors.
Before this integration happened between Waves network and Ankr, securely leasing out a node and making gains therefrom was not so simple. Despite having substantial stake, waves holders did not get the confidence to securely lease their nodes. With Ankr's one-clock node deployment solution coming to the rescue, the Waves holders now find themselves at peace while leasing out their funds to those nodes.