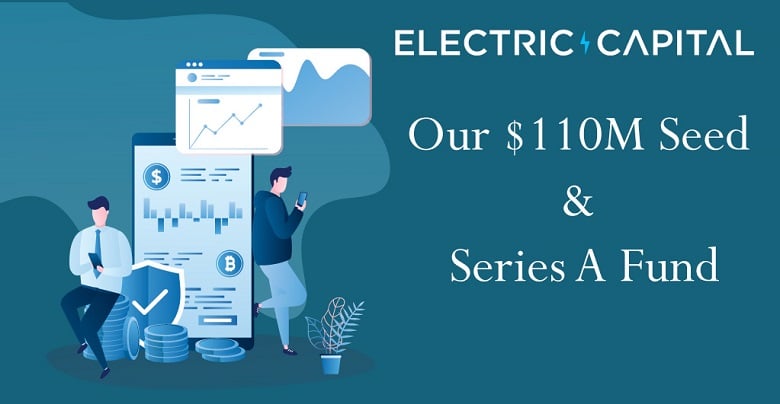 Venture capital firm Electric Capital has unveiled a seed and Series A fund, which will focus on the crypto industry. In the official tweet, Co-founder Avichal Garg informed that the Fund II is valued at $110 million and will invest $250,000 to $10 million in tokens and funds.
1/ Today we are unveiling @ElectricCapital Fund II, a $110M crypto-focused fund!

We're fortunate to partner with world-renowned endowments and philanthropies on Fund II.

We invest $250k-$10M in tokens and companies.

Need an idea? Here are 16 we are excited about👇🏽

— Avichal Garg (Electric Capital) ⚡ (@avichal) August 3, 2020
In a detailed Medium post, the company said that the fund will focus on crypto networks and blockchain-enabled businesses. It also said that like the first seed fund in 2018, the company aims to support founders via long term investments. Electric Capital further added that they are focused on programmable money since 2017, with emphasis on three key areas:
a) Layer 1 protocols
b) Decentralized finance & community-owned networks
c) Crypto enabled businesses and marketplaces
The move received appreciation from industry leaders, including WazirX CEO and co-founder, Nischal Shetty. In his retweet, he congratulated Electric Capital and said that that he is looking forward to seeing Garg back founders building the future of finance.
Great to see crypto focused funds emerging strong!

Great going @avichal Look forward to seeing you back founders building the future of finance ✌️#crypto #defi #blockchain https://t.co/kFFBV54Ok6

— Nischal (WazirX) ⚡️ (@NischalShetty) August 3, 2020
Another global crypto influencer and Blockstack CEO, Muneeb Ali congratulated Avichal Garg for the new seed fund. Ali informed him about the team and start-ups in the Stacks ecosystem working on areas Garg mentioned in the Twitter thread, which includes DeFi, Community Owned Networks, Fintech & Marketplaces, Payments, and Privacy Tech.
Congrats on the new fund! 🙌

The Stacks ecosystem has a bunch of teams/startups working on areas you mentioned. Dropping you an email about a few of them.

— Muneeb (@muneeb) August 3, 2020
Garg also received praise from OC Bitcoin Network founder, Stephen Cole. Cole also asked Garg about the percentage estimates that would go to Bitcoin and other ecosystems, to which the Electric Capital co-founder replied saying that though they will definitely invest in Bitcoin, they haven't decided on any specific target.