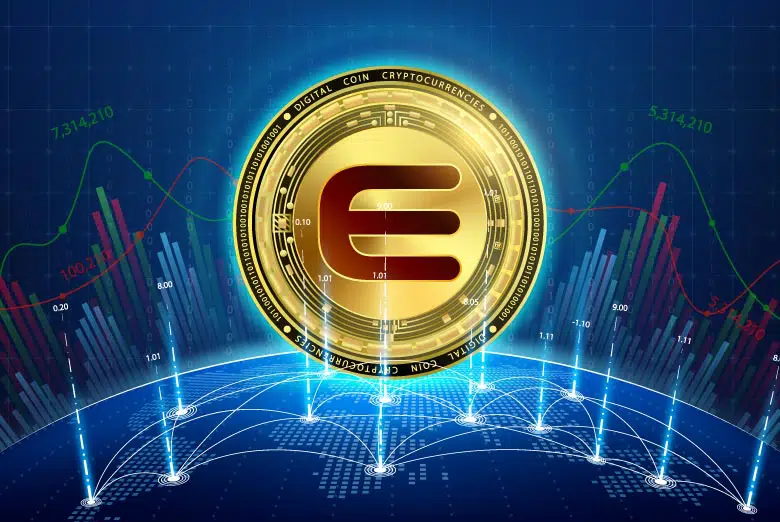 Enjin was a revolutionary crypto-token in 2021 after the gaming economy surpassed previous expectations. With the onslaught of COVID, more and more people got interested in virtual gaming and purchasing virtual items, in-game items, and websites. Enjin allowed game developers to tokenize their gaming items through the ETH blockchain as the underlying cryptocurrency of Enjin was originally developed as an ERC-20 token. ENJ is a digital vault for storing blockchain assets such as NFTs and offers a host of benefits to individuals minting their blockchain assets with ENJ tokens. 
At present, Enjin Coin carries a net value of close to $1.14 billion, holding 71st market rank. As of late 2020, Enjin also launched a bug bounty program to enhance its security shortcomings. While the price trend on Enjin seems to reach a new high with an onslaught of lockdowns and COVID-protocol implementation. Easing pandemic has a reverse impact on Enjin's value. 
Enjin Coin Price Analysis 
The rising star of the gaming-focused blockchain ecosystem has finally tumbled down to fresh lows. The resistance kept being breached, and new support levels were developed as the prices were in a positive trajectory. But as Enjin loses user traction, it seems to be falling in free-fall momentum.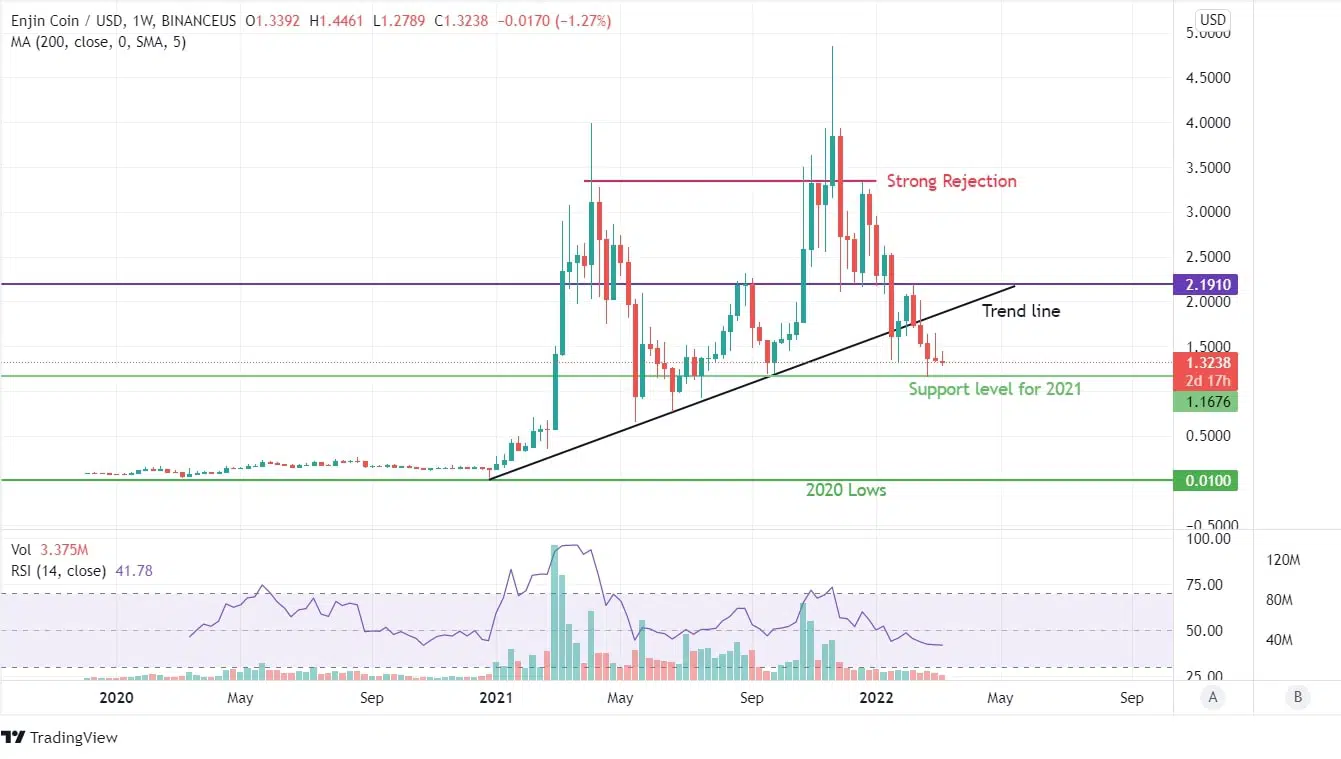 Enjin coin came to the limelight after creating new transaction records since the beginning of January 2021. This brought it to the attention of crypto enthusiasts who understood its viability and invested in its ecosystem. While the jump to multi-folded returns was swift, it couldn't hold on to its gains. However, despite persistent profit bookings, the price momentum respected a historical support trend forcing ENJ to bounce back after each fall.
The fall from $4.5 in November 2021, when it seemed like ENJ would be heading among the crypto elites, has been a blowback to investor sentiment. Since its peak in November 2021, ENJ has lost over 75% of its market value which was hovering near USD 4 billion during the 2021 peak. Despite breaching the trendline, the price of the ENJ token remains above its key 2021 support level. Based on the Enjin Coin price prediction, the support level of $1.15 is respected, there is a strong possibility of bounce-back in the immediate time frame.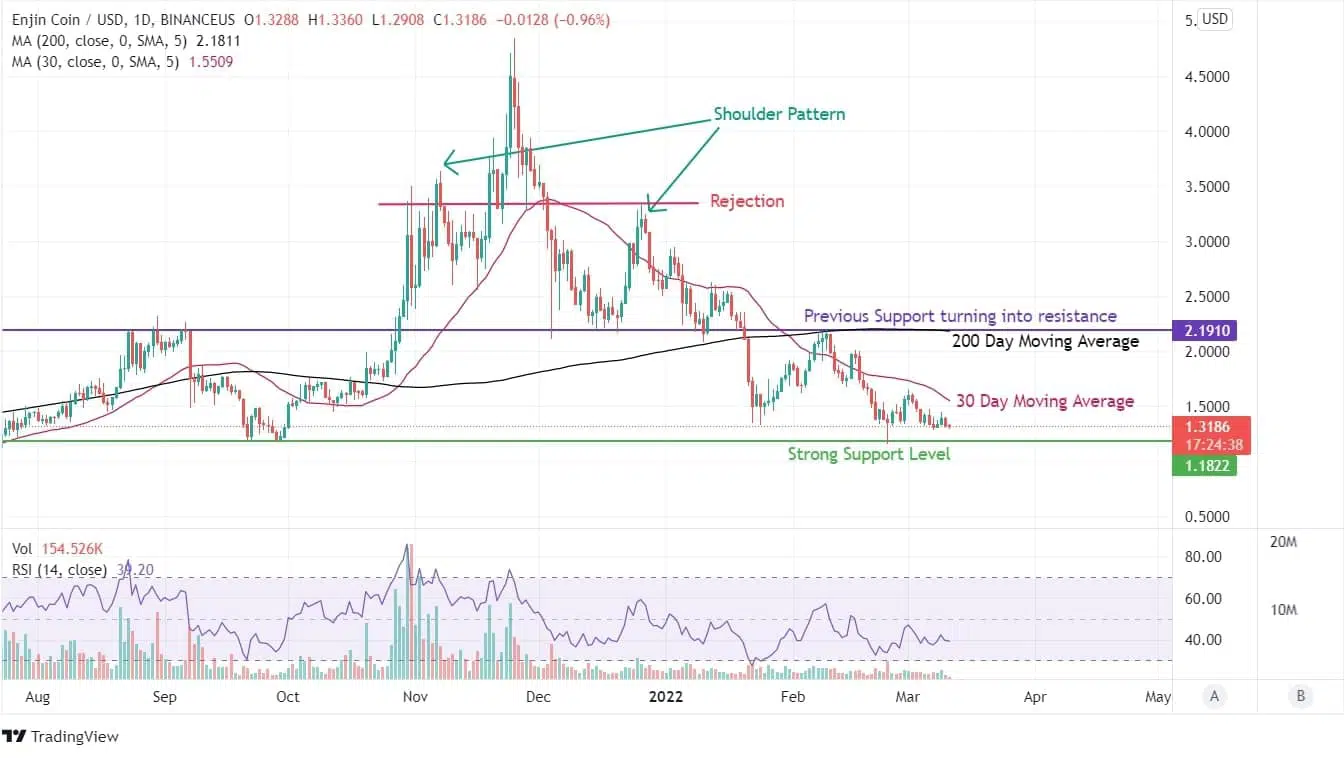 For a clear outlook on the price trend and its momentum, we can ascertain a head and shoulder pattern being developed during November. Prices were persistently failing to surpass the resistance of $3.5 levels; hence the breach of this resistance caused immediate profit booking forcing the value below $3.5. 
The outlook, despite falling, looked bright as ENJ value was trading over the 200 DMA curve. Since breaching the $2.2 support level in January 2022, repeated attempts of buyers were rejected at similar levels indicating a growing profit booking or negative sentiment. Ensuring price action has further caused a decline of 36% in the last two months. The first positive outlook would be ENJ coin overcoming the 30 days moving average curve. Under any circumstance breaching $1.15 is not an impossible scenario, and one should be prepared for an exit or averaging strategy before holding a substantial ENJ token.