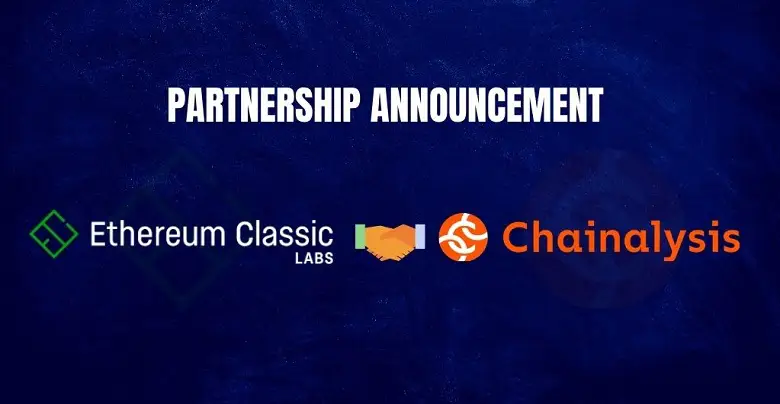 The Ethereum Classic Labs or ETC Labs have announced on their Twitter handle that they have partnered with a blockchain analysis company, Chainalysis. The partnership will allow ETC to offer Chainalysis Know Your Transaction or KYT monitoring. 
We've partnered with @chainalysis to offer automated transaction monitoring and training at a discounted rate to our startups, projects, and grantees. Click the link for full details! https://t.co/ByQpPyK89t

— Ethereum Classic Labs (@etclabs) September 9, 2020
As for the partnership, Chainalysis says that it will offer ETC projects, lab startups, and even provide access to the subject matter experts on compliance and regulation. The training certifications platform and the KYT would be allowed for the ETC Labs accelerator startups but at a much lower rate. Chainalysis KYT will also combine the leading blockchain intelligence with a real-time API to reduce the manual workflow. It will also help the cryptocurrency businesses to comply with every local and global regulation. The good news is that a reduced rate is available for Chainalysis technology and startups, coming through the portfolio companies and the ETC Labs Accelerator. 
Chainalysisn KYT is a cryptocurrency transaction monitoring software capable of detecting high-risk activity from darknet markets, abnormal transactions, from the OFAC or the Office of the Foreign Assets Control. The Chief Revenue Officer at the Chainalysis opined that compliance is complex but very critical for the crypto businesses. He is hopeful that the partnership with ETC Labs would resolve all entry barriers for anyone who wants to start a cryptocurrency business. It is interesting to note that the blockchain analysis company is responsible for providing data to government agencies and financial institutions to more than 40 countries. 
ETC Labs is very excited about this partnership, they said that "this partnership would reflect a necessary resource and is a natural progression for our companies building on ETC". Early startups will get the impetus to develop their companies responsibly and, at the same time, stay informed. 
Additionally, the blockchain startups plan to utilize cryptanalysis to seek out transactions in real-time that have a high risk attached to it and identify large volumes of activity. As per reports, ETC Labs is trying to lower the gas cost on ETC by entering into a partnership with OpenGSN and has also worked with Gitcoin in the New York Blockchain Week.