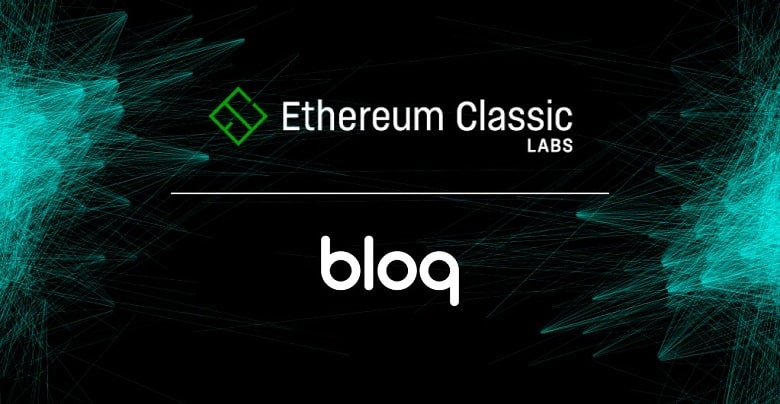 Ethereum Classic Labs announced on Thursday that it has joined hands with blockchain infrastructure building platform Bloq, to deliver API service to Ethereum Classic and Ethereum. Bloq has added support for both the blockchains, which will allow developers to connect their applications with Ethereum Classic and Ethereum blockchains easily.
We've partnered with @bloqinc to deliver a new managed API service for #EthereumClassic and #Ethereum, available now. Click the link for details, tutorials, sign-up link, and more. https://t.co/gvRIB4g8pu #ETC #ETH CC: @ethereumclassic@etc_core

— Ethereum Classic Labs (@etclabs) July 30, 2020
In the official Medium post, ETC Labs stated that with the help of the API service, developers can focus more on developing their applications rather than building the infrastructure. It also added that the ETC Core teams have worked together with Bloq to make the service capable enough to meet the needs of their ecosystem. Commenting on the integration, James Wo, Founder, and Chairman of ETC Labs said,

Bloq expressed that they were proud to be working with the team of Ethereum Classic, including James Wo, and CEO Ethereum Classic Labs & Core Team. It also shared their archives on how to get started with Ethereum and Ethereum Classic on Bloq.
Proud to be working with @realjameswo, @realetclassic and the @etclabs team to deliver choice in managed blockchain infrastructure for #ethereumclassic and #ethereum. https://t.co/3yyFjWoGtx

Cc: @EthereumClassic @etc_core @ETCCooperative #eth #etc #blockchain pic.twitter.com/oPTCzGfi2N

— Bloq (@bloqinc) July 30, 2020
Want to get started #buidling with our managed API service for #ethereum and #ethereumclassic, created in partnership with @etclabs? We have some simple tutorials in our expanding how-to series:https://t.co/cr92ngN99Z

Cc: @EthereumClassic @etc_core @ETCCooperative pic.twitter.com/XA7bewSpwj

— Bloq (@bloqinc) July 30, 2020
Founded in 2015, Bloq provides complete infrastructure solutions for building blockchain applications. The platform's infrastructure services include single resource building on multiple blockchains, which lays the ground for string innovation, minimizing risks, and scaling the application. Speaking about their integration with ETC Labs, Bloq co-founder and CEO, Jeff Garzik said,