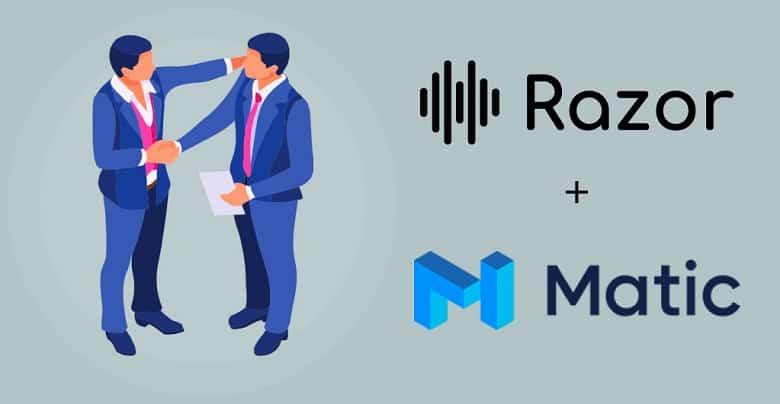 The Matic network, the scalability-focused layer-2 platform for Ethereum, has announced its collaboration with the Razor network, which is an oracle platform for decentralized finance (DeFi). The integration aims at providing decentralized oracle services to dApp developers via the layer-two scaling solution of Matic.
The Layer 2 scaling solutions available at the Matic network enables moving and settling off-chain transactions and broadcasting only the final state to the blockchain network. Layer 2 scaling solutions are an improvement over the Layer 1 scaling solutions in terms of faster transaction throughput of the base chain. Matic's collaboration with Razor has helped blockchain developers handle higher transaction volumes that Web3.0 dApps can support.
In its endeavor to encourage developers to create highly scalable dApps by providing APIs and SDKs for the secure deployment of dApps, Matic requires a wide range of Smart Contacts to access the real-time data; this gap is fulfilled by Razor's blockchain platform.
With the help of its decentralized oracle services, the Razor network connects the Smart Contracts with real-world events, thereby ensuring superior user experiences in the most secure and decentralized manner. Razor also uses the Proof-of-Stake (PoS) consensus algorithm to ensure that the nodes behave rationally; sometimes, there are strict penalties attached to any fraudulent behaviors found in any nodes.
On behalf of Razor, the partnership with Matic is looked upon as an introduction of Razor's innovative oracle solution technology into Matic's global community of developers, which will, in turn, enhance the value of the dApps into various blockchain networks. On the other hand, the integration will help Matic implement its interoperability features to the already existing blockchain networks that will enable users to transfer value across various blockchain networks.