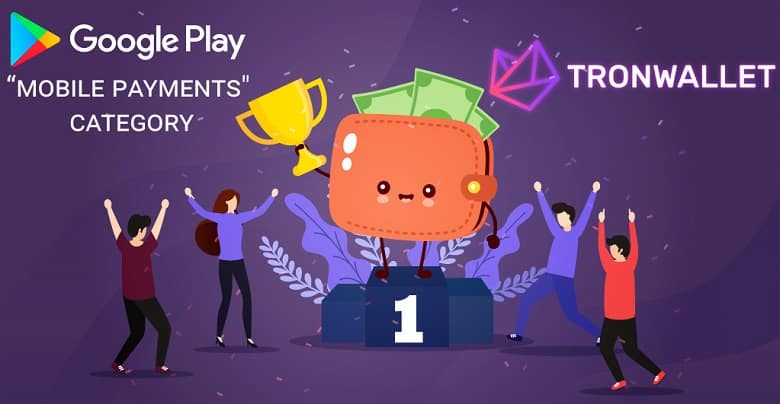 TRON blockchain-based crypto wallet application TronWallet is now ranked no.1 on Google Play Store among the featured apps in the "mobile payments" category. The wallet has achieved the top spot in 22 countries including the US, UK, Australia, Thailand, Belgium, Denmark, Ukraine, and Vietnam.
New day, New achievement 🙏🏽#TronWallet ranked number 1 in @GooglePlay among Featured Apps in the "Mobile Payments" category over the past week in 22 countries, including the US, UK, Australia & Thailand!

Thank you our amazing community for your #klever support, we love you 💜 pic.twitter.com/jK6iePuOaN

— TronWallet (@TronWalletMe) August 13, 2020
The news comes days after it was reported that TronWallet had cracked in the top 10 list for the "mobile payments" category in 34 countries. TronWallet also holds the top position in the "Bitcoin Payments" category on Google Play Store, making it one of the most renowned and decorated crypto wallets globally.
The TronWallet will soon be rebranded as Klever and will be a part of the fresh Klever ecosystem. Klever will also have its own Klever OS, Klever Exchange, and even a Kleve Lab, making it an independent ecosystem in itself. The Klever wallet has already witnessed over 157,000 downloads in the first month of its announcement, which promises an equally potent future. As of date, the TronWallet has over 417,000 users across 193 countries, making it one of the biggest crypto wallets currently available in the world.
The demand for crypto payments has witnessed a substantial rise, as awareness regarding the crypto-blockchain industry is growing by the day. Low transaction fees, easy liquidity, and much higher speeds have made crypto wallets a popular alternative for making international payments.