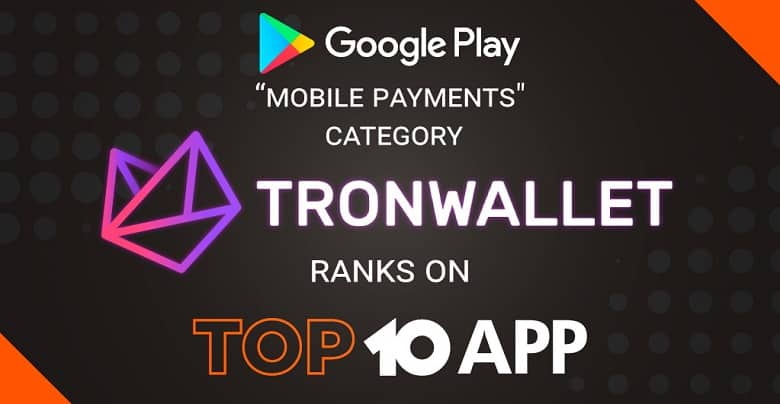 TronWallet, the mobile crypto wallet of the TRON Network, has cracked into the top 10 rankings on Google Play Store's mobile payments category. The rankings are valid in 34 countries including major nations like the US, Canada, the UK, France, Germany, Brazil, Japan, and Sweden. The application has more than 417,000 users in 193 countries, including 97,000 daily and 282,000 monthly active users.
🔥 @TronWalletMe has risen to be ranked as Top 10 apps across all applications in the @GooglePlay "Mobile Payments" category in 34 countries!

These include US 🇺🇸, UK 🇬🇧, Hong Kong 🇭🇰, Japan 🇯🇵, Brazil 🇧🇷, Germany 🇩🇪 & 28 other countires

With your support, #Klever will be Top 5! pic.twitter.com/vpbp9QyOx1

— TronWallet (@TronWalletMe) August 5, 2020
The mobile crypto wallet is ranked first in the Bitcoin mobile payments category on the Play Store. Director of Communications and Marketing for TronWallet, Misha Lederman stated that being ranked in the top 10 payments applications of Google is a big achievement, and is a testimony of their vision. Lederman is also the Director for Klever.io, the soon-to-be new name of TronWallet, which has witnessed over 157,000 downloads since the announcement in July. He further added,

TronWallet will be transformed into Klever.io this month, and TronWallet expects Klever.io to reach among the top 5 rankings. In fact, TRON is building an ecosystem around Klever, with a separate OS, Exchange, and the Klever Lab.