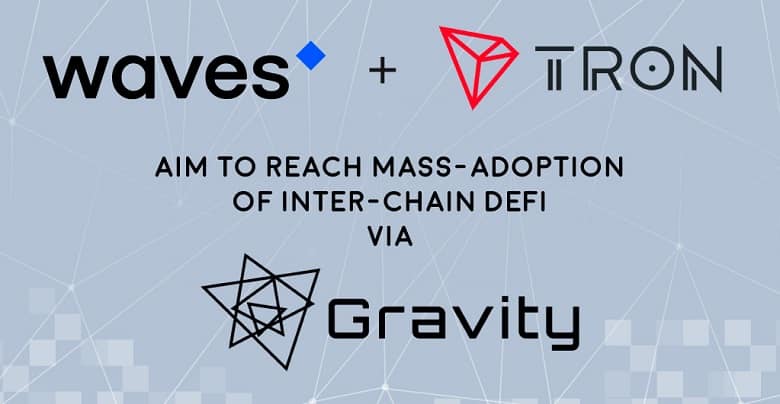 Inter-chain DeFi focused blockchain network Waves Tech announced on Thursday that it has joined hands with leading blockchain network TRON, to build and expand inter-chain DeFi. It said that they will build a bridge between the networks via Gravity Protocol, and connect their smart contract languages, Ride (Waves) and Solidity (TRON).
Today's not just your usual Thursday! We're very excited to partner with @Tronfoundation to establish a bridge between our blockchains through @ProtocolGravity. TRON and Waves will build Inter-chain #DeFi together, find out more here 👇https://t.co/T1kVBqfIhv

— Waves Tech (@wavesprotocol) August 13, 2020
In the official Medium post, Waves mentioned that by building the bridge between the two networks through Gravity Protocol, a blockchain agnostic oracle for cross-chain communication, users of both the networks will be able to access better services. DeFi is one of the fastest moving segments in the blockchain industry, and Waves Tech mentioned in the post that it can revolutionize the way users interact with capital and digital assets.
Demand for decentralized finance has seen a stupendous rise in the past few months, and TRON is among the leading blockchain ecosystems to provide DeFi solutions. This partnership with Waves will indeed result in better services for users, agreed TRON co-founder and CEO Justin Sun.
#TRON and @wavesprotocol are establishing a bridge through Gravity which will allow both ecosystems to enhance access to services for two userbases.#TRX #Waves https://t.co/59Wp9rZrfk

— Justin Sun (@justinsuntron) August 13, 2020
Waves Tech is one of the key players enabling economic freedom through decentralized finance. Its partnership with TRON is a step further towards establishing itself as a leading DeFi player globally. Commenting on the new partnership with TRON, Sasha Ivanov, President, Waves Association, said,

Following the integration, TRC-20 tokens like TRX, BTT, JST, etc. will become available on Waves' network. Waves users will be able to hold and trade TRON based tokens as they will be listed on decentralized exchanges on the Waves blockchain, like Waves.Exchange. Likewise, tokens based on the Waves network including WAVES, USDN, NSBT, WEST, etc. will be made available on the TRON network and its decentralized exchanges like TronTrade, PoloniDEX.