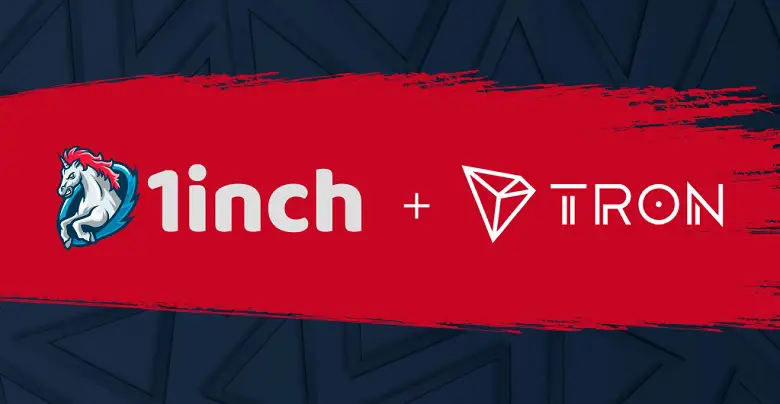 1inch has announced a partnership with one of the well-known blockchains, TRON. As per the deal, 1inch's AMM, Mooniswap, will be integrated into the blockchain. Similarly, JustSwap, which is a decentralized trading protocol from TRON, will be fully integrated with 1inch to facilitate automated liquidity provisioning.
#1inch partners with TRON for JustSwap and @mooniswap integration https://t.co/mxeWy0jaT6 #DeFi

— 1inch.exchange (@1inchExchange) September 10, 2020
Partnership Between 1inch and TRON
Sergej Kunz, CEO and Co-founder of 1inch, said that 1inch and Mooniswap users would be enjoying the various features that are made available by TRON. Some of the advantages of this blockchain are cheaper and faster services, large developer community, scalability with higher throughput, and excellent media following.
Benefits of Partnership
The good thing about this partnership is that support for the blockchain now available in 1inch will allow 1inch's users to avail the best rates for assets available in TRON. Similarly, Mooniswap's addition to the blockchain will facilitate improvements in the DeFi ecosystem of TRON. Such improvements will contribute to the holistic growth of the DeFi ecosystem.
Virtual Balances
TRON blockchain's liquidity providers will gain from virtual balances of Mooniswap. Virtual balances play an essential role in slowing down price changes and also prevent arbitrage traders earn as much as a hundred percent of swap slippages. These steps help in significantly increasing earnings for liquidity providers.
Due to the presence of Mooniswap, regular users of TRON will have added protection from different front running attacks.
Expectations from Partnership
TRON expects that this collaboration will help in improving audience access for JustSwap, improve their price accuracy as well as facilitate expedited growth. It is worth mentioning here that from the JustSwap platform's launch last month, the platform has been able to achieve a 24-hour volume of about $100 million.
There are also plans of rewarding Mooniswap's liquidity providers with TRON tokens and they expect that it will work as an additional reward and incentive to participate.