Bollywood News
Best Bollywood Movies That Can Fill Your Lockdown With Unlimited Amusement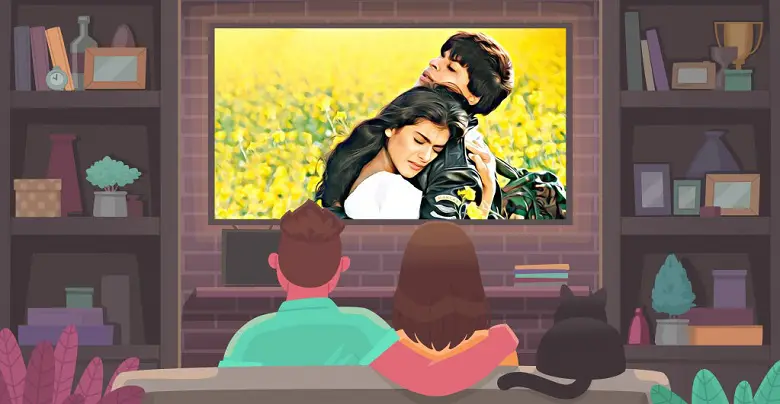 Introduction
The name Bollywood doesn't require any introduction, as it is the introduction in itself. Loved by millions of people across the globe, Bollywood has the magic to bring out the iconic scenes from ordinary situations. Remember when Rahul was running after the train to stop Anjali, even though he could've jumped into the box and dragged Anjali down, he respected her decisions and let her go. Or when scholar Naina who understood that bunny has his own dreams to chase after.
Even if this real-life moment-based stories make your heart, then Bollywood songs and dances will definitely do. Unfortunately, today, we are not here to define what makes Bollywood so unique, we are here to fill your boring pandemic lockdown with ultimate amusement with the list of evergreen Bollywood movies. So, relax down on your favorite chair with all the snacks and enjoy superhits at the box office.
The best bollywood movies you can enjoy at home
DDLJ (1995)
How can we forget the all-time favorite Dilwale Dulhania Le Jayenge while talking about the best Bollywood movies of all time? This is a Hindi movie that holds significant value in the history of Bollywood. The story starts with two Indian expatriates who meet during the trip in Europe, flutters several hearts. At the time, when NRI marriage in Punjab was at its peak, Raj came as a rescuer and taught the whole generation how it feels to be in love. Dilwale Dulhania Le Jayenge indeed deserves the first place on our list.
3 Idiots (2009)
After Shah Rukh Khan, the second-best actor you will find in Bollywood, is Aamir khan. Although he is known for several movies, his magnificent role of Rancho in 3 idiots set a new benchmark for all upcoming actors. The story of the movie revolves around two friends who are searching for the lost long friend and campaign Rancho while recalling their college days. While you may find it entertaining, 3 idiots highlighted the bitter truth about our society, education system, and family pressure. Maybe that's why the film touched the hearts of Hindi film lovers not only in India but also in all over the world. Fun fact, the role of Phunsukh Wangdu is based on a real person from Leh.
Zindagi Na Milegi Dobara (2011)
Even Once in a while, we all want to take a break from our hectic life that struggles between work and home and go on a long vacation with friends. Well, Zindagi Na Milegi Dobara is one of the best Bollywood movies that make this dream look possible to come true. Based on true friendship, this Zoya Akhtar's creation takes us on the emotional rollercoaster while teaching us some important life lessons.
Rockstar (2008)
There are only a few movies in Hindi cinema that live with audiences for years and Rockstar is one of them. From this movie, Ranbir Kapoor made a special fan base all across the globe. The story describes the journey of a college student from being Janardhan Jakhar to rockstar Jordan Negative. This Hindi film s gave us a glimpse of hidden India through the sacred places like-Nizamuddin Dargah, and the mausoleum of Sufi saint Nizamuddin Auliya in Delhi.
Dangal (2016)
Aamir khan, who brought Hindi film industry into the global limelight once again, won all the hearts with his 2019 released movie "Dangal." Inspired from the real-life story of wrestler Mahavir Singh Phogat who trained his daughters to become world-class wrestlers to win gold medals for India. This is a Hindi mo that will take you on an emotional ride while connecting you with the concept of Patriotism.
Jodha Akbar (2008)
Have you ever wondered how your history book characters looked in real life? Well, based on the historical story, the film Jodha Akbar gives you a glimpse of the Mughal period with the story of emperor Akbar (Roshan) and his Hindu wife Jodha (Bachchan). Even though many believe that story doesn't follow the exact fact, it basks us to rich Indian history.
My Name Is Khan (2010)
Shah Rukh Khan once again spared his magic through a spectacular performance in My Name is Khan. In the movie, he played the lead role of Rizvan Khan—A Muslim man with Asperger's syndrome who decide to go on a challenging journey to meet the president of united states after the death of his son to tell him that his name is Khan and he is not a terrorist.
Kabhi Khushi Kabhi Gham (2001)
The multi-stardom cinema that hit the theatre back in 2001 is the family drama that you cannot miss at any cost. The story is all about Raychands's complicated yet wealthy family in India trying to accept their son's love marriage. Although every character of the movie is unique in its way, Pooja, a.k.a Poo, played by Kareena Kapoor, will always remain the favorite.
Yeh Jawani Hai Diwani (2013)
Are you looking for a movie for the weekend night? Well, Yeh Jawani Hai Diwani is the right fit for your needs. This romance-comedy has everything you could ever imagine in a Bollywood movie; colors, songs, dance, and don't forget the fat Indian wedding. It tells the story of two characters Bunny (Kapoor) and Naina (Padukone) and their group of friends who went in different directions to chase their dreams reunited through a wedding.
Jab Tak Hai Jaan (2012)
Jab Tak Hain Jaan is one of the movies of the film industry that takes out the intense love-sign story between Samar (Khan) and Meera (Kaif), who reconcile after years of being separated from each other. This story also highlights how love always finds a way to reach you.
Barfi (2012)
Directed by Anurag Basu, Barfi signifies the magical relationship between a deaf-mute guy Barfi (Kapoor) and autistic woman Jhilmil (Chopra). The movie has the fairy tale touch and love sign expressive performances given by characters. This is the film that will fill your day with happiness that you never thought you needed in this lockdown.
Queen (2013)
Counted as one of Kangana's amazing performances, the story of the queen is all about twenty-four years old Rani (Kangana) who is left at the altar by her fiancé. However, instead of crying and moping around like a typical girl sign, she decides to go on the journey that was supposed to be her honeymoon to make new friends, gain independence while discovering self-love.
PK (2014)
PK is the heart-capturing comedy-drama Bollywood movie that highlights the problem of religious and superstition dogmas in society. The story is about an alien who lost his device; that is the only way to communicate with his spaceship. This innocent attitude and child-like curiosity force people to question the impact of blind religious belief on our lives.
The Lunchbox (2013)
The lunchbox is one of those simple yet impressive in the Hindi cinema that touches your life in the most meaningful way possible. The story of the movie focuses on connecting the lives of two different characters Ila (Kaur) and Saajan (Khan), through a lunchbox that is being delivered at the wrong address. This story brings both peace and happiness at the same time. All the rights reserved.
Jab we met (2007)
Remember the "Abb Main Itni Bhi Khubsurat Nahi" dialogue? Well, it comes from one of the best Bollywood movies—Jab We Met. This is a great movie about a wealthy businessman named Aditya (Kapoor) who is depressed and wants to end his life, but it all changes when he meets a carefree and bubbly woman named Geet (Kapoor).
Lagaan (2001)
Set in a small town of India during the British rule, the story of Lagaan revolves around a farmer named Bhuvan (Khan) who stakes everyone's future on the cricket bet with ruthless colonizers in exchange of tax for next three years. Nominated for Oscars, this story will make you believe that anything can be achieved with will power and team spirit. 
Sholay (1975)
Are you seeking an 80's action masala movie? Sholay has got your back. Filled with all the necessary bromance, action scenes, humor, thrilling twist, and memorable songs, Sholay tells the story of a former police officer who hires two outlaws (Dharmendra and Bachchan) to capture and hand over ruthless bandit Gabbar Singh (Khan).
All the rights reserved.
Swades (2004)
Swades is the heart-touching Hindi movie of its time that connects us to our roots. Mohan Bhargav (Khan), who is a successful NASA scientist, takes a break from work and travels all the way to his Indian village to visit his Nanny and meanwhile discovers his own identity.
Ghajini (2008)
Bearing a few similarities to the famous movie "Memento," this thriller-action movie revolves around the main character Sanjay (Khan), who is suffering from short-term memory loss, sets out to find the murderer of his lover Kalpana (Asin). The enormous success makes it a binge-worthy movie to add on the list of best Bollywood movies.
Dil Chahta Hai (2001)
Are you still missing your friends during the pandemic? Similar to Zindagi Na Milegi Dobara, Dil Chahta Hai is the story of three childhood best friends who were inseparable until each of them fell in love and their different approaches to love start stressing out their bond.  
In the end, we believe that Hindi movies are capable of bringing so many different emotions out of the audience through their astonishing storylines, performance, songs, dance moves, and a sign of love. When it comes to entertainment, Bollywood movies leave no stone unturned. All the rights reserved.