Bollywood News
Netizens Lash Ayushmann Khurrana for Supporting Rhea Chakraborty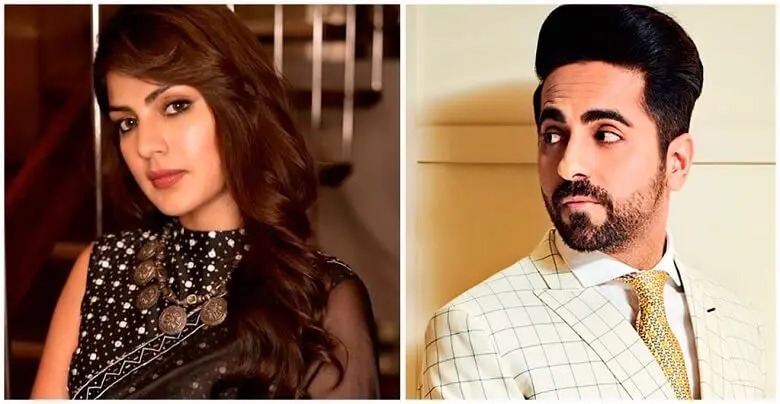 Netizens are lashing out at Ayushmann Khurrana for supporting Rhea Chakraborty as the actor tried to comfort her by leaving a broken heart emoji on her recent post. Khurrana was praised for revealing about his personal experiences with Karan Johar.
As soon as Khurrana commented on Chakraborty's post, people started giving him a befitting reply for not taking a stand for Sushant Singh Rajput ever since his demise. He is also accused of normalizing nepotism.
The discussions and debates on Nepotism have been the talk of the town for quite some time now. The debate about Nepotism has spread like wildfire after Sushant Singh Rajput's sudden demise,  Indians have been vigorously protesting against Bollywood celebrities for promoting Nepotism openly, the debate doesn't end here; many Bollywood actors are also confessing how they lost films to star kids due to favoritism in the industry.
Bashing Khurrana, actor Kamal R Khan tweeted,

People have been actively opposing favoritism in Bollywood, and have also lashed out on Ayushmann Khurrana for the same, here are few tweets by SSR supporters:
Never forget dumb #AyushmannKhurrana is that outsider who had tried to normalize nepotism, and he was also seen sympathizing with #RheaChakraborty on her Instagram post along with his brother & wife.
Such a waste. pic.twitter.com/E2EQETGc1y

— Insaaf Ke Sipahi (@Insaaf_KeSipahi) August 7, 2020
#AyushmannKhurrana people like ayushmann khurraana r d worst
1) he spoke against CAA but never utter single word for sushant
2) this spineless creature doesn't have guts to speak on Bollywood mafia
3) same repetitive one time watch story setup in north India , middle class

— Bruce Wayne (@Imbatman_knight) August 7, 2020
The problem is not that Aditya chopra is his mentor. The problem is showing sympathy with culprits, justifying nepotism and not a single word for SSR. Keeping mum on an injustice is a crime itself.
People expected better from #AyushmannKhurrana but turns out even he is spineless!

— Vagabond (@vagabond112125) August 7, 2020
I lost all appetency to watch any bollywood movies now. so not interested. #AyushmannKhurrana#SushantDiaryOnTimesNow#Warriors4SSR pic.twitter.com/NwLf0oVXAX

— Vinay Kumar Shukla (@vinayshukla212) August 7, 2020
Ayushmann and Rhea have worked together for a music video, "O Heeriye." As of now, Rhea is under police interrogation as she is accused of money laundering,  Rajput's relatives who have known Sushant for the longest time, claim that Rhea allegedly kept him away from family and friends.
Sushant's father has filed an FIR against Rhea with various criminal charges, Bihar police are investigating the case. Sushant was a quintessential star, and people believe strong demand for justice in his case.