Blockchain News
BSN Announces Integration with Six Public Chains at Launch of its Portal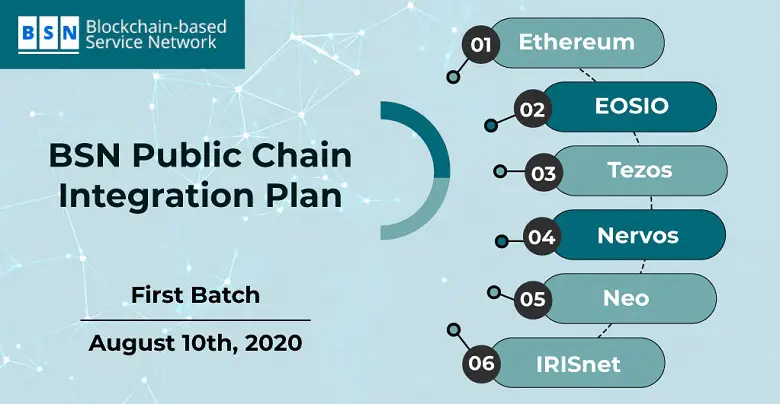 Global cross-chain infrastructure network BSN announced on Tuesday its integration with six public blockchains for its redesigned international portal that will be launched on August 10. These six chains include Ethereum, Tezos, Chainlink, IRIS Network, Block.One, and others.
BSN is excited to announce the six public chains that will be integrated at the launch of the redesigned BSN International Portal @ethereum @block_one_ @tezos @NervosNetwork @Neo_Blockchain @irisnetwork @IRITAchain @chainlink @dfuseio https://t.co/CGtw2azbaQ

— BSN (@bsnbase) July 21, 2020
In the official blog post on Medium, BSN said that after the launch, users around the world will be able to access low-cost blockchain solutions. It further added that they want to build a global internet infrastructure of permissioned and permissionless blockchains and millions of dApps that shall be managed and interoperable on the BSN International Portal. They will offer, it said, three main services, viz., permissioned services, permissionless services, and inter-chain services.

BSN also informed that it will additionally add 3-5 public chains every month to its international ecosystem with an emphasis on the networks that encourage dApp development. Interoperability is one factor that will be a driving force for the future growth of the industry, especially in terms of dApp ecosystem adoption.
The sharing of intellectual resources for mutual enhancements has proved to be successful, and therefore, BSN's efforts seem to be in the right direction. The platform has been closely working with Nervos, Neo, Tezos, and Irisnet, which shall ensure a smooth and fruitful integration.